Your experience on PreventionWeb
Please help us improve PreventionWeb by taking this brief survey. Your input will allow us to better serve the needs of the DRR community.
Updates
Author:
Theophilus Yanuarto
Disaster prevention and mitigation through vegetation: Indonesia's experience
Source(s):
Mexico, Indonesia, Republic of Korea, Türkiye and Australia
Inbound Horizons/Shutterstock
Indonesia is familiar with various kinds of natural hazard. As an archipelagic country located within the ring of fire, it faces a constant risk of earthquakes and tsunamis. Furthermore, heavy rainfalls persist for almost half of the year, provoking additional risks of flooding and landslides.
One disaster risk reduction (DRR) approach adopted by Indonesia involves the use of vegetation for disaster mitigation – this can reduce the impacts of hazards such as tsunami, flooding, and landslides. This approach is supported by the President of Indonesia, President Joko Widodo, who promoted the concept during his speech to provincial leaders in January 2020.
This approach is strategically used by the Government of Indonesia due to its compatibility with the surrounding community. It emphasizes the use of existing vegetation in the area,  which has always played a role in the local culture. The approach calls for the active participation of the community and is relatively less costly compared to other structural approaches in disaster mitigation. Furthermore, it has  the additional benefit of reinforcing environmental preservation in the area.
Indonesia has learnt that vegetation does not only reduce the impact of disasters but also significantly reduces hazards. As a country with expansive coastal areas, the effectiveness of this approach can be seen particularly in tsunami mitigation efforts. For example, mangrove forest has become the fortress that protected Kabonga Besar Village in Donggala, Central Sulawesi from the tsunami caused by the 7,4 RS earthquake in 2018.
Indonesia continues to promote the use of vegetation for disaster mitigation. In 2019, 2000 pine trees were planted in the southern part of Yogyakarta to protect its coastal area from tsunami. Additionally, in 2020 Indonesian President Joko Widodo had vetiver vegetations planted in Western Java to prevent landslides from reoccurring in the area.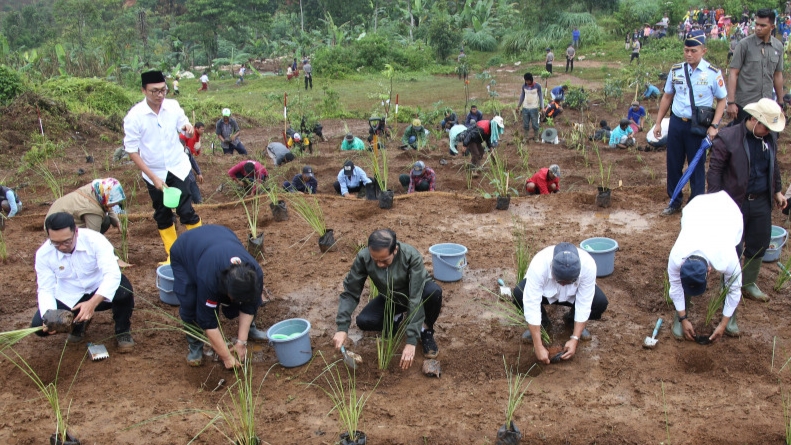 MIKTA Disaster Risk Reduction Joint Advocacy Campaign

MIKTA is a diverse and cross-regional grouping of powers that brings together Mexico, Indonesia, the Republic of Korea, Turkey and Australia. Given the growing challenges our planet is faced with, including disasters from droughts, desertification, loss of biodiversity, food shortages, water scarcity, wildfires, and sea-level rise, MIKTA has reiterated its commitment to investing more in research, innovation and infrastructure to strengthen environmental sustainability, adaptation, and resilience against the adverse effects of climate change and disaster risks. In line with this commitment, MIKTA undertakes a joint advocacy campaign highlighting the triple benefits of investing in prevention to accelerate disaster risk reduction, protect development gains and build resilient communities.

The campaign promotes diverse local and regional examples of efforts by the MIKTA members to strengthen disaster risk resilience through investing in prevention. Through sharing of experiences and good practice, the campaign aims to strengthen global adaptation and resilience efforts and build global consensus around the need to accelerate disaster risk reduction efforts.

This article is part of a series of impact stories to generate ideas and solutions in line with the overarching and main themes identified for GP2022.
Please note: Content is displayed as last posted by a PreventionWeb community member or editor. The views expressed therein are not necessarily those of UNDRR, PreventionWeb, or its sponsors. See our terms of use