Your experience on PreventionWeb
Please help us improve PreventionWeb by taking this brief survey. Your input will allow us to better serve the needs of the DRR community.
Australia & Indonesia: Strong partners building regional resilience
Source(s):
Mexico, Indonesia, Republic of Korea, Türkiye and Australia
As strategic partners and neighbours in the Asia-Pacific region, Australia and Indonesia share a strong bond. We have faced and stood in lock step with each other through disasters, including the 2004 Tsunami and Australia's bushfires of 2020.
Australia and Indonesia are not alone with 10 of 15 countries in the Asia-Pacific most at risk, and our region unenviably known as the most disaster prone in the world. As we face an increasing frequency and intensity of disasters, including COVID-19 and the impacts of climate change, building resilience is now more important than ever – at home and across the region.
The Australia-Indonesia Comprehensive Strategic Partnership sets out an ambitious agenda for cooperation, drawing on the strengths and opportunities of the two nations to provide tangible benefit to its people and contribute to solutions for current and future challenges.
This includes collaboration to improve resilience to a range of disaster and climate risks and cooperation to improve humanitarian preparedness and response in the region. Australia's partnership with Indonesia's National Agency for Disaster Management, BNPB, and the SIAP-SIAGA program launched in 2019, is at the heart of this collaboration.
Together we are working to build stronger community resilience, empowering communities to 'Be Ready' when faced with possible disaster and support regional humanitarian preparedness and response.  
In October 2021, Australia and Indonesia hosted a virtual regional symposium on COVID-19 on disaster management and resilience – born from a request from regional partners to hear Australian and Indonesian reflections on how COVID-19 has affected the region's capacity to manage disasters.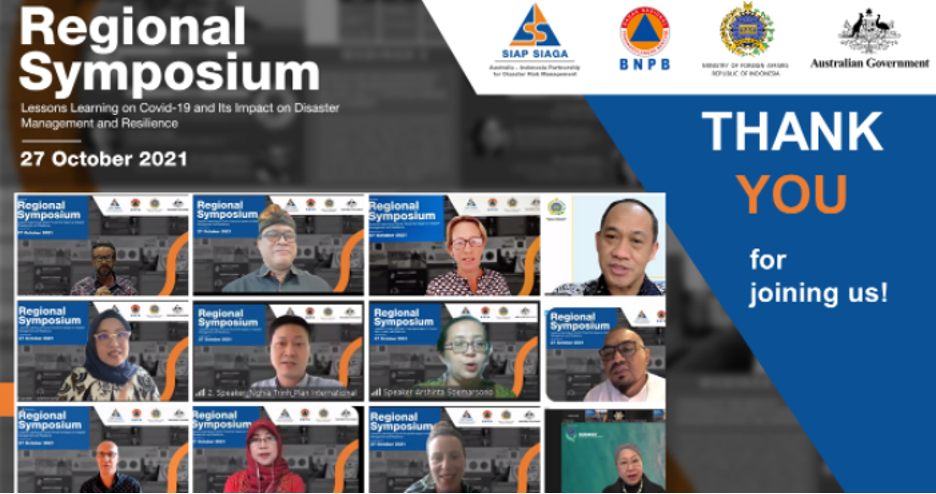 Participants shared lessons on how local humanitarian actors in the Asia-Pacific region have quickly adapted, despite the challenges. The discussions focused on the importance of factors such as: legal frameworks for responses to complex events like COVID-19; empowering local organisations to deliver humanitarian aid; strengthening local partnerships; increasing youth and women's participation in disaster management; and promoting native language and disability-inclusive approaches in disaster communication.
This symposium and associated regional lessons learned exercises involved more than 25 renowned speakers and moderators from various international, regional, and national organisations in Asia and the Pacific region, with over 500 participants joining the journey.
They identified three critical issues that shaped the impact of COVID-19 on disaster risk management and resilience across our region were: (i) Governance and Institutional Leadership, (ii) Partnership Models, and (iii) Digital Technology and Communications.
Australia and Indonesia look forward to sharing the outcomes of the symposium with the global community during the Seventh Session of the Global Platform for Disaster Risk Reduction to be held in Bali, Indonesia between 23-28 May 2022.
MIKTA Disaster Risk Reduction Joint Advocacy Campaign

MIKTA is a diverse and cross-regional grouping of powers that brings together Mexico, Indonesia, the Republic of Korea, Turkey and Australia. Given the growing challenges our planet is faced with, including disasters from droughts, desertification, loss of biodiversity, food shortages, water scarcity, wildfires, and sea-level rise, MIKTA has reiterated its commitment to investing more in research, innovation and infrastructure to strengthen environmental sustainability, adaptation, and resilience against the adverse effects of climate change and disaster risks. In line with this commitment, MIKTA undertakes a joint advocacy campaign highlighting the triple benefits of investing in prevention to accelerate disaster risk reduction, protect development gains and build resilient communities.

The campaign promotes diverse local and regional examples of efforts by the MIKTA members to strengthen disaster risk resilience through investing in prevention. Through sharing of experiences and good practice, the campaign aims to strengthen global adaptation and resilience efforts and build global consensus around the need to accelerate disaster risk reduction efforts.

This article is part of a series of impact stories to generate ideas and solutions in line with the overarching and main themes identified for GP2022.
Please note: Content is displayed as last posted by a PreventionWeb community member or editor. The views expressed therein are not necessarily those of UNDRR, PreventionWeb, or its sponsors. See our terms of use