Your experience on PreventionWeb
Please help us improve PreventionWeb by taking this brief survey. Your input will allow us to better serve the needs of the DRR community.
Pakistan: Preparations for the monsoon
Source(s):
The New Humanitarian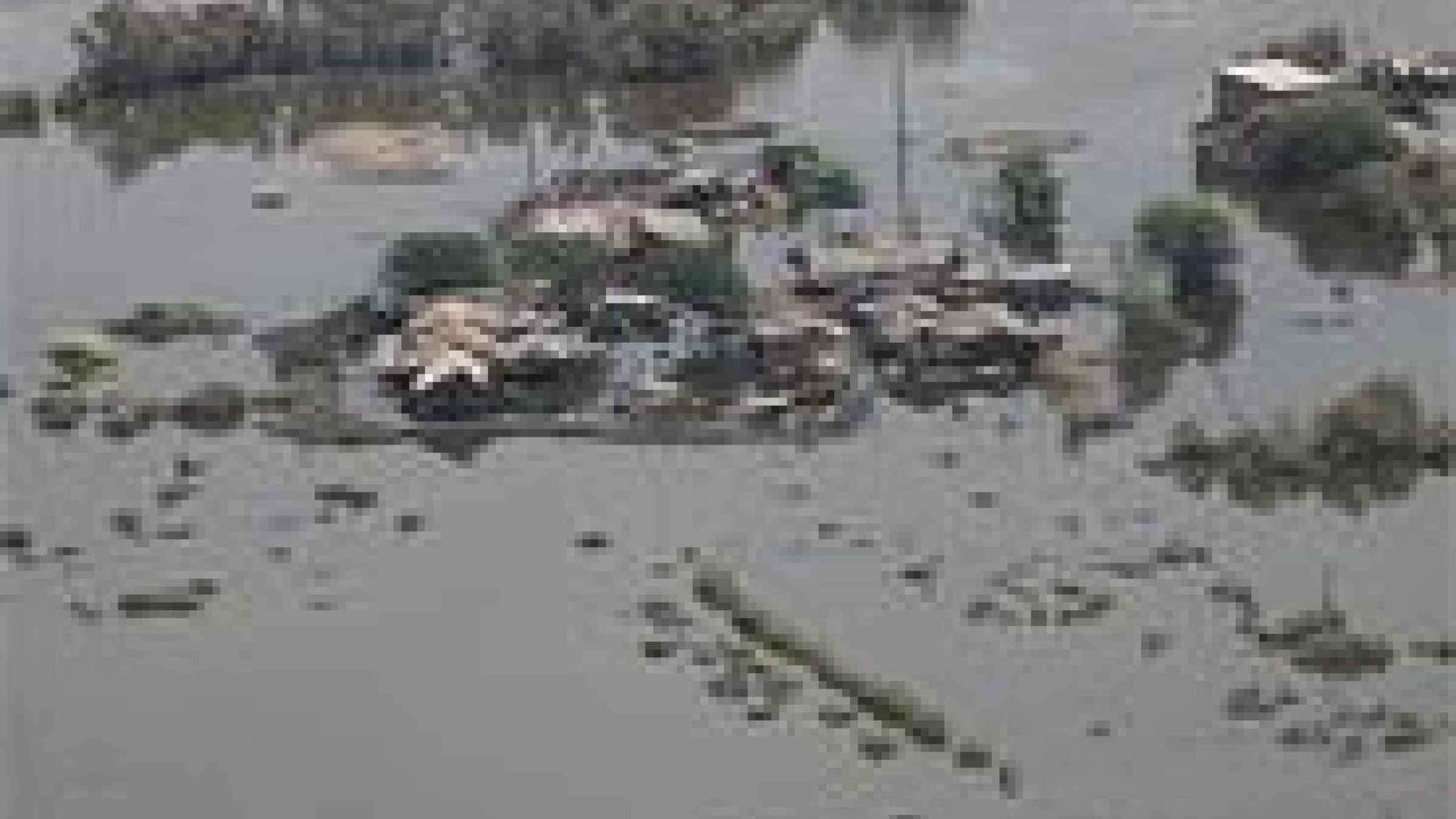 Islamabad - Pakistan is bracing for the annual July-September monsoon, with aid workers saying existing relief stocks are insufficient to guarantee an effective response in the event of a flood emergency.

The meteorological department forecasts that precipitation will be 5-15 percent above average. Already, heavy rain in Tando Khan and Dadu districts in Sindh Province has forced some rivers to burst their banks, inundating hundreds of acres of agricultural land.

"We have a vulnerable population that is only recovering from the 2010-11 monsoon impact and a donor community that is fatigued," said Annette Hearns, head of the Coordination Unit within the UN Office for the Coordination of Humanitarian Affairs (OCHA) in Pakistan.

"We [aid agencies] have done preparedness planning, but the wallet is empty and programmes are struggling," she told IRIN in the capital, Islamabad.

This year's monsoon could affect up to 29.2 million people, according to worst-case estimates by NDMA. Torrential rains could cause flash flooding in 29 districts with massive damage to property and livelihoods.

Ahmed Kamal, spokesman for the National Disaster Management Authority (NDMA), said NDMA has asked for US$53 million from the government. "The amount is yet to be transferred, but we are pursuing it and there are positive developments."

Both the government and the humanitarian community have mapped available stocks, and are helping to build capacity and improve emergency response structures at district, provincial and national levels.

In Punjab and Sindh provinces, about 300 officials have been trained in emergency response skills like camp management and rapid assessment. Punjab government has also bought boats and registered volunteers, according to local media reports.

"After November 2011, we assigned the provinces to make preparedness plans for floods," Kamal told IRIN. "A `bottom up' approach was adopted this time - from districts to provinces to federal government." District contingency plans include `hazard and vulnerability reports', which highlight the gaps in terms of the provision of food and non-food items. The plans were then discussed at provincial level.

"International aid agencies in Pakistan have limited emergency stocks due to a lack of funding after the 2011 floods; less than 50 percent of the required funds [were] raised to respond to last year's disaster," said Áine Fay, chair of the Pakistan Humanitarian Forum (PHF).

PHF is made up of 51 international NGOs, most of which have developed preparedness plans both at federal and provincial levels. But they too face the challenge of inadequate stocks.

Government rules out funds appeal

Some aid workers speak of growing frustration because the government will not allow the launch of a public appeal for funds.

"The agencies want to launch an appeal for funds, but the government does not believe this is necessary, arguing that Pakistan can take care of its own," one NGO worker told IRIN in Islamabad.

"The reality is that in the event of a large-scale disaster, the government will need help," he added. "That is what happened in 2010 and 2011."

"Government support for an appeal process and a timely request for support from the international community would help to mobilize resources for an effective response in case of a flooding emergency," OCHA said on 13 July.

Fay, who is also country director for Concern Worldwide, said: "It is crucial that a call for international assistance is not delayed if there are severely flood-affected communities.

"Without additional funds, humanitarian agencies will struggle to provide the necessary assistance to communities at risk of increased vulnerability from consecutive flooding in the past two years."

Last week, Prime Minister Raja Pervez Ashraf directed all federal and provincial departments to ensure a coordinated, effective response in the event of monsoon floods.

According to NDMA, the provinces were asked to set aside funds in their budgets for floods. Punjab and Sindh were told to allocate Rs 5 billion ($53 million) each, KP Rs 3 billion ($31.8 million) and Azaad Jomu and Kashmir, the Federally Administered Tribal Areas and Gilgit Baltistan, Rs 1 billion each ($10.6 million).

Meanwhile, Oxfam has urged the government to ensure that a minimum of 2 percent of district budgets is spent on disaster preparedness.
Please note: Content is displayed as last posted by a PreventionWeb community member or editor. The views expressed therein are not necessarily those of UNDRR, PreventionWeb, or its sponsors. See our terms of use