blog
Severe floods highlight...
Severe floods highlight the resilience of school girls across South Asia
12 October 2017
The August 2017 flooding across Bangladesh, India and Nepal is a disaster on a major scale, causing more than 1,500 deaths and affecting at least 41 million people. But can we reduce the number of people severely affected by disasters?
As we have seen with recent events in the Americas, when disasters pose major threats to lives and communities, attention turns to how we as individuals and members of communities and societies can best prepare and prevent loss of life and long-term disruption.
Of course, the extent of disaster impacts also reflects on the measures taken by national and local governments to warn, prepare, protect and support recovery of their communities and particularly the most vulnerable and marginalised members of society. For example, the strongest hurricane in the Atlantic caused minimal deaths in the USA, due to effective early warning systems that communicated clear messaging to citizens affected, forced evacuations, resilient evacuation centres and money to stockpile supplies. In contrast, the monsoon rains in South Asia were not effectively communicated, bad waste management clogged drains, schools were unprepared, and poorly monitored building codes caused severe damage and loss of life.
When disasters overwhelm the capacity of people and governments to prepare and respond, as has happened in many parts of South Asia following the recent widespread monsoon flooding, it is often girls who are left behind.
Girls are likely to drop out of school following disasters often for unpaid domestic labor and care work. Girls are often the last to eat their meal; when food supplies can't reach affected households girls are the first to go hungry. Flood-related waterborne disease outbreaks disproportionately affect girls. Girls are at greater risk from forced early marriage when money runs out and families are yet to receive government flood pay outs; girl brides' dowry often substitute income. Rates of girl trafficking, rape and sexual abuse can increase in times of disaster and long after.
Plan International works with local partners and affected communities to protect and build the resilience of girls to all the risks associated with floods. One such approach uses schools as the platform to create a culture of safety. Working in 35 countries, the safe schools projects prepare children for disasters and help ensure their education is not disrupted following major or smaller, recurrent disasters.
The recent catastrophic flooding presented a major test of the work done in these projects to prepare and reduce the impact on children and schools. In Bangladesh, girls have been actively involved in building a culture of safety in their school and community. They have joined school disaster management committees to conduct risk assessments and develop action plans; are taught and practice how to prepare, which they then take home to pass on to their families. Home safe home (the official theme of IDDR) begins at school.
Increasing girls' confidence, skills and disaster knowledge enables better disaster preparation. Schools organised folksongs, interactive classroom games, and repeatedly practiced flood evacuation drills, to raise awareness for children and their families. During the recent flooding they knew to put their learning materials in plastic bags in high places to protect them from the rising water. They also helped create a message chain to warn nearby communities, and many were able to safely evacuate and quickly return home.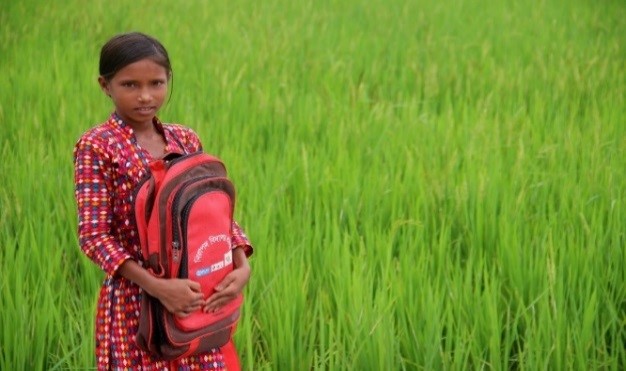 "This year I was able to save my education materials from flash floods, because I moved my books and exercise notes to safe, high places in my home. Like me, no students in my community lost their education materials. The safe school project provided us with knowledge." Student of a primary school, Lalmonirhat.
Due to the raising of school grounds, schools that were closed for at least one month during the 2016 monsoon floods were largely spared from severe flooding this year. In addition school disaster management committees developed contingency plans so children could continue their education in alternative, safe locations. Children were then able to continue their education more quickly this year; many only missed five days of school.
Further, provision of boats to schools and communities allowed 200 people of one community to move to a safe place with their assets. The boat has been used by school students for crossing the river and managed by local government.
"We heard that many children died or were injured in other sub-districts by recent severe floods but no such case was reported in our community. We learnt how to swim and what to do during a flood." Member of children's group, Lalmonirhat.
Education budgets are often minimal, with amount spent on school safety even less. Disasters are a significant reason girls are not attending school and unless we prioritise resilience in education we will never be able to achieve the Sustainable Development Goal (SDG) target of all children being able to access pre-primary, primary, secondary and tertiary education by 2030. It is now widely known that for every $1 invested in preparedness, $7 are saved in the response.
Governments must therefore take action to capture these positive local examples, learn what works to reduce the impact of inevitable future floods and increase funding to replicate them nationally. The better the disaster preparedness and protection, the better long-term prospects girls will have. As such we encourage all governments to commit to UNISDR's Worldwide Initiative for Safe Schools which offers technical support in implementing school safety and is a platform for sharing of best practices and achievements, enabling all countries to better build resilience for children.
Teaching children how to prepare for, adapt to, and respond to disasters equips them with skills for life that they can pass onto their friends and families and reduce the number of people affected by disasters. If we can build the resilience of girls, we can build the resilience of anyone and everyone, giving all an equal right to a future safe from disasters. The catastrophic flooding has even provided an opportunity to build back better and learn from previous setbacks to better achieve resilience in the future.
Every girl and boy that is given a voice is an agent for change, and the more we hear from the disaster frontline the more we will be compelled to prevent major floods impacting millions of children again.
---
Jessica Cooke works for Plan International headquarters in the Disaster Risk Management Department as Climate Change and Resilience Policy Officer. Jessica also leads Plan International's global work on school safety and is a firm believer that working with and for children is the key to building future resilience.
PLEASE NOTE: CONTENT IS DISPLAYED AS LAST POSTED BY A PREVENTIONWEB COMMUNITY MEMBER OR EDITOR. THE VIEWS EXPRESSED THEREIN ARE NOT NECESSARILY THOSE OF UNDRR, PREVENTIONWEB, OR ITS SPONSORS.
SEE OUR TERMS OF USE