publication
Documents and publications
Projected changes to extreme runoff and precipitation events from a downscaled simulation over the Western United States
Author(s)
Wrzesien, Melissa L.; Pavelsky, Tamlin M.
Source
Frontiers in Earth Science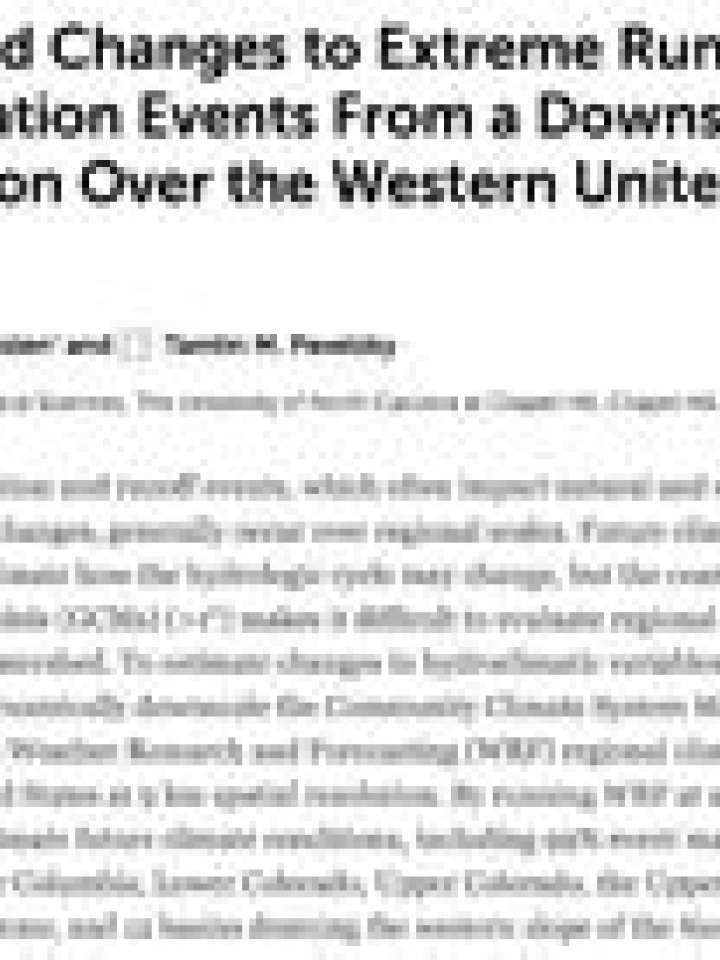 Extreme precipitation and runoff events, which often impact natural and social systems more than mean changes, generally occur over regional scales. Future climate projections can be used to estimate how the hydrologic cycle may change, but the coarse resolution of global climate models (GCMs) (>1°) makes it difficult to evaluate regional changes, such as over a single watershed. To estimate changes in hydroclimatic variables at finer spatial resolutions, it has dynamically downscaled the Community Climate System Model version 4 (CCSM4) with the Weather Research and Forecasting (WRF) regional climate model over the western United States at 9 km spatial resolution. By running WRF at a higher spatial resolution, it was estimated future climate conditions, including 99% event magnitude, over 17 watersheds: the Columbia, Lower Colorado, Upper Colorado, the Upper Missouri/Yellowstone, and 12 basins draining the western slope of the Sierra Nevada in California. Over each basin, it was compared to a historical period (1996–2005) with mid-century (2041–2050) and end-century (2091–2100). From the WRF/CCSM simulations, most basins are projected to have earlier peaks in springtime streamflow. The Columbia and the Lower Colorado watersheds are both expected to experience more extreme wet days, with the 99th percentile of daily precipitation estimated to increase by over 10%. For the Upper Colorado, however, the 99th percentile of daily runoff is projected to decrease by over 30%. Basins in the northern and central Sierra Nevada are projected to have substantial increases in extreme runoff, with doubling of high flow event magnitude possible for some basins. By end-century, the contribution of high-magnitude runoff (>90th percentile) to total runoff is projected to increase from 46 to 56%, when averaged across all 12 Sierra Nevada basins. Though only one realization from a single GCM, the downscaled simulation presented here shows interesting results regarding how extreme events may change; these results can be tested by downscaling other global models with WRF to create an ensemble of dynamically downscaled future projections.
Please note: Content is displayed as last posted by a PreventionWeb community member or editor. The views expressed therein are not necessarily those of UNDRR, PreventionWeb, or its sponsors. See our terms of use