Your experience on PreventionWeb
Please help us improve PreventionWeb by taking this brief survey. Your input will allow us to better serve the needs of the DRR community.
Why are women and girls more likely than men to die in a disaster?
Source(s):
Building Resilience and Adaptation to Climate Extremes and Disasters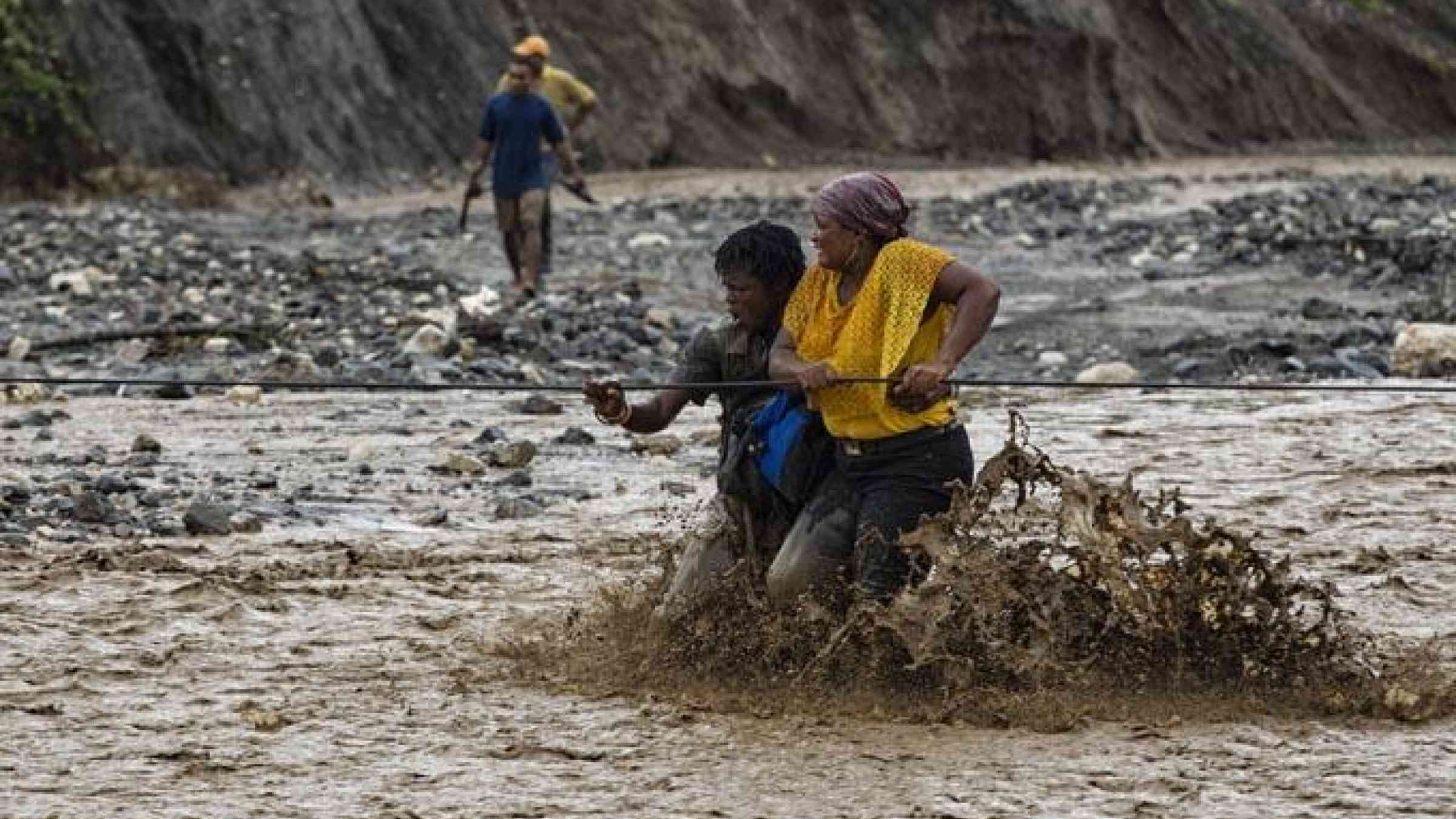 By Charlotte Rye​
The theme for this year's International Day for Disaster Reduction is "Live to tell: Reducing global disaster mortality" – the first of seven goals set out by the 2015 Sendai Framework for Disaster Risk Reduction.
Worldwide, women and girls are more likely than men to die in a disaster. What's the solution? That was the question posed during a recent BRACED online debate.
But what we first need to understand is how and why men and women are affected differently when disasters hit.
Disasters exacerbate vulnerability
Debate participants reported that women's responsibilities in the home – particularly in the aftermath of a disaster – are increasing in developing countries as more men migrate for work.
"With widespread droughts in India in recent years, rural migration has increased," said Manipadma Jena, an India-based journalist. "Women are left behind not only to take care of children and elders but entire farms too."
Nepal has witnessed similar trends. Arun Karki, a Nepalese journalist, explained that "most women from outback Nepal are left to fight climate extremes at home when rebuilding [after the 2015 earthquake] is taking longer than expected."
Mushfique Wadud saw first-hand how women in Bangladesh have different coping strategies; "I struggled to move my mother from [her] house during an earthquake in Dhaka," he said. "She wanted to leave only when she knew all family members were safe – and this happens every time a disaster strikes."
Unless political and governance structures are truly inclusive, with women and men from diverse backgrounds, these vulnerabilities won't be recognised and will go unheard.
Nahla Haidar, member of the U.N. Committee on the Elimination of Discrimination against Women, observed that "in decision making committees on disaster management, you will rarely see a female member."
Debunking Myths
Haidar said that "the disadvantages that women suffer from are exacerbated by viewing [them] as victims or inherently vulnerable, rather than considering them as rights holders with the right to participate in decision making."
What we need is to shift the narrative and peoples' attitudes by recognising women's leadership in enhancing their family and community's capacities.
Participants added that communities should also look for hidden opportunities: men migrating for jobs could empower women to put their experience and ideas into action in new ways, for example.
Preparedness is Key
The debate highlighted a major lack of data and information on how specific disasters affect social groups differently – leaving a significant gap in current disaster risk reduction knowledge. Without it, preparation for these extreme events will be limited.
As pointed out by Maarten van Aalst, director of the Red Cross Red Crescent Climate Centre, "deeper inequalities can't be addressed with quick fixes in a one-off project" but must be viewed holistically at all levels of government and civil society.
At the policy level, there are key opportunities to change the current course of disaster risk reduction actions and resilience building plans.
Recent frameworks such as the Sendai Framework for Disaster Risk Reduction or the Sustainable Development Goals are being turned into national level commitments and policy. Now is the time to generate truly inclusive plans that build resilience for all.
Programmes such as BRACED, which works at the community level – but also generates knowledge and evidence about what works in building resilience – are another approach to integrating gender equality and social inclusion into disaster preparedness.
For Marageta Wahlström, former head of the U.N. Office for Disaster Risk Reduction, a major change is "women becoming more empowered politically – and using that to create change in their communities."
Her advice to a policy maker would be to "establish policies that integrate women and gender issues from the start, not as an add-on."
She added that "values do change when women are economically more independent and thus powerful."
What Next? 
What will truly bring about change in these areas is joined-up practice: understanding how disasters affect men and women differently, documenting cases where the resilience of different social groups has been built – and by whom – and scaling them up.
Please note: Content is displayed as last posted by a PreventionWeb community member or editor. The views expressed therein are not necessarily those of UNDRR, PreventionWeb, or its sponsors. See our terms of use