Updates
When war erupts in industrial regions: disaster risk management in eastern Ukraine
Source(s):
IMPACT Initiatives
Early warning and response information for a more efficient fight against wildfires in Luhansk Oblast through capacity building of Ukraine's State Emergency Service.
In Eastern Ukraine, the impacts of climate change were felt throughout summer all the way to autumn 2020. Droughts, heat waves, water depletion, and dust storms jointly contributed to the largescale wildfires that particularly affected Luhansk Oblast. These climate risks severely compound an already precarious situation in a region that has been suffering from the effects of protracted violence since 2014. Frequent shelling, land mine fields, and the contamination of unexploded ordnance in Luhansk' forest belt, crossed by the conflicts' contact line for several years now, make the area extremely susceptible to wildfire risk, as highlighted in the IMPACT area-based risk assessment for Popasna raion.
The latest wildfire that affected the region from September to October 2020 was indeed reportedly catastrophic. According to UNOCHA, the fires burnt over 20,000 ha of forest, causing 11 deaths, 19 injuries, damaging or destroying around 500 houses, 1,800 buildings, leaving several settlements without power supply or water and killing hundreds of livestock and poultry in its spread.
Under the 3P Consortium project to Prepare, Prevent and Protect civilian populations from disaster risks in conflict-affected areas, IMPACT Initiatives provided ad-hoc mapping support to the Luhansk Emergency Service department during the wildfires. The maps helped to identify fire-affected areas through active fire detection and fire spread monitoring, based on satellite data from the Fire Information for Resource Management System (FIRMS). The satellite data was then overlaid with detailed settlement and critical infrastructure information.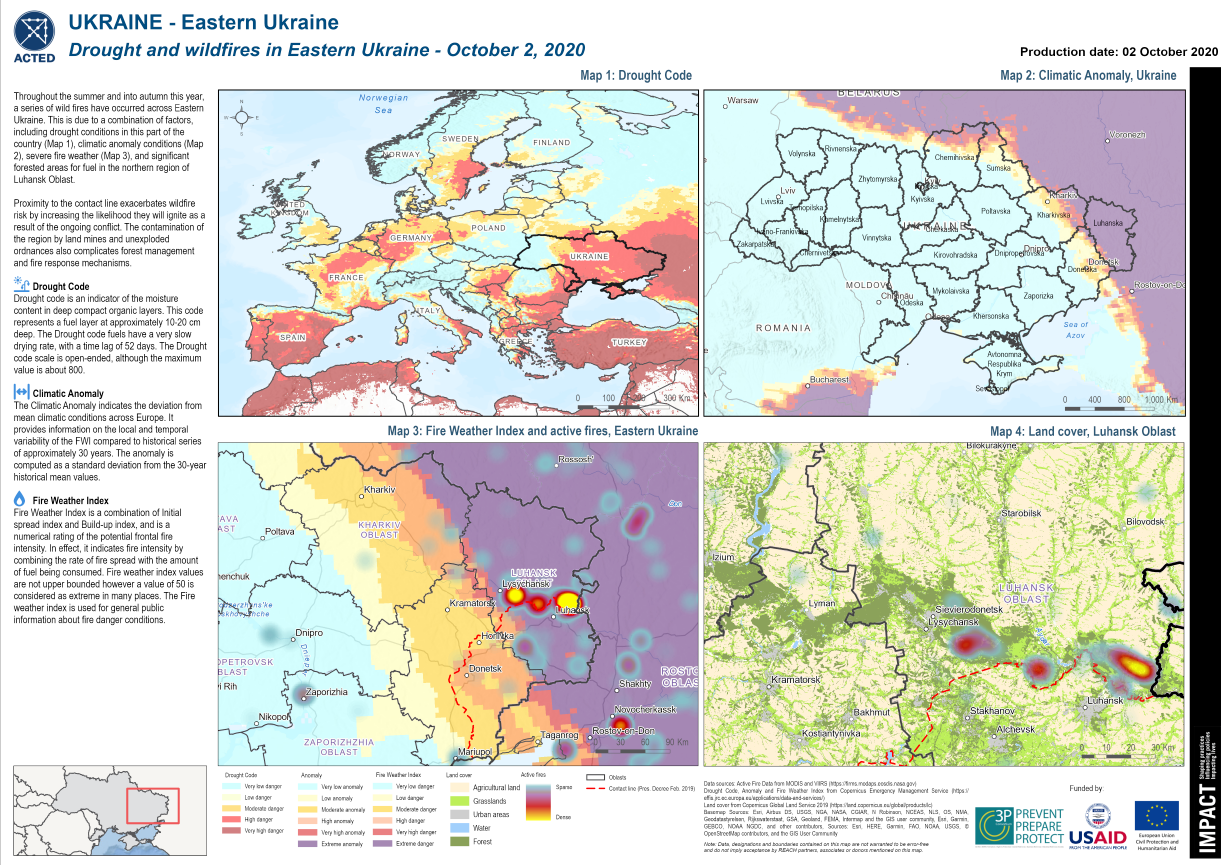 Besides the active fire mapping, the IMPACT team highlighted the severe conditions in the region through mapping the parts of Ukraine experiencing a drought, extreme climatic anomalies, and severe fire weather forecasts, based on data from the Copernicus Emergency Management Service. This became a ground for a wider cooperation between IMPACT and State Emergency Service department of Luhansk oblast (Luhansk SESU) and highlighted the need for prompt geospatial information to inform early warning, monitoring, and response to wildfires, which can make a difference in disaster prevention, preparedness, and protecting communities.
The efficacy of drones to support fire response and rescue operations has been increasingly leveraged by actors responding to crisis. Easy to carry and fast to deploy, drones assist response actors with building situational awareness, communication, personnel protection, and hot spot identification. Among the many key functionalities of the drone, the thermal camera can penetrate smoke and provide real time temperature values allowing for a more precise targeting of hot spots and better coordination with water bombers. The drones' camera also enables a better monitoring of the position of response teams, potential changes of the fire conditions, and of the safety considerations for access and evacuation. The combination of satellite imagery and real time data from drone pilot teams showcased how remote sensing can be an effective and complementary way of providing essential information in wildfire response in addition to providing added situational awareness and safety for response personnel which is crucial especially in the context of Eastern Ukraine.
IMPACT further supported the Luhansk SESU through a Remote Sensing and Geospatial analysis trainings which covered activities such as drone piloting, thermal camera applications, and rapid emergency mapping. Funded by the European Commission Humanitarian Aid department's Disaster Preparedness Programme (DIPECHO) and USAID's Bureau for Humanitarian Assistance (BHA), those emergency mapping trainings were attended by the heads of emergency response units operating in Luhansk, as well as civil protection experts. Participants were able to sharpen their skills regarding:
The use of offline apps for geolocation;
The development of situational overview maps through the use of QGIS, a free & open-source software;
The access to early warning and active fire data through remote sensing platforms such as Copernicus and NASA;
Drone piloting training, led in collaboration with DroneUA, Ukraine's official drone supplier
Basic remote sensing processes using Sentinel EO for wildfire and burned area detection, as well as water bodies and water source detection.
To continue capacity building support and raising awareness at regional and national level, a "Bridge the Gap" conference was organized by the 3P Consortium in Kyiv, Ukraine from February 16-18, 2021. Benefiting from the combination of in-person and virtual attendance, the conference brought together experts with local, regional and national government officials, civil society, humanitarian and development actors, as well as the private sector. The shared goal was to discuss priorities for reducing risks and increasing local response capacities to environmental and industrial hazards. Contributing to the conference, IMPACT facilitated a panel discussion with the Organization for Security and Co-operation in Europe (OSCE) and Luhansk SESU representatives to discuss the importance of evidence-based decision-making for Disaster Risk Management.
Among the key issues raised, the panel explored to what extent a better understanding of disaster risks would also help build awareness among affected populations, notably local communities, authorities, land planners, and state emergency services. Answering to this issue, the State Emergency representative in Luhansk oblast noted that there remained important information needs and challenges in implementing early warning systems. Also present on the panel, IMPACT DRR specialist James McArthur highlighted that there was indeed a constant need for data to feed the Disaster Risk Management cycle – not only to inform risk analysis but also to inform better preparedness, response, and building back better.
The way in which data is collected and shared throughout the Disaster Risk Management cycle can make a vital difference in disaster prevention, disaster preparedness, and protecting first responders and communities in the event of a disaster.
Throughout 2021, IMPACT, in collaboration with 3P Consortium members as well as national and local SESU authorities, will continue to collaborate and support DRM in Ukraine and build on the initial capacity building trainings.  Area-Based Risk Assessments will continue to be conducted along the contact line to build on the multi-hazard analysis initiated in 2020. IMPACT will also be looking into further leveraging remote sensing for cross contact line environmental monitoring to hopefully provide data to foster dialogue between Government and Non-Governmental controlled areas over shared environmental concerns impacting communities on both sides. Finally, IMPACT, through its REACH initiative also hopes to participate in future EU Civil Protection Mechanism exercises with the Red Cross and SESU in better preparing for wildfire responses simulations.
Please note: Content is displayed as last posted by a PreventionWeb community member or editor. The views expressed therein are not necessarily those of UNDRR, PreventionWeb, or its sponsors. See our terms of use