Your experience on PreventionWeb
Please help us improve PreventionWeb by taking this brief survey. Your input will allow us to better serve the needs of the DRR community.
Net Zero: Heritage for Climate Action | Call for Proposals Now Open
Source(s):
International Centre for the Study of the Preservation and Restoration of Cultural Property
Transformative change through heritage-based and community-led climate action
First Aid and Resilience for Cultural Heritage in Times of Crisis (FAR), a flagship programme of ICCROM, is pleased to be accepting project proposals that aim to use culture-based climate solutions to reduce/mitigate greenhouse gases, enhance preparedness, help communities cope with loss and damage, and facilitate peaceful and just transitions.
Net Zero: Heritage for Climate Action, is an 18-month (July 2022 – 31 December 2023) multi-level capacity development project rooted in the idea that every place has a 'climate story' embedded in its cultural heritage. One of the primary aims of Net Zero is to enhance risk reduction and coping capacities of vulnerable heritage communities. In this way, it will address the interconnected issues of heritage safeguard, decarbonizing, the upholding of cultural rights and sustainable development of vulnerable cultural bearers, as well as the effecting of change at a local level — while strengthening efforts globally. 
Partners
This project is conceived by ICCROM's flagship programme, First Aid and Resilience for Cultural Heritage in Times of Crisis (FAR), with the support of the Swedish Postcode Foundation, and in partnership with:
"Climate-resilient development is facilitated by international cooperation and by governments at all levels working with communities, civil society, educational bodies, scientific and other institutions, media, investors and businesses; and by developing partnerships with traditionally marginalized groups, including women, youth, Indigenous Peoples, local communities and ethnic minorities."
- IPCC WGII Sixth Assessment Report, 2022.
Cascading Capacity Development in Four Phases
Phase 1: Situation Analysis and Data Gathering (July – December 2022)
Phase 2: 4-week in-person workshop (February 2023)
Phase 3: Project implementation at five innovation sites (March – August 2023)
Phase 4: Final symposium and publication (November 2023)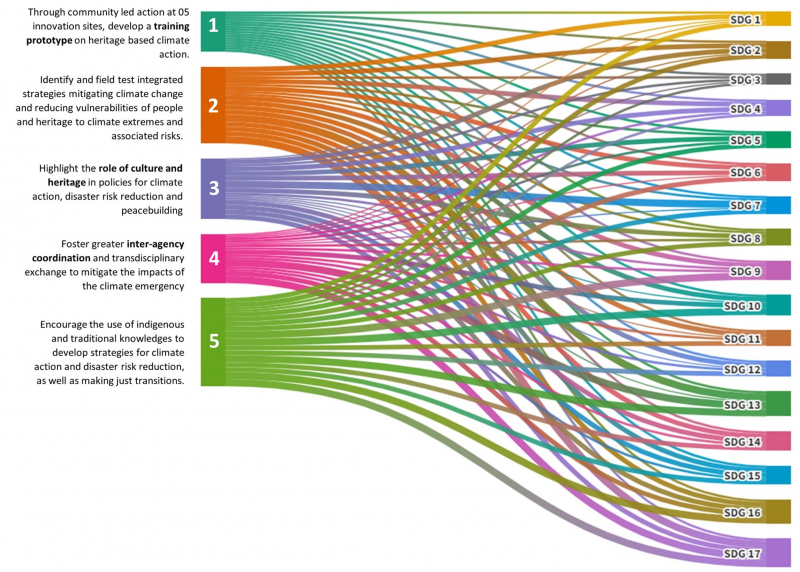 Figure explaining how Net Zero: Heritage for Climate Action adheres to the Sustainable Development Agenda 2030.
Proposals are invited from institutions and organizations, which are highly motivated and have a proven track record of successfully implementing projects on cultural heritage safeguard, sustainable development, disaster risk reduction and/or climate action. We encourage applications from organizations working in regions suffering from acute environmental stresses, such as Small Island Developing States (SID). These stresses may be visible in the form of frequent extreme hazard events and/or climate-driven conflicts. 
To be considered for selection, we invite interested organizations to read the full call for proposal and share their project ideas by filling in the application form. Completed forms can be submitted to far_programme@iccrom.org
In support of your application, you may share maps, documents and photos via WeTransfer or Google Drive.
Deadline
7 May 2022
For further information, please email far_programme@iccrom.org