Your experience on PreventionWeb
Please help us improve PreventionWeb by taking this brief survey. Your input will allow us to better serve the needs of the DRR community.
-
Yogyakarta
Indonesia
5AMCDRR: 5th Asian ministerial conference on disaster risk reduction
Organizer(s)
United Nations Office for Disaster Risk Reduction - Regional Office for Asia and Pacific
National Agency for Disaster Management (Badan Nasional Penanggulangan Bencana)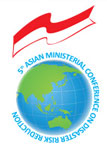 5th AMCDRR declaration and statements
View all declarations and statements

5th AMCDRR related news
View all related news

5th AMCDRR related documents
View all related documents



Building on past agreements and issues discussed in the earlier conferences, particularly in the 3rd and 4th AMCDRR, the 3rd Session of Global Platform for Disaster Risk Reduction, as well as Indonesia's own experiences that reaffirms the importance of enhancing DRR implementation at local level as part of the strategic venue to build nations and communities to disasters, Indonesia proposes the following sub-themes for the forthcoming 5th AMCDRR:

1. Integrating Local Level Disaster Risk Reduction and Climate Change Adaptation into National Development Planning
2. Local Risk Assessment and Financing
3. Strengthening Local Risk Governance and Partnership

Objectives

- To encourage stronger political commitment and investment for local action in disaster risk reduction
- To build on the findings and recommendations of the Global Platform's Third Session which brought up the theme "Invest Today for A Safer Tomorrow – Increase Investment in Local Action".
- To establish a practical and collaborative mechanism for building resilience at the local level among the countries in the Asia Pacific region.
- To promote local knowledge and practices in DRR as a way of enhancing local capacity in DRR

Expected outcomes

- Declaration of commitment with action plan and follow up strategy to enhance local capacity in disaster risk reduction
- Regional partnership for strengthening local capacity
- Technical and political recommendations on programs to empower local capacity among countries in the region
Film festival
The Committee of the 5th AMCDRR 2012 plans to organize an Asian Film Festival (AFIFES) on DRR for Asian Pacific Region. The theme is: "Strengthening Local Capacity on Disaster Risk Reduction." The film festival aims at building awareness of the importance of resilience to disaster at the lowest level of the community, amidst the growing challenges of disaster and climate change risks in the region. Selected documentary films will be screened play during conference. For more information see the "film festival" link at the bottom of the page.