Your experience on PreventionWeb
Please help us improve PreventionWeb by taking this brief survey. Your input will allow us to better serve the needs of the DRR community.
Documents and publications
Author(s)
Emilie Gettliffe
UN OCHA anticipatory action: Lessons from the 2020 Somalia pilot
7 January 2022
Source
Centre for Disaster Protection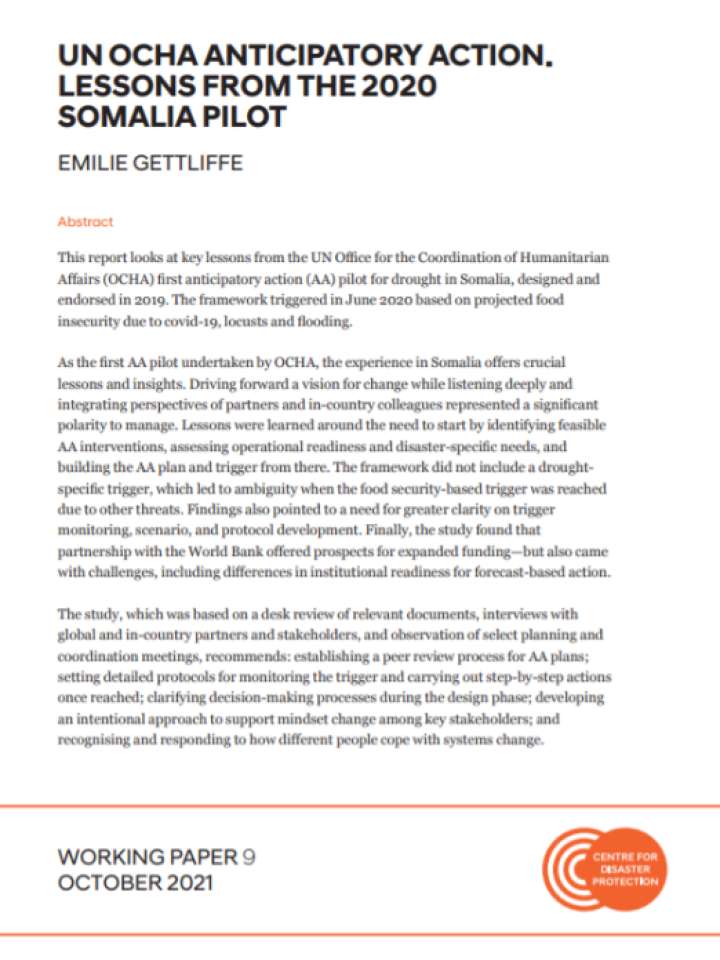 This report looks at key lessons from the UN Office for the Coordination of Humanitarian Affairs (OCHA) first anticipatory action (AA) pilot for drought in Somalia, designed and endorsed in 2019. The framework triggered in June 2020 based on projected food insecurity due to COVID-19, locusts and flooding. As the first AA pilot undertaken by OCHA, the experience in Somalia offers crucial lessons and insights. Driving forward a vision for change while listening deeply and integrating perspectives of partners and in-country colleagues represented a significant polarity to manage.
This report indicated the need to start by identifying feasible AA interventions, assessing operational readiness and disaster-specific needs, and building the AA plan and trigger from there. The framework did not include a drought-specific trigger, which led to ambiguity when the food security-based trigger was reached due to other threats. Findings also pointed to a need for greater clarity on trigger monitoring, scenario, and protocol development. Finally, the study found that partnership with the World Bank offered prospects for expanded funding—but also came with challenges, including differences in institutional readiness for forecast-based action.
(387.23 KB/PDF)
(3.06 MB/PDF)