publication
Documents and publications
Space weather & critical infrastructures: findings and outlook
Author(s)
Elisabeth Krausmann; Emmelie Andersson; Mark Gibbs; William Murtagh
Source
European Commission Joint Research Centre
Met Office
Swedish Defence University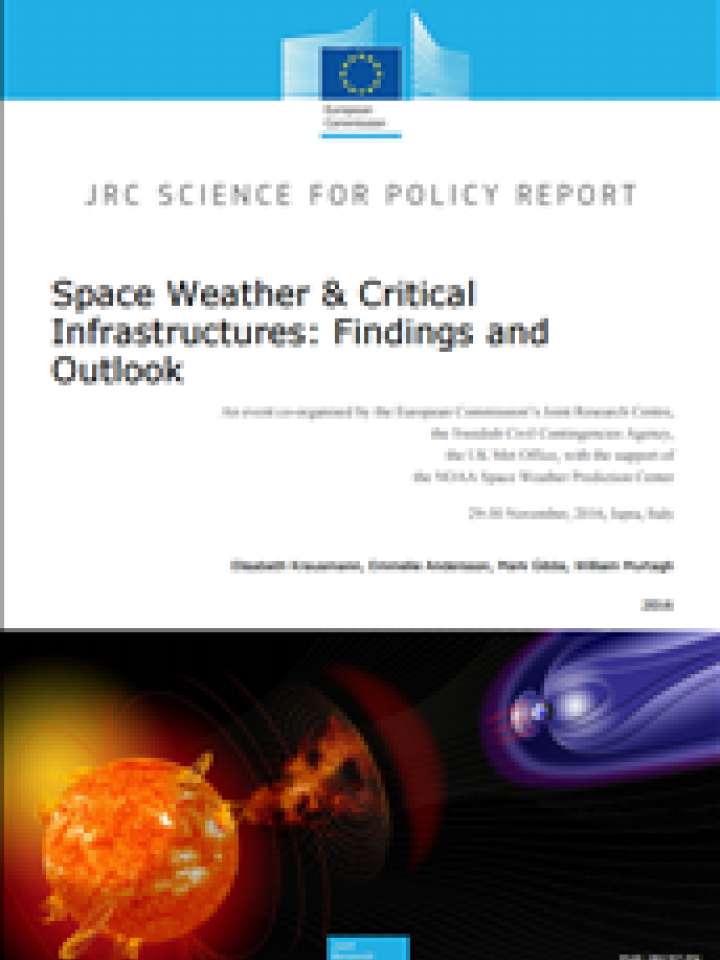 ISBN/ISSN/DOI
978-92-79-63903-6
This document presents outcomes from a 2-day summit 29-30 November 2016 in Ispra, Italy on the impact of extreme space weather on critical infrastructure. The objectives of the summit were to discuss the state of play in reducing the risks of extreme space-weather impacts on infrastructures, address the problem of transboundary effects and the associated challenges for operators and emergency response, and to provide a platform for exchange and coordination among the stakeholders.
The main workshop conclusions are:
Extreme space weather has a global footprint and can affect multiple ground- and space-based infrastructures at the same time. An event of such magnitude could overwhelm a single nation's response capacity.
Some countries have recognised the threat of extreme space weather and have included it in their strategic national risk assessment.
There is a need to develop methodologies and tools for assessing interdependencies between critical infrastructures.
A multi-risk governance approach is needed to address cascading effects and the different stakeholders that often manage the risk in isolation from each other.
A pan-European vulnerability assessment of the power transmission grid should be carried out to identify criticalities and the potential for transboundary effects in case of extreme space weather.
Infrastructure operators should assess if hidden vulnerabilities to space weather are embedded in their systems, for example via dependencies on GNSS.
Significant knowledge gaps in physical and impact modelling persist. These gaps strongly affect early-warning capabilities and preparedness in industry.
Better communication between science and industry is needed to provide relevant, reliable and usable information to operators for decision making.
In Europe and the USA, 24/7 space-weather forecasting capabilities are available to support the early warning of government and industry.
There is a need for consistency in forecasting and for coordination of forecasts from different service providers.
A strategic plan should be developed to define the roles of the key players in Europe. This can include the establishment of a centralised European strategic decisionmaking capability for coordinating space-weather risk mitigation and response at a pan-European level.
The USA has issued a National Space Weather Strategy that defines high-level strategic goals and actions for increasing preparedness levels. 
Please note: Content is displayed as last posted by a PreventionWeb community member or editor. The views expressed therein are not necessarily those of UNDRR, PreventionWeb, or its sponsors. See our terms of use