Documents and publications
Author(s)
Covey, Judith; Dominelli, Lena; Horwell, Claire J.H et al.
Carers' perceptions of harm and the protective measures taken to safeguard children's health against inhalation of volcanic ash: A comparative study across Indonesia, Japan and Mexico
Source
International Journal of Disaster Risk Reduction (Elsevier)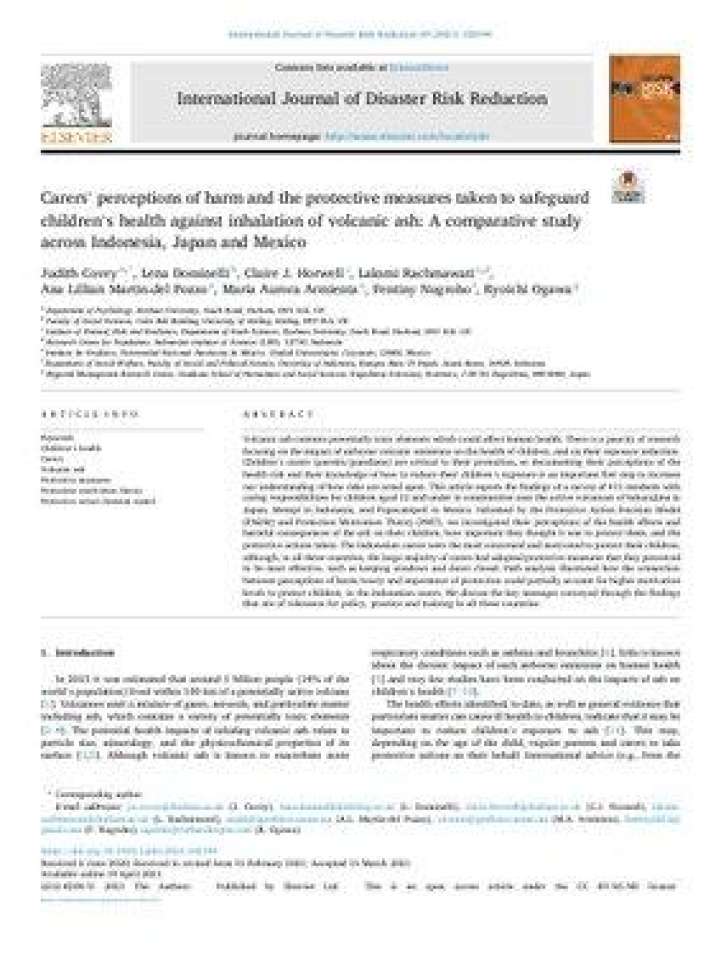 ISBN/ISSN/DOI
10.1016/j.ijdrr.2021.102194 (DOI)
This article reports the findings of a survey of 411 residents with caring responsibilities for children aged 12 and under in communities near the active volcanoes of Sakurajima in Japan, Merapi in Indonesia, and Popocatépetl in Mexico. Informed by the Protective Action Decision Model (PADM) and Protection Motivation Theory (PMT), the authors investigated their perceptions of the health effects and harmful consequences of the ash on their children, how important they thought it was to protect them, and the protective actions taken.
The Indonesian carers were the most concerned and motivated to protect their children, although, in all three countries, the large majority of carers had adopted protective measures that they perceived to be most effective, such as keeping windows and doors closed. Path analysis illustrated how the connection between perceptions of harm/worry and importance of protection could partially account for higher motivation levels to protect children, in the Indonesian carers. The authors discuss the key messages conveyed through the findings that are of relevance for policy, practice and training in all three countries.
These are:
Carers consider the impact of ash on children's health as being more harmful than on their own health.
Carers take a range of protective measures in safeguarding children's health which need to be investigated for their efficacy, which can then inform service provision and delivery, and policy formulation.
Carers' views on the effectiveness of the protective measures they might undertake determine those measures that they will actually carry out.
Country specific differences are important in ensuring that messages from those in authority or those training practitioners are contextually-specific and culturally-relevant.
Generalisations from the findings of this survey should be conducted with caution given the diverse social contexts, cultures and legislation pertaining in other countries.
Finally, and of crucial importance, future research should focus on accessing children's own voices in discussing their health experiences of inhaling ash.
Please note: Content is displayed as last posted by a PreventionWeb community member or editor. The views expressed therein are not necessarily those of UNDRR, PreventionWeb, or its sponsors. See our terms of use