By Francis Mwangi
In April 2017, Concern Kenya was selected to conduct the Blanket Supplementary Feeding Programme (BSFP) in North Horr Sub-County following reports of a very high critical nutrition situation in the Sub-County. BSFP targeted to give supplementary ration to all members of vulnerable groups, especially children and pregnant women. Concern indeed identified the urgency of these interventions, the fact that the field level agreement with World Food Programme (WFP) was signed in May 2017 did not hinder Concern to move in immediately thanks to the support of the Disaster Emergency Committee (DEC) and UK Aid.
The funding proved instrumental in ensuring that Concern executed timely emergency responses. Some of the immediate milestones included the advanced recruitment and training of the BSFP workforce that included team leaders, Community Health Volunteers among other support personnel. The funding, therefore, was very important in ensuring that no time was lost and Concern was able to distribute the much needed supplementary feeds to starving mothers and children in North Horr Sub-County. Subsequently, the number of Severe Acute Malnutrition (SAM) cases in North Horr dropped from 9.86 per cent in January 2017 to 5 per cent in June 2017 according to the July 2017 smart survey.
According to Bob Kaugi, Concern Kenya Senior Programme Manager, Health and Nutrition in Marsabit County, recruitment and training was a priority focus. "We used DEC funding to train the County and Sub- County Health Management Team, we also trained seven team leaders, as well as other implementing partners from UNICEF, Word Vision Kenya, and WFP", Bob Observes.
The recruited workforce was spread across the 52 BSFP distribution sites in North Horr Sub-County "we hired seven team leaders plus 14 personnel per site in all the 52 outreach sites, these include Community Health Volunteers (CHVs), loaders, crowd controllers among others". Bob adds. Training of the teams was a critical component of the programme, team leaders were allocated seven outreach sites with and charged with the responsibility of training their respective teams.
Beatrice Lenjuron is the Senior Nurse of Illeret Health Facility and a team leader for the BSFP outreach programme, she says that the training of the workforce has been useful in providing the skills required during the outreach programmes "for sure people working in outreaches were equipped with set of skills that have proved essential in handling the needy people during BSFP distribution, this helps us to ensure that we undertake our distribution by being sensitive and professional hence setting high-quality standards in our work" she says.
Concern as the lead distributor of BSFP further used the funding from DEC and UK Aid to undertake transport logistics in all the 52 outreach sites "These outreach sites are very important because it is all about bringing health services closer to the people, Concern Kenya is the lead implementer in BSFP distribution hence transport is very important and you have to get it right because of the poor road network" Bob notes.
The funding was also used to implement other activities such as social mobilization through SIFA radio, schools, mosques and community conversation groups as well as procuring the required tools. "We also procured required tools such as measuring sticks used to measure or estimate the child age since many don't know age of their children, ropes to manage crowd control, registers, stationaries, foldable chairs and tables" says Bob. Other activities undertaken through this support include payment of allowances for the BSFP workforce and Ministry of Health staff.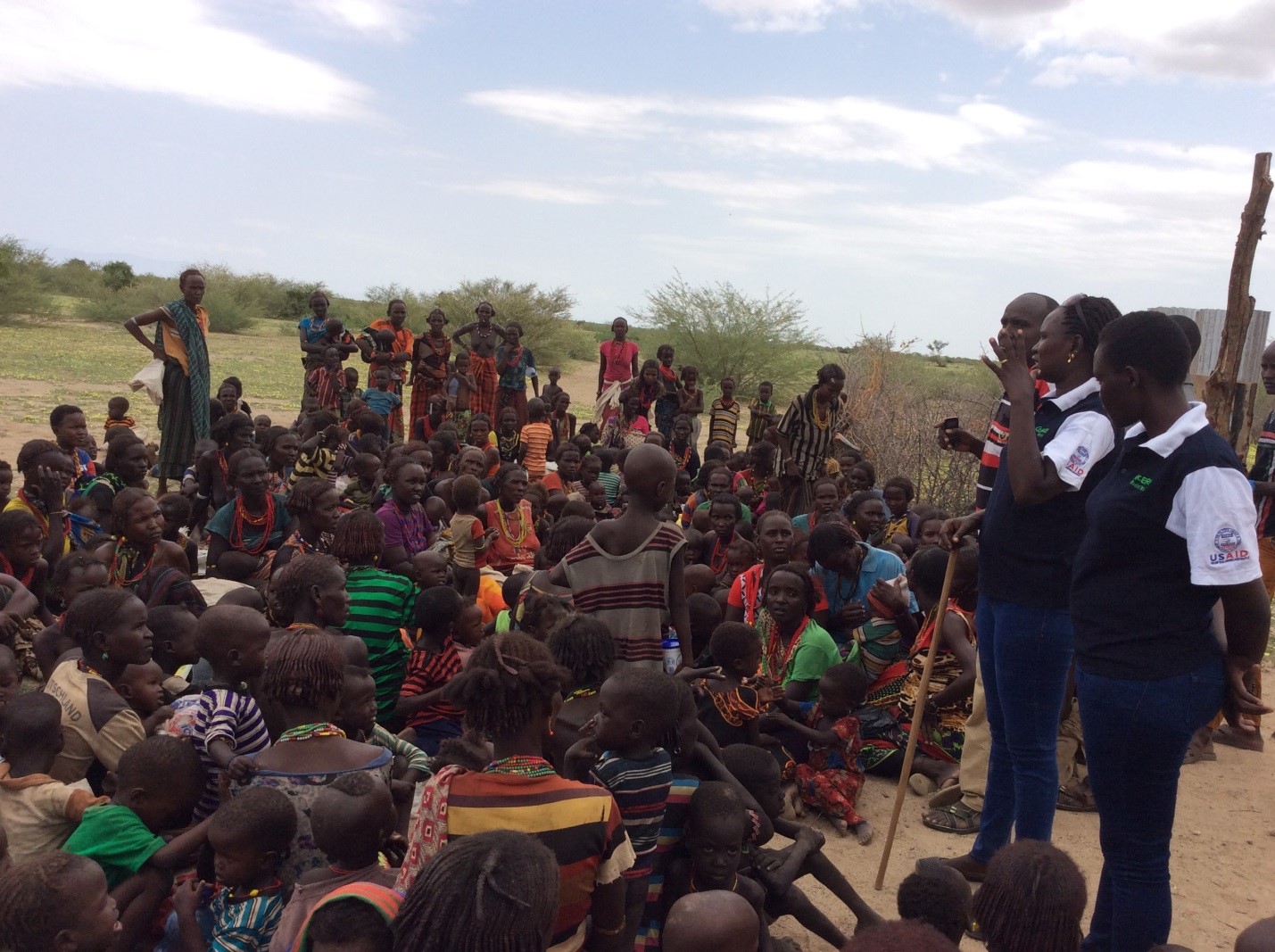 Beatrice Lenjuron (holding a measuring stick), a Senior Nurse in Illeret and one of the seven BSFP outreach team leaders supported by Concern conducting awareness among BSFP Beneficiaries at Nang'olei Outreach site.