Your experience on PreventionWeb
Please help us improve PreventionWeb by taking this brief survey. Your input will allow us to better serve the needs of the DRR community.
Author:
Richard Guillande
SIGNALERT crowdmapping app evolves to fit with early warning for all goal
Source(s):
Signalert Sarl
Since the decision taken by UN to propose early warning for all in 2030, arose the question of how to cover multiples regions, multiples languages and multiple hydrometeorological as well as geophysical phenomenons, worldwide without multiplying systems and integrating them. In many countries exist several Early warning systems for different types de natural phenomenons.
Since its launch in 2014, the app SIGNALERT was at the very beginning delivering early warning to its users through the Relay of flood vigilance in France. The app has then been connected to networks of IoT objects such as personal weather stations to detect and advise when critical thresholds of rainfall intensity or temperature are exceeded.
Today the App has made several steps toward a universal personal Early warning device.
First of all, the App progressively incorporates hazard exposures maps for several different phenomenons. Flood, tsunami, volcanic hazards maps are available for several locations and more will be incorporated.
For tsunami, exposure, evacuation routes, shelters or safe areas are permanently visible in cold situations, but the app users can also locate themselves with respect to them whenever he receives a warning. Tsunami exposure, evacuation routes, shelters and safe places of various regions in the world are being incorporated.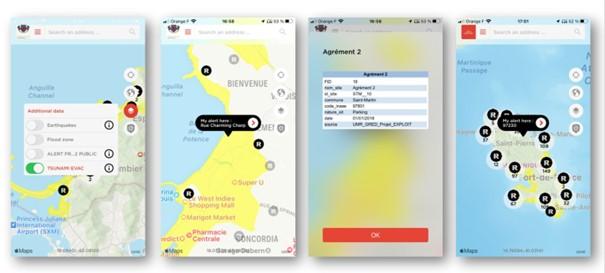 Any institution editing static hazards exposure map can contact us to integrate new maps in the App for his territory and publicize toward resident as well as travelers. SIGNALERT is today available in French, English, Spanish, Arabic and Haitian Creole.
Beside the capacity of SIGNALERT web interface to emit warning and send it to the App users, the Security check module allows broadcasting massively warning messages to fellow citizens who subscribed online to a reception list, be they user of the app or not.
The recent deployment of Cell broadcast technology in some European countries for mass alerting of population in case of severe forecasted or ongoing event, relying on a heavy, complex and costly technology. Despite its capacity to reach any smartphone in a given area, the messages broadcasted lacks maps to allow the citizen spotting himself in or out the danger zone, as well as his proximity to safe places.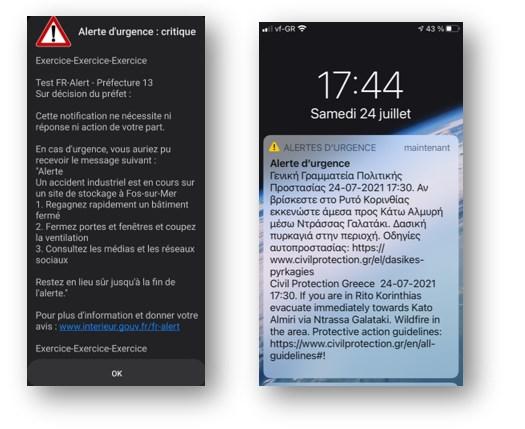 SIGNALERT proposes a much easier and low-cost approach. The system can publish simultaneously text messages or notifications to the app users and forward them maps showing dangerous zones with embedded instructions or information about nature, intensity of the phenomenon, safe places and behavior. The publication process is simple and can be repeated frequently to follow the evolution of the disaster.
Please note: Content is displayed as last posted by a PreventionWeb community member or editor. The views expressed therein are not necessarily those of UNDRR, PreventionWeb, or its sponsors. See our terms of use