Source(s)
United Nations Office for Disaster Risk Reduction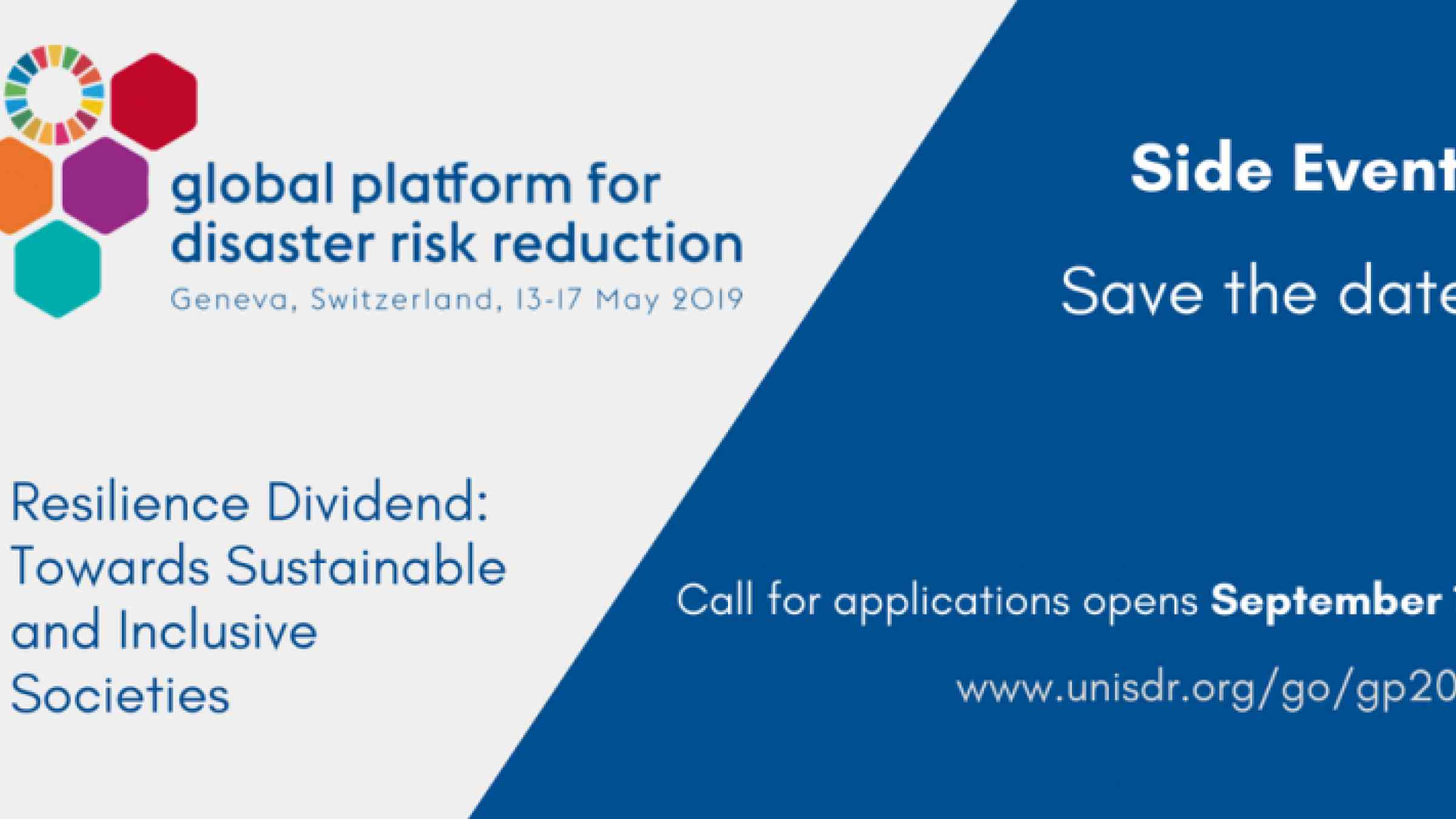 The sixth Session of the Global Platform for Disaster Risk Reduction (GP2019) will take place in Geneva, Switzerland from 13 to 17 May, 2019, convened and organized by the UN Office for Disaster Risk Reduction (UNISDR) and hosted by the Government of Switzerland.
The session will be co-chaired by Switzerland and UNISDR. It will represent the next important opportunity for the international community to boost the implementation of the Sendai Framework and related Sustainable Development Goals of the 2030 Agenda, as well as commitments of the Paris Climate Agreement.
Interested organizations from government, inter-governmental organizations, Civil Society, Private Sector and other stakeholder groups are invited to express their interest in organising side events during the GP 19.
Objective: The GP2019 will be organized under the overall theme entitled: Resilience Dividend: Towards Sustainable and Inclusive Societies. It will focus on how managing disaster risk and risk-informed development investments pay dividends in multiple sectors at all levels and throughout social, economic, financial and environmental fields. Each of the three official days will have a specific focus as follows:
Day 1 will take stock on progress made since the last Global Platform and will contextualize progress made at local, national and regional levels.
Day 2 is on risk-informed public and private investments, including investments in infrastructure, and innovative investment modalities.
Day 3 will focus on action on climate and disaster risk, including integrated national policies, strategies and planning, innovative financial and social instruments for climate and disaster risk reduction, including gender considerations, as well as early warning awareness-raising, disaster preparedness and community resilience.
Details: Side events will have a standard duration of 90 minutes and will take place in the main conference venue. A total of 15 side events slots will be available, with five taking place per day from 15 to 17 May. Further logistical details, including time slots and rooms, will be shared with side event focal points at a later date.
Submission: The call will open on the 14th of September 2018 via an online application form which will be shared on the Global Platform website (https://www.unisdr.org/conference/2019/globalplatform).
Deadline for Submission: 28 September 2018
The final list of the side events that have been selected will be posted on the Global Platform web page by 30th of October.
Selection criteria:
Applications are received within the time of the opening of the call (14 – 28 September).
Due to the limited number of slots available for side events, multi-stakeholder organizing teams, representing a variety of different organizations and perspectives, have a greater likelihood of being accepted. Applications from single organizers will not be accepted.
The Guiding Principles for the Global Platform 2019 will also be taken into account:

Coherence with other global agendas
Multi-stakeholder approach
Innovative
Inclusive and Diverse
Geographic Balance

How effectively the session will contribute to the GP objectives
Relevance of panelists to the proposed theme
Panelist Gender Balance