blog
Heat officer: arising risk, emerging role
14 July 2022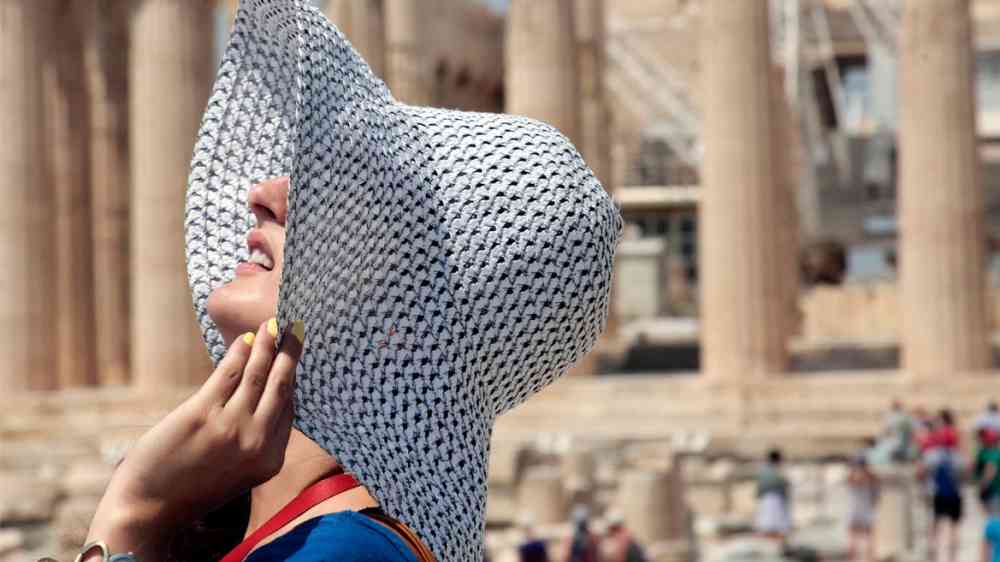 Alexandros Michailidis/Shutterstock
What are the key heat management skills of this century? 
Understanding science and translating it to decision-makers 
Mobilizing communities 
Bringing disciplines and sectors together 
Eleni Myrivili was appointed Chief Heat Officer by the Mayor of Athens in 2021, filling in the first such role to be created in Europe. She is just the third Chief Heat Officer to be appointed in the world, following Miami-Dade County in Florida and Freetown, Sierra Leone. 
In late June, Myrivili was appointed Global Chief Heat Officer with the role to coordinate a new partnership between Arsht-Rock and UN-HABITAT. This partnership will seek to address the impact of extreme urban heat by mainstreaming heat across UN-Habitat's various areas of work and across UN agencies. 
Her task is to coordinate heatwave-related projects and activities to protect people and adapt the city to soaring temperatures. PreventionWeb talked to her to understand what her role entails. 
Myrivili's job seems complex, but she has an easy explanation that she uses to describe her role to children.
"I want to bring more trees and water to the places where you walk and play so that cities are more fun," she explains.
When she was a child herself, she wanted to work in the circus or become a gardener. Perhaps this was a premonition of her future career: gardening a city – while juggling a dizzying array of complex and sensitive tasks.
Worrying trend
Myrivili says that by the middle of the century there will be about 1000 cities or 1.6 billion people dealing with conditions bodies and infrastructure are not ready to adapt to. Heat seems to be the most extreme, silent albeit deadliest of weather events, she stresses. 
This worrying trend is what made her decide to dedicate herself to making cities cooler, and trying to protect the most vulnerable. 
"It's very alarming to me that all around the world, people, in general, don't take heat exposure seriously", she stresses.  
"I would love to transform this city tomorrow." 
"I feel an incredible stress and anxiety about the fact that we have to act really fast and in sync." 
But things are not in sync and people are taking it slowly, she says, and "that's a big stress".
What does being a Heat Officer mean?
💬"Heat being one of the deadliest #ExtremeWeather events, I decided to dedicate my work to making cities cooler and protect the population" - says @leniomyrivili, Athens' Chief Heat Officer. #CareersInResiliencehttps://t.co/51iz8fcrUR pic.twitter.com/PMkXxdmEih

— PreventionWeb (@PreventionWeb) July 26, 2022
Transforming cities
So "when you see people working together and collaborating" it's "fantastic".  
"Some people are already thinking about solutions and get excited about working on issues and solving problems", Myrivili shares. Seeing people engaged and happy to get involved, is what makes Myrivili's job truly rewarding. 
It's also very exciting for her to hear about what other cities have been doing. Athens is neither a very rich city nor a very poor one. It has vulnerable populations, but also the capacity to do things. It can be an example for other cities to follow. 
"What would it take for other cities to appoint a chief heat officer", we ask her.  
"It has to do with a mayor realizing that heatwaves are a significant challenge for a city and that people are in danger", Myrivili continues. It then needs earmarking a budget for it, raising awareness, and preparedness, but "it also needs rethinking the way we are dealing with public space and with the built environment" Myrivili says. 
Heat management skills
Myrivili believes that "a successful heat officer is somebody who understands science and can translate it to decision-makers". Someone who "mobilises communities" and can help them understand issues, while it is also a person who has "the ear of the mayor". 
Moreover, "when you are dealing with building resilience you have to have a lot of imagination", explains Myrivili. "You have to go beyond, think out of the box and think of problems that you haven't been dealing with". Imagination for Myrivili, can help think of the "challenges that will be the challenges of the future". 
"You can't go with what you expect – like the pandemic" which nobody expected, she says, "so you really have to go cross-sectorally", bring disciplines together and "try to listen to people". 
Myrivili also has some suggestions for young people who wish to engage in disaster risk management. "They should not think of sciences or sectors vertically" and they "should try to gain as much multisectoral experience and multidisciplinary knowledge as possible". Myrivili explains that "the people that understand the interdependencies between different systems are the people who are going to find the solutions". "Unless you grasp the problem from different points of view and from different disciplines", it will be difficult to understand how systems work. 
Myrivili, concludes that "we really have to do things now the right way". "We don't have the luxury to keep creating things that in eighty years might be the wrong kind of things because we didn't think what the results were going to be". 
"We really have to build ideas in a very open way, understand how things work and how we can find solutions for them".
Read here on the projects that the city of Athens is undertaking to combat heat risk.
---
Eleni Myrivili is Chieft Heat Officer for the municipality of Athens and Global Heat Officer for the UN-Habitat and Arsth-Rock partnership.
Please note: Content is displayed as last posted by a PreventionWeb community member or editor. The views expressed therein are not necessarily those of UNDRR, PreventionWeb, or its sponsors. See our terms of use