Sendai Framework Monitor
Strong accountability is one of the cornerstones of the Sendai Framework for Disaster Risk Reduction. A set of 38 indicators, recommended by an Open-ended Intergovernmental Expert Working Group, will track progress in implementing the seven targets of the Sendai Framework as well as its related dimensions reflected in the Sustainable Development Goals 1, 11 and 13.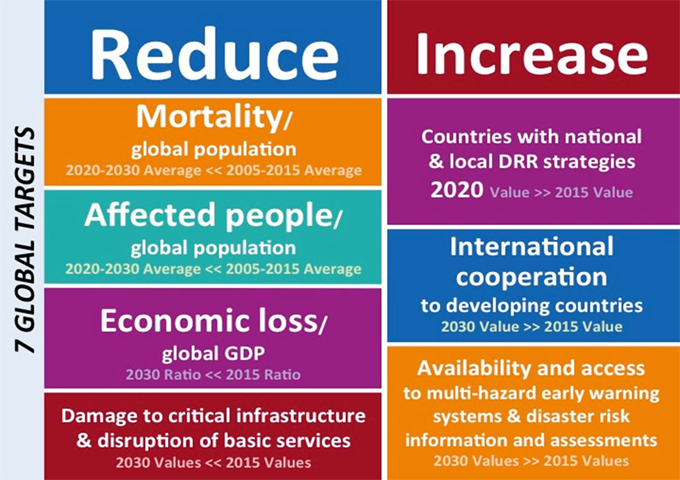 The Sendai Framework Monitor also function as a management tool to help countries develop disaster risk reduction strategies, make risk-informed policy decisions and allocate resources to prevent new disaster risks. The Sendai Framework Monitor can contribute to the Target E of the Sendai Framework related to development of actionable national and local disaster risk reduction strategies by 2020.

Indicators
A set of 38 indicators was identified to measure global progress in the implementation of the Sendai Framework for Disaster Risk Reduction. The indicators will measure progress in achieving the global targets of the Sendai Framework, and determine global trends in the reduction of risk and losses.
The scope of monitoring has been categorised in a number of ways:
Global and Custom targets and indicators:

The seven Global targets and thirty-eight global indicators will measure progress made by all countries on disaster risk reduction by the year 2030. These will contribute to the global analysis of the country level information submitted by countries and documented in the biennial Global Assessment Reports.
Additionally, the custom targets and indicators are nationally defined instruments by Member States to measure their progress against the four priorities of the Sendai Framework. They are based on the priorities of respective countries and will be reflected in the national DRR reports of the countries.

Input, Output and Outcome Level Targets and indicators:

Input level: Nationally defined, appropriate public policy indicators to measure the implementation of the 4 Priorities and the Sendai Framework in general
Output level: Nationally defined targets and indicators to measure reduction of risk and increase in resilience
Outcome level: Global targets and indicators as described above, which are objective and comparable
Sendai Framework and Sustainable Development Goals (SDG)
The Sendai Framework targets and indicators contribute to measuring disaster-related goals and targets of the 2030 Agenda for Sustainable Development, in particular SDG 1 – End poverty in all its forms everywhere, 11 – Make cities and human settlements inclusive, safe, resilient and sustainable and 13 – Take urgent action to combat climate change and its impacts.
Key resources