Documents and publications
Author(s)
Laura Niggli
Christian Huggel
Veruska Muccione
et al.
Towards improved understanding of cascading and interconnected risks from concurrent weather extremes: Analysis of historical heat and drought extreme events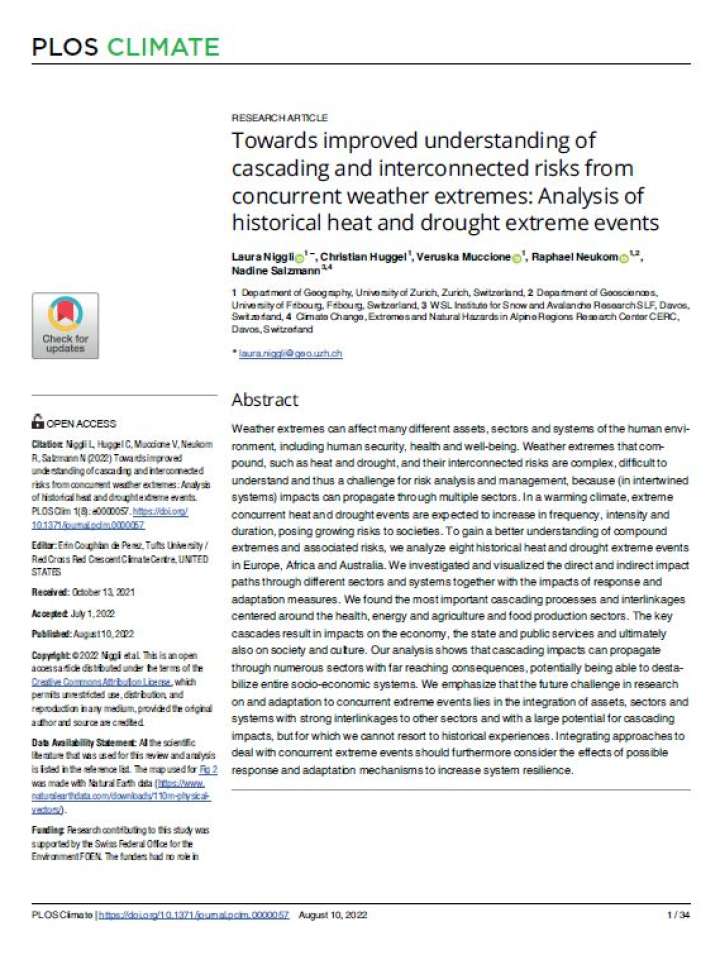 To gain a better understanding of compound extremes and associated risks, the researchers analyze eight historical heat and drought extreme events in Europe, Africa and Australia. They investigated and visualized the direct and indirect impact paths through different sectors and systems together with the impacts of response and adaptation measures. Weather extremes can affect many different assets, sectors and systems of the human environment, including human security, health and well-being. Weather extremes that compound, such as heat and drought, and their interconnected risks are complex, difficult to understand and thus a challenge for risk analysis and management, because (in intertwined systems) impacts can propagate through multiple sectors. In a warming climate, extreme concurrent heat and drought events are expected to increase in frequency, intensity and duration, posing growing risks to societies.
The authors found the most important cascading processes and interlinkages centered around the health, energy and agriculture and food production sectors. The key cascades result in impacts on the economy, the state and public services and ultimately also on society and culture. Their analysis shows that cascading impacts can propagate through numerous sectors with far reaching consequences, potentially being able to destabilize entire socio-economic systems. The researchers emphasize that the future challenge in research on and adaptation to concurrent extreme events lies in the integration of assets, sectors and systems with strong interlinkages to other sectors and with a large potential for cascading impacts, but for which we cannot resort to historical experiences. Integrating approaches to deal with concurrent extreme events should furthermore consider the effects of possible response and adaptation mechanisms to increase system resilience.
Please note: Content is displayed as last posted by a PreventionWeb community member or editor. The views expressed therein are not necessarily those of UNDRR, PreventionWeb, or its sponsors. See our terms of use