publication
Documents and publications
Ready or Not: Protecting the Public's Health from Diseases, Disasters and Bioterrorism (2016)
Author(s)
Segal, Laura; Dara, Lieberman; May, Kendra
Source
Trust for America's Health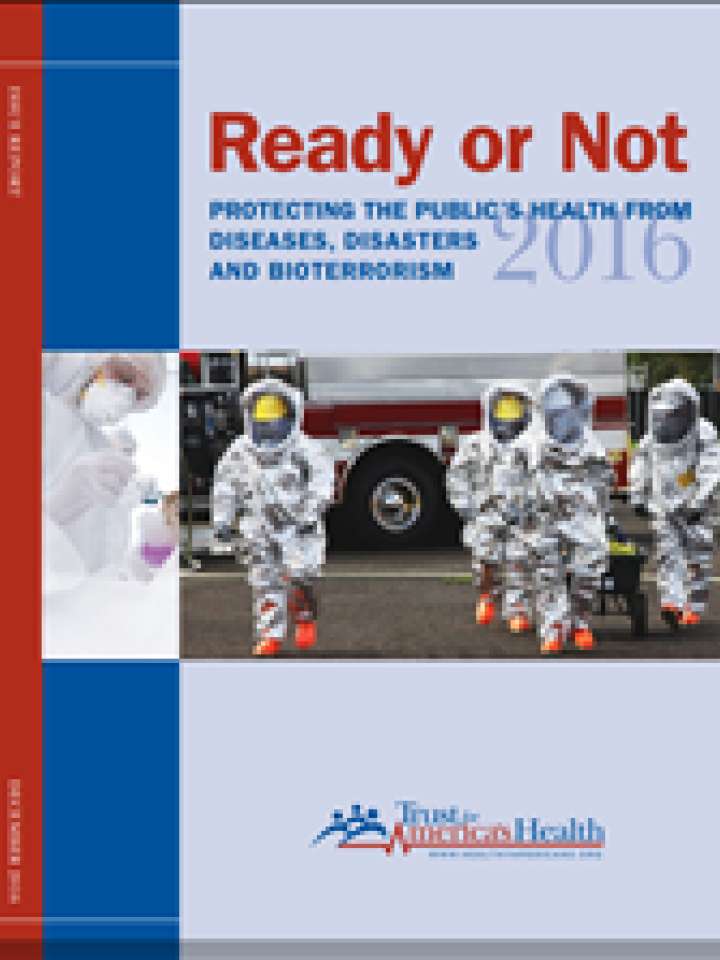 The report examines the United States' ability to respond to public health emergencies, tracks progress and vulnerabilities, and includes a review of state and federal public health preparedness policies.The report examines trends in public health preparedness over the last 15 years, finding successes and ongoing concerns:
One-third of funds for health security and half of funds for healthcare system preparedness have been cut:  Health emergency preparedness funding for states has been cut from $940 million in fiscal year (FY) 2002 to $660 million in FY 2016; and healthcare system preparedness funding for states has been cut by more than half since FY 2005 – down to $255 million.
Some major areas of accomplishment:  Improved emergency operations, communication and coordination; support for the Strategic National Stockpile and the ability to distribute medicines and vaccines during crises; major upgrades in public health labs and foodborne illness detection capabilities; and improvements in legal and liability protections during emergencies.
Some major ongoing gaps: Lack of a coordinated, interoperable, near real-time biosurveillance system; insufficient support for research and development of new medicines, vaccines and medical equipment to keep pace with modern threats; gaps in the ability of the healthcare system to care for a mass influx of patients during a major outbreak or attack; and cuts to the public health workforce across states.
The report further provides a series of recommendations that address many of the major gaps in emergency health preparedness, including:
Requiring strong, consistent baseline public health Foundational Capabilities in regions, states and communities—so that everyone is protected.
Ensuring stable, sufficient health emergency preparedness funding to maintain a standing set of foundational capabilities alongside a complementary Public Health Emergency Fund which would provide immediate surge funding during an emergency. 
Improving federal leadership before, during and after disasters – including at the White House level. 
Recruiting and training a next generation public health workforce with expert scientific abilities to harness and use technological advances along with critical thinking and management skills to serve as the Chief Health Strategist for a community. 
Reconsidering health system preparedness for new threats and mass outbreaks by developing stronger coalitions and partnerships among providers, hospitals, insurance providers, pharmaceutical and health equipment businesses, emergency management, and public health agencies. 
Prioritizing efforts to address one of the most serious threats to human health by expanding efforts to stop Superbugs and antibiotic resistance.
Improving rates of vaccinations for children and adults – which are one of the most effective public health tools against many infectious diseases.
PLEASE NOTE: CONTENT IS DISPLAYED AS LAST POSTED BY A PREVENTIONWEB COMMUNITY MEMBER OR EDITOR. THE VIEWS EXPRESSED THEREIN ARE NOT NECESSARILY THOSE OF UNDRR, PREVENTIONWEB, OR ITS SPONSORS.
SEE OUR TERMS OF USE