publication
Documents and publications
Moving from one risk to another: dynamics of hazard exposure and disaster vulnerability for displaced persons, migrants and other people on the move
Source
Internal Displacement Monitoring Centre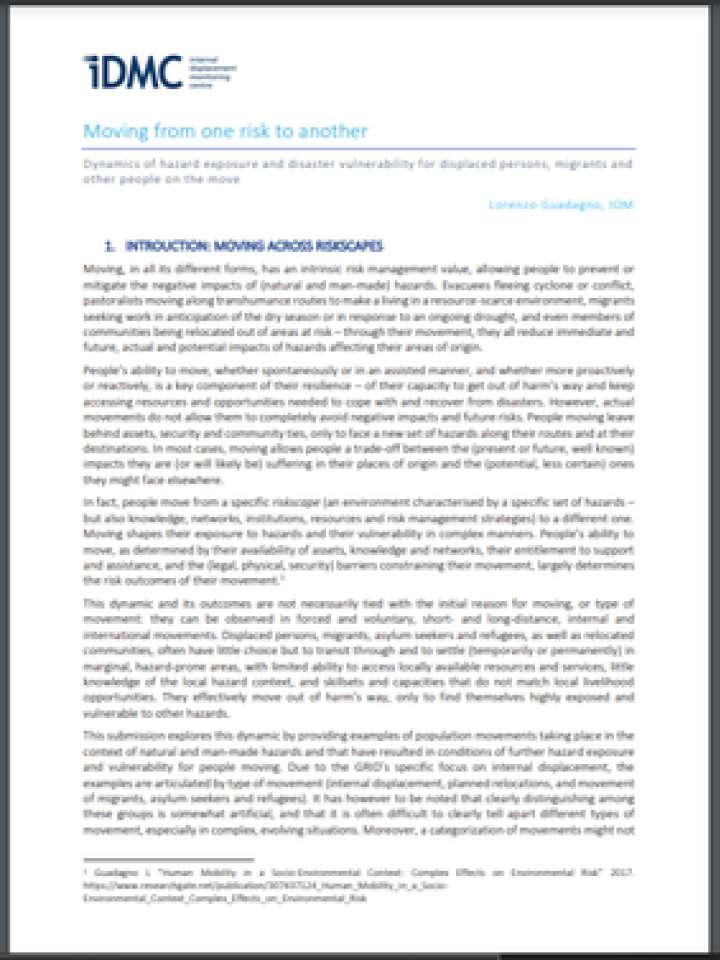 This submission explores the dynamic of human mobility by providing examples of population movements taking place in the context of natural and man-made hazards and that have resulted in conditions of further hazard exposure and vulnerability for people moving. People's ability to move, whether spontaneously or in an assisted manner, and whether more proactively or reactively, is a key component of their resilience – of their capacity to get out of harm's way and keep accessing resources and opportunities needed to cope with and recover from disasters. However, actual movements do not allow them to completely avoid negative impacts and future risks. People moving leave behind assets, security and community ties, only to face a new set of hazards along their routes and at their destinations. In most cases, moving allows people a trade-off between the (present or future, well known) impacts they are (or will likely be) suffering in their places of origin and the (potential, less certain) ones they might face elsewhere. 
The examples provided in this paper point to some key theoretical and operational implications, including: 
The dynamic nature of risk throughout people's displacement and migration trajectories needs to be understood and fully assessed. Whether people flee to save their lives, move in anticipation of a potential hazard, or for reasons related to their employment or family, it is likely that they will end up in hazard-exposed locations and with reduced access to assistance and opportunities. This requires looking at their evolving risk landscape through a translocal, diachronic and multi-hazard perspective.
These risk outcomes should be anticipated. Multi-hazard risk assessments should inform selection and planning of displacement sites, as well as urban/land-use and development planning in areas that are likely to receive significant inflow of people. Risk considerations are also essential for the design and implementation of planned relocation operations. 
Disaster risk reduction objectives need to be fully integrated in frameworks and efforts aiming to achieve solutions for displaced persons. The effective reduction of risk to displaced persons is a precondition to resolving displacement situations, but also to avoid a vicious circle of further erosion of people's livelihoods, well-being and resilience, that is associated with repeated disasters and secondary displacement. 
PLEASE NOTE: CONTENT IS DISPLAYED AS LAST POSTED BY A PREVENTIONWEB COMMUNITY MEMBER OR EDITOR. THE VIEWS EXPRESSED THEREIN ARE NOT NECESSARILY THOSE OF UNDRR, PREVENTIONWEB, OR ITS SPONSORS.
SEE OUR TERMS OF USE