Documents and publications
Author(s)
Jessica P. R. Thorn
Penelao Nangolo
Rebeca Aleu Biancardi
et al.
Exploring the benefits and dis-benefits of climate migration as an adaptive strategy along the rural-peri-urban continuum in Namibia
Source
Regional Environmental Change (Springer)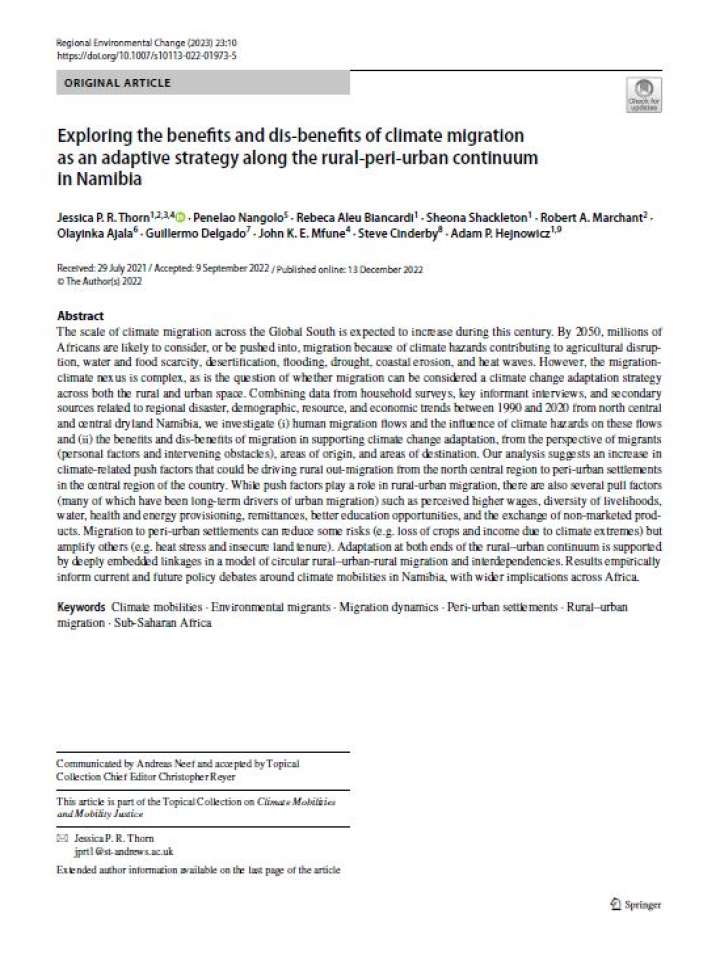 ISBN/ISSN/DOI
10.1007/s10113-022-01973-5 (DOI)
In this study, the authors investigate (i) human migration flows and the influence of climate hazards on these flows and (ii) the benefits and dis-benefits of migration in supporting climate change adaptation, from the perspective of migrants (personal factors and intervening obstacles), areas of origin, and areas of destination. They do so by combining data from household surveys, key informant interviews, and secondary sources related to regional disaster, demographic, resource, and economic trends between 1990 and 2020 from north central and central dryland Namibia. The scale of climate migration across the Global South is expected to increase during this century. By 2050, millions of Africans are likely to consider, or be pushed into, migration because of climate hazards contributing to agricultural disruption, water and food scarcity, desertification, flooding, drought, coastal erosion, and heat waves. However, the migration-climate nexus is complex, as is the question of whether migration can be considered a climate change adaptation strategy across both the rural and urban space.
This analysis suggests an increase in climate-related push factors that could be driving rural out-migration from the north central region to peri-urban settlements in the central region of the country. While push factors play a role in rural-urban migration, there are also several pull factors (many of which have been long-term drivers of urban migration) such as perceived higher wages, diversity of livelihoods, water, health and energy provisioning, remittances, better education opportunities, and the exchange of non-marketed products. Migration to peri-urban settlements can reduce some risks (e.g. loss of crops and income due to climate extremes) but amplify others (e.g. heat stress and insecure land tenure). Adaptation at both ends of the rural–urban continuum is supported by deeply embedded linkages in a model of circular rural–urban-rural migration and interdependencies. Results empirically inform current and future policy debates around climate mobilities in Namibia, with wider implications across Africa.
Please note: Content is displayed as last posted by a PreventionWeb community member or editor. The views expressed therein are not necessarily those of UNDRR, PreventionWeb, or its sponsors. See our terms of use