Updates
UNDP and partners assess progress and challenges for Caribbean recovery six months after massive hurricanes
Source(s)
United Nations Development Programme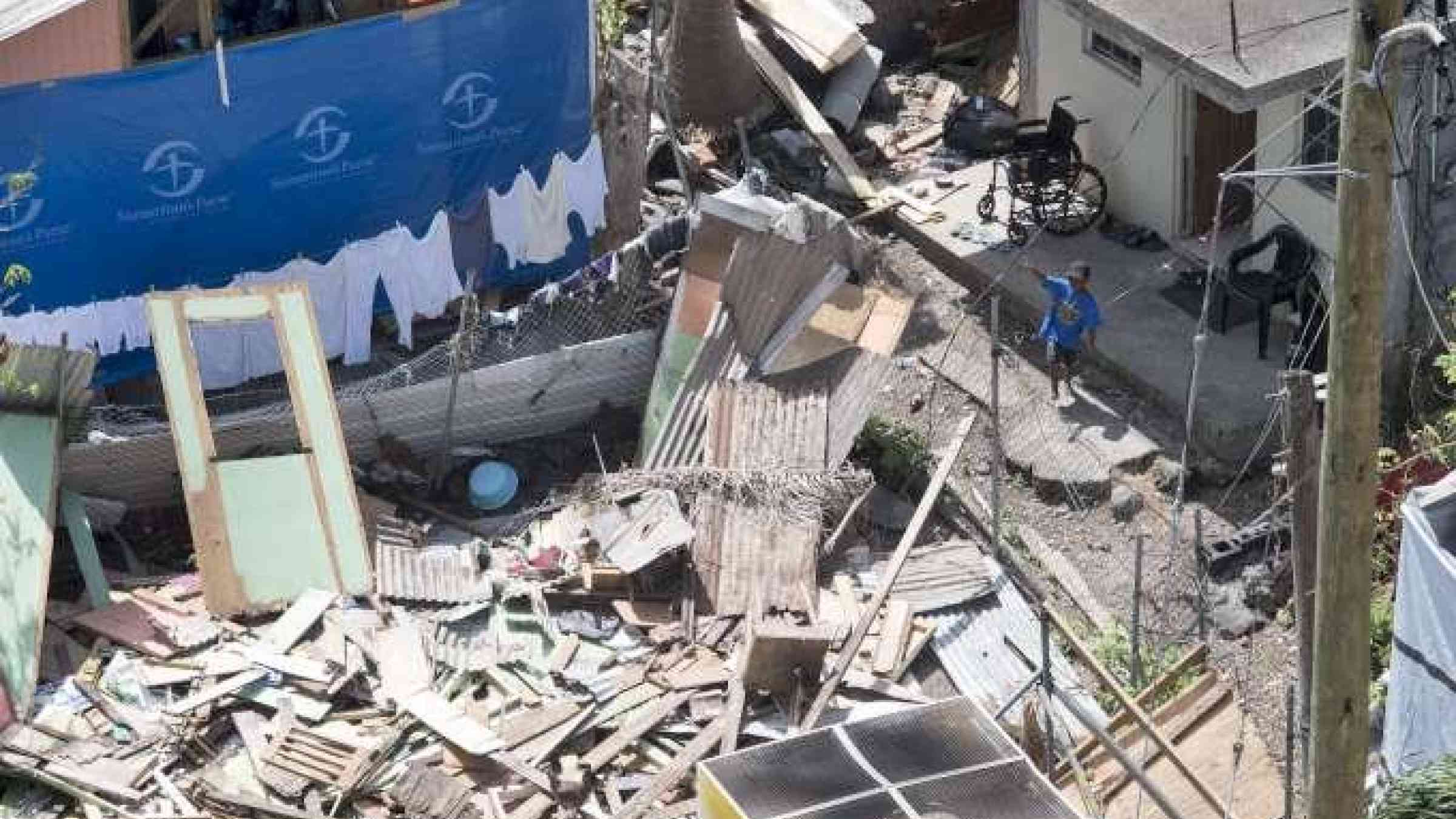 New York – Six months after two of the most powerful hurricanes recorded over the Atlantic wreaked havoc in the Caribbean, women and men in island countries like Antigua and Barbuda, Dominica, British Virgin Islands and St. Maarten are working around the clock to build back better, with another hurricane season only four months away. In the immediate hurricane aftermath, governments requested the UN Development Programme (UNDP)'s technical support to recover, while boosting climate resilience.
In Dominica and Antigua and Barbuda—Barbuda being the most affected of the two sister islands—in partnership with the national Governments, UNDP joined forces with civil society organizations, using Microsoft-provided tablets and a tailored app to assess the comprehensive post-hurricane damages. While in both islands all buildings were damaged to some extent, the Building Damage Assessments conducted by national authorities with UNDP´s support provided crucial data for planning and for a more resilient recovery. In Dominica, 44 percent of the buildings were severely damaged or totally destroyed, while 51 percent of all the private buildings have suffered important roof damages. In Barbuda, where such assessment was completed in five days, field surveys revealed that 92 percent of private structures were damaged. In both countries, UNDP also worked with national counterparts to beef up the construction standards, supporting more resilient building code amendments.
In the immediate hurricane aftermath, the Government of China offered US$5 million to support more resilient roofs for affected women and men in both countries, US$3 million for Dominica and US$2 million for Antigua and Barbuda, whose residents were all evacuated for the first time to Antigua due to the massive hurricanes. With UNDP's support and led by national governments since the beginning of the year, roofing material and equipment are being used to rehabilitate homes and key facilities. In Dominica, this will support over 600 houses as well as five medical centers, buildings at the Princess Margaret Hospital in the capital Roseau and the State College. In Barbuda 250 houses are being restored, covering the needs of priority structures and homes of essential personnel and vulnerable households. In both countries over half of the material have arrived, with final reroofing expected by June.
"As part of UNDP's Build Back Better approach, we are promoting disaster-resilient communities, and this means ensuring that critical buildings such as health centers can survive the worst storms," said UNDP Resident Representative for Barbados and the OECS, Stephen O'Malley, thanking the Government of China for the contribution to this approach, particularly in view of the next hurricane season only three months away.
In Dominica, UNDP continues to provide livelihood support to over 400 hurricane-affected Dominicans—42 percent of them women—in 16 communities across the island, in a Government-led initiative. Women and men are cleaning and clearing debris, including in communities and some tourism sites, in addition to key agricultural access roads and schools in this UNDP-backed initiative supported by the UN's Central Emergency Response Fund (CERF), the UK's Department for International Development (DFID) and the European Union's Civil Protection and Humanitarian Aid Operations (ECHO). UNDP has also provided needed equipment such as wheelbarrows, pick axes, rakes, and personal protective equipment in 24 communities.
In the British Virgin Islands—where the hurricanes destroyed or caused severe damage to nearly 36 percent of nearly 7,000 houses, with many remaining buildings, requiring roofing repairs—UNDP supported the creation of the Government's Recovery and Development Plan as well as a new specialized Recovery and Development Agency to guide the building back better and development efforts in an effective, timely and transparent manner. A UNDP-backed initiative with national partners also trained and provided temporary employment to 40 people, 67 percent of them women, to clear debris to enable long term recovery.. UNDP supported the Ministry of Health & Social Development, responsible for housing, in developing the Housing Recovery Policy and the Post-Irma Housing Recovery Plan to guide the recovery of housing in the BVI, helping residents return to safer homes.
In Turks and Caicos Islands, UNDP also worked with national counterparts to inject needed cash in the hurricane-affected communities, providing temporary training and employment opportunities to more than 100 people, 30 percent of them women. UNDP also supported the creation of a Debris and Waste Management Plan comprising medium to long term management and recycling strategies. UNDP is currently working with national partners on a social protection strategy and is also supporting a disaster risk reduction training for micro, small and medium entreprises, to be completed by the end of May.
UNDP has mobilized nearly US$22 million to build back better in the Caribbean following the back-to-back hurricanes in September 2017, and in the past decade invested nearly US$300 million in disaster preparedness in Latin America and the Caribbean, working with governments at the national and local levels, as well as communities.
Please note: Content is displayed as last posted by a PreventionWeb community member or editor. The views expressed therein are not necessarily those of UNDRR, PreventionWeb, or its sponsors. See our terms of use