Your experience on PreventionWeb
Please help us improve PreventionWeb by taking this brief survey. Your input will allow us to better serve the needs of the DRR community.
How Texas is 'building back better' from Hurricane Harvey
Source(s):
Conversation Media Group, the
For most Americans, the one-two punch of last fall's hurricanes is ancient history. But hard-hit communities in Texas, Florida and the Caribbean are still rebuilding.
I recently traveled with public health students from the University of Washington to southeast Texas, where the impacts of Hurricane Harvey last August are still felt today. With support from the Natural Hazards Center's Quick Response Grant Program, we wanted to understand how disaster recovery strategies can create long-term opportunities to promote healthy communities.
Through interviews with local health officials, we learned how Hurricane Harvey is still affecting many residents. As we often see during natural disasters, Harvey amplified pre-existing health and social stresses and inequities.
For example, greater Houston had only a paltry pre-storm supply of affordable housing. Now buyers and renters are competing to secure undamaged units. We heard about families who were living in homes with toxic mold because they couldn't afford to leave, and concerns that rising prices would drive people out on the street or force them to move to other cities and states. However, we also saw signs that communities were using Hurricane Harvey to springboard efforts to address persistent housing problems.
Turning disasters into opportunities
The default response after a major disaster is often to rebuild as quickly as possible. This typically means replicating what existed before the storm. But why not build back in a way that corrects long-standing problems?
Major disasters like Hurricane Harvey often bring influxes of resources and attention to communities that are struggling with health and social challenges. In a 2015 report, the Institute of Medicine found that many communities fail to fully leverage recovery resources to address pre-existing issues, such as access to health care.
The report urged communities to consider short- and long-term health impacts of their recovery decisions, known as a "health in all policies" approach to recovery. This approach recognizes that health is connected to many other issues, including transportation, social networks and housing. By thinking about the health impacts of recovery strategies, municipal leaders can rebuild in a way that promotes stronger and more resilient communities.
For example, co-locating mental health professionals at sites where people are signing up for FEMA aid can help more residents get counseling and support. In the long term, decisions about land use in badly damaged neighborhoods can create spaces where people can exercise and socialize, which helps them to lead healthier and happier lives.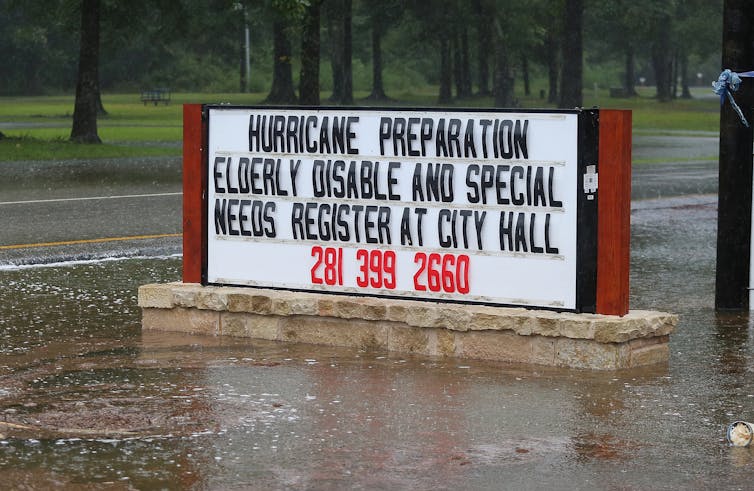 Leveraging local expertise to build back better
The idea of incorporating health in all policies may sound sensible, but putting it into action after a hurricane, wildfire or tornado strike is easier said than done. As a former emergency manager in Baltimore, I know that working conditions after disasters are fast-paced and often chaotic. Communities are under political and social pressure to recover quickly, and health may not be at the top of their agendas.
Advance planning for recovery is important. And involving people who understand challenges to community health and well-being is essential. Local health departments, as well as community- and faith-based organizations, are often connected to at-risk populations. Involving these organizations in recovery planning and implementation can inform an approach that promotes community health and well-being. For example, they can identify opportunities to use recovery resources to meet pre-existing housing needs, or direct case management services to families that are already struggling.
Building healthier post-Harvey
Harvey caused US$125 billion in damages, making it the second-worst storm to strike the U.S. mainland after Hurricane Katrina in 2005. The storm flooded one-third of Houston, displacing more than 30,000 people from their homes.
During our trip to Texas we saw that pre-disaster recovery planning was paying off. As an example, Fort Bend Recovers was established in Fort Bend County, which covers 885 square miles in the Houston metro area, after major flooding on Memorial Day in 2016.
In Harvey's wake, plans developed by Fort Bend Recovers created a process for organizations, including local health and social services agencies, to rapidly reconvene to respond to community needs. Together they offered case management services, staffed mental health support lines, and convened emotional support groups. Such services can help individuals affected by the floods find housing and supplies, but also connect them with solutions for longer-term problems, such as finding affordable medical care.
Hurricane season 2018 is coming
In order to truly "build back better," states and communities need to develop a plan for recovery in advance of the next disaster. Galveston County, on Texas' Gulf Coast, is using its Hurricane Harvey recovery experience to formalize a Long Term Recovery Group that brings together the local health department and other community- and faith-based organizations to address community health needs. But we also heard about other communities that still don't have a plan or mechanism for organizing recovery.
With support from the Robert Wood Johnson Foundation's New Connections Program, my research team is now reviewing state disaster recovery plans nationwide. We plan to identify whether and how states use the disaster recovery period to build back better. We hope to highlight recovery strategies that promote equitable access to affordable and safe housing, health care, and places and spaces that encourage healthy activity and foster social connections.
As climate change amplifies storms, floods and other extreme weather events, U.S. communities can expect more frequent and severe natural disasters in the years to come. By recognizing and planning for opportunities to build back better, they can make themselves more resilient against the next disaster.

Please note: Content is displayed as last posted by a PreventionWeb community member or editor. The views expressed therein are not necessarily those of UNDRR, PreventionWeb, or its sponsors. See our terms of use