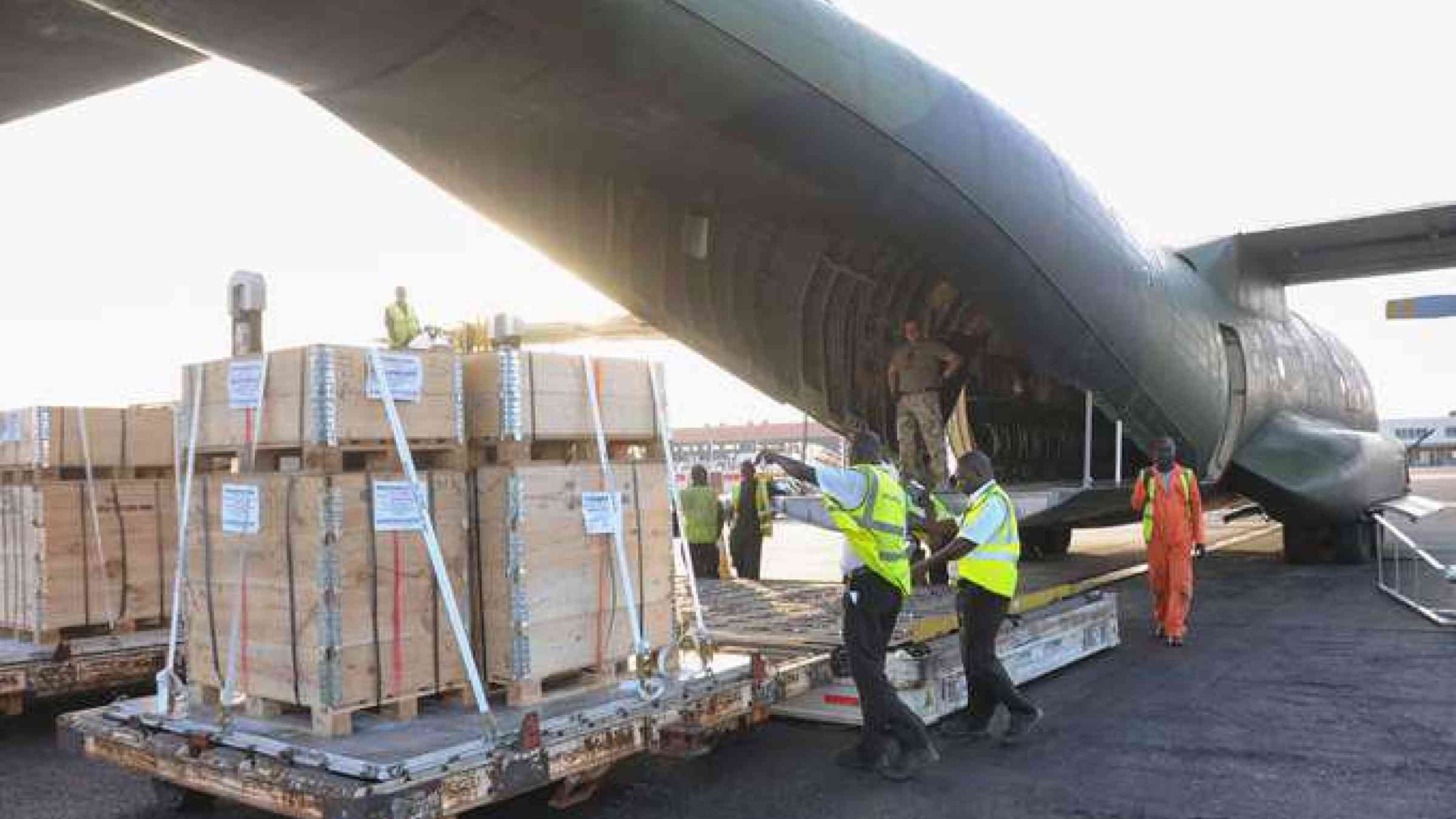 By Helen James
Aid agencies will be enabled to tackle looming disasters before they have occurred, under a pioneering project being launched today by the Start Network.
They will be able to secure financial support in anticipation of flooding, a refugee exodus or other foreseeable emergencies from the Start Fund, which is backed by three governments and the European Union.
By acting in advance to assist people likely to be affected rather than waiting until after a disaster has struck, aid workers will be able to reduce avoidable suffering and loss of life.
Under the new "anticipation window":
Decisions will be taken collectively by the 42 members of the Start Network, based on their assessment of the expected emergency.
Independent advice and bespoke forecasts from a network of climate scientists, agricultural experts and other data analysts will be used to assess the risk of an emergency, and to gauge the most effective measures to respond.
Funding will be on its way within 72 hours of the original alert if the Start Fund agrees that intervention is needed, in line with its original objective to enable rapid response to emergencies.
The initiative is supported by a grant of 1.1 million euros (£933,000) to the fund by the EuropeanCommission's humanitarian aid department. It will make the Start Fund the first pooled global fund that routinely enables aid workers to intervene before a forecast emergency.
Sean Lowrie, director of the Start Network, said: "Intervening before a crisis saves more lives than waiting until it hits. This is an important moment for the Start Fund as it builds on our ambition to make humanitarian aid more effective. It will be a powerful incentive for aid agencies to take earlier action to spare avoidable suffering, and learn how to build the systems that will enable us to do so."
The Start Fund has responded to more than 80 crises since it was launched in April 2014 with a remit to respond to smaller "below the radar" emergencies that would otherwise be overlooked.Over the past year it has supported interventions in anticipation of crises in six countries – Sri Lanka, Ethiopia, Pakistan, Uganda, Zambia and Mali – and now aims to make this a normal part of its work.
Mike Noyes, humanitarian manager of Action Aid, who has sat on Start Fund decision making committees for more than two years, said:
"All too often, we can see a disaster developing and are powerless to act as funding only comes when something hits the news. With anticipation funding from Start, we are now able to step in when forecasts tell us a drought could become a famine, ora political crisis could lead to people being displaced - acting to prevent or reduce the impact."
The new development of the Start Fund has been welcomed by other humanitarian agencies. In aj oint statement, Alexandra Rüth and Maarten Van Aalst, heads of the German Red Cross and the Red Cross Red Crescent Climate Centre respectively, said early action to reduce risks and prepare response had become "increasingly a priority for the overall humanitarian sector". 
The Red Cross Movement has been developing its own forecast-based financing mechanism,drawing on weather and climate information, similar to one aspect of the system that the Start Fund will use. The two leaders said:
"With excitement, we highlight the fact that forecast-based action is slowly becoming normalised… There is still a way to go to develop the right tools and processes which will enable this common vision to become a reality – some of which are specifically addressed in the Start Fund Anticipation Window programme."
Anthony Craig, a senior adviser at the United Nations World Food Programme who co-chairs the leading inter-agency coordination group on humanitarian preparedness, risk and early warning said: 
"Early response and focused preparedness actions are critical in reducing the impacts of man-made and natural hazards.  Credible early warning, supported by strong evidenced-based analysis is a critical 'enabler' to this, as it allows timely action to be tailored to the situation.
"We can only capitalise on this early warning if, taking a well-informed 'no-regrets' mindset, funding is available quickly, including for situations that may be politically sensitive. This points to the type of arrangements foreseen by the Start Fund Anticipation Window."
Many Start Network members have been involved in the Start Fund's six pilot interventions that led up to the funding by ECHO of a formal new anticipatory process.
Handicap International (in collaboration with Oxfam) and World Vision enabled 6,700 people to prepare for predicted floods and landslides in Sri Lanka, expected because of El Nino, in November last year.
Save the Children, Goal, Plan International, Tearfund and World Vision enabled drought-stricken farmers in Ethiopia to buy seeds for planting ahead of forecast seasonal rain, benefiting an estimated 180,000 people, in January this year – far more quickly, thanks to the Start Fund, than if they'd been forced to rely on other donors.
Oxfam, World Vision, Concern Worldwide and Save the Children helped 48,000 Zambians prepare for the likelihood of a failed harvest, beginning in early March.
After an alert about an impending and potentially deadly heatwave in Pakistan, raised by several agencies including HelpAge, Muslim Aid, Mercy Corps and Community World Service Asia, Oxfam was awarded £40,000 to coordinate messaging and run a radio awareness campaign, with a potential audience of 25 million people in and around Karachi.  The agencies also used the funds to identify and plug gaps in referral services.
Action Against Hunger, the Norwegian Refugee Council, Oxfam and Save the Children were funded to prepare for an expected sudden influx of up to 30,000 refugees from South Sudan into Uganda in July, and eventually assisted almost twice that number.
In October, Solidarites International, the Norwegian Refugee Council, CRS and ACF were enabled to assist tens of thousands of people living in large areas of Mali prepare for the likelihood of heavy rainfall - predicted to be the worst in 50 years - and the accompanying risk of floods.
PLEASE NOTE: CONTENT IS DISPLAYED AS LAST POSTED BY A PREVENTIONWEB COMMUNITY MEMBER OR EDITOR. THE VIEWS EXPRESSED THEREIN ARE NOT NECESSARILY THOSE OF UNDRR, PREVENTIONWEB, OR ITS SPONSORS.
SEE OUR TERMS OF USE