Your experience on PreventionWeb
Please help us improve PreventionWeb by taking this brief survey. Your input will allow us to better serve the needs of the DRR community.
15 March 2021
Monitoring moving rivers: Analysing threats to critical bridges in the Philippines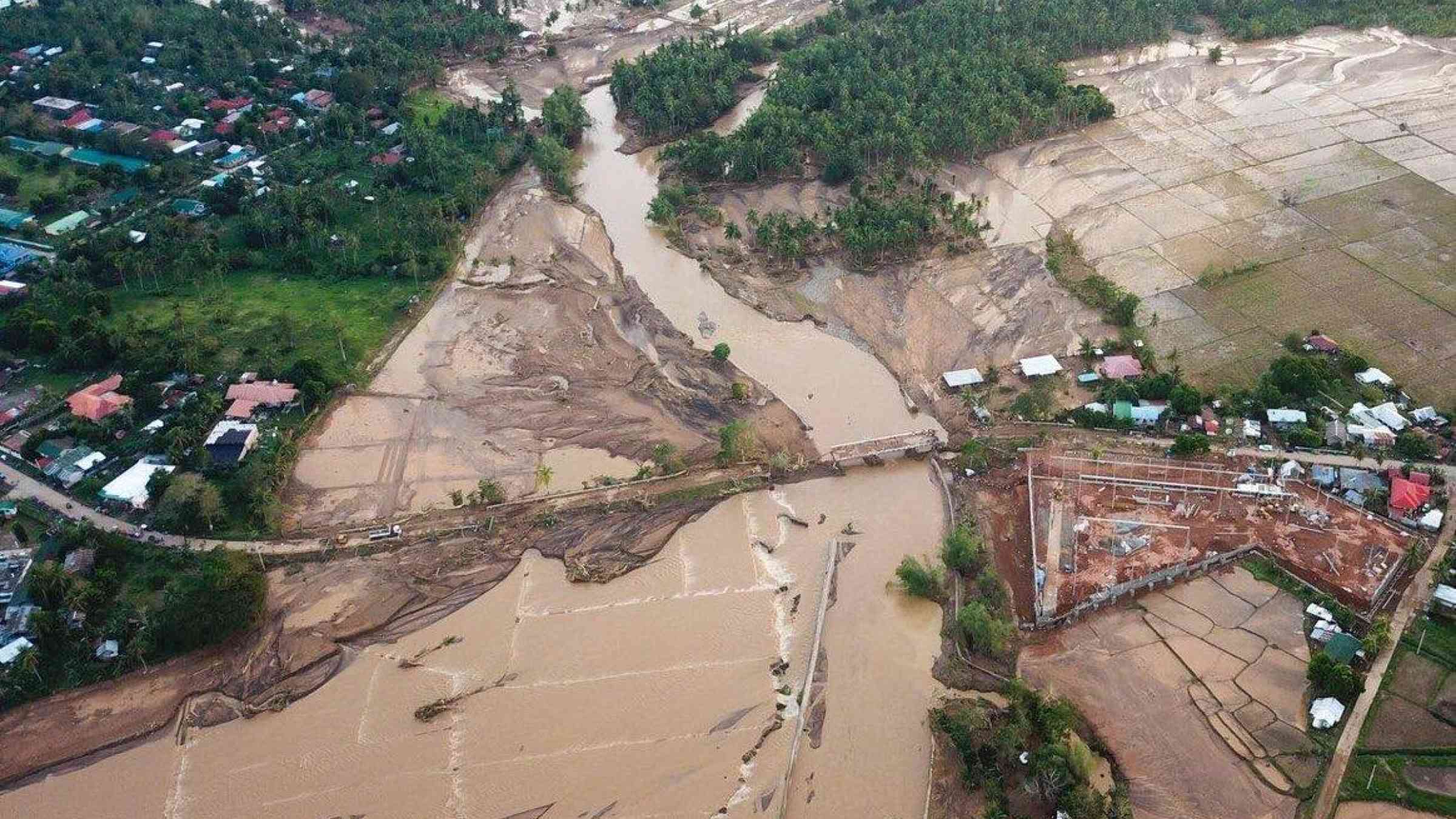 To address river migration in relation to transport infrastructure, satellite images can be used to monitor river channel change in the vicinity of bridges to improve understanding of river behaviour and mitigate risk.
River bridges are vulnerable nodes in transport and utility networks. They are exposed to hydro-meteorological hazards more than other forms of infrastructure and associated with high socio-economic costs when damaged or destroyed. Whilst some rivers remain stationary in the landscape for many years, in many places rivers naturally move across valley floors through erosion and deposition. This process, called migration, is essential for maintaining river habitat but can pose a geomorphic hazard to bridge infrastructure, particularly where migration rates are high. To address this risk, satellite images can be used to monitor river channel change in the vicinity of bridges to improve understanding of river behaviour and contribute toward mitigating the risk to infrastructure.
The Philippines has experienced a recent increase in infrastructure development. The road network handles 90% of passenger and 50% of freight transportation, providing vital links between communities. The Department of Public Works and Highways (DPWH) maintains a road and bridge inventory that displays the location and attributes of infrastructure assets. Many roads and bridges are located adjacent to major rivers. Across the world, critical infrastructure is often located close to rivers, but rivers in the Philippines are particularly dynamic and societal exposure to flood-related hazards is high. Consequently, geomorphic and flood-related hazards often cause substantial damages to critical bridge infrastructure, as shown at Caraycaray Bridge near to Naval on Biliran Island, Visayas, the Philippines.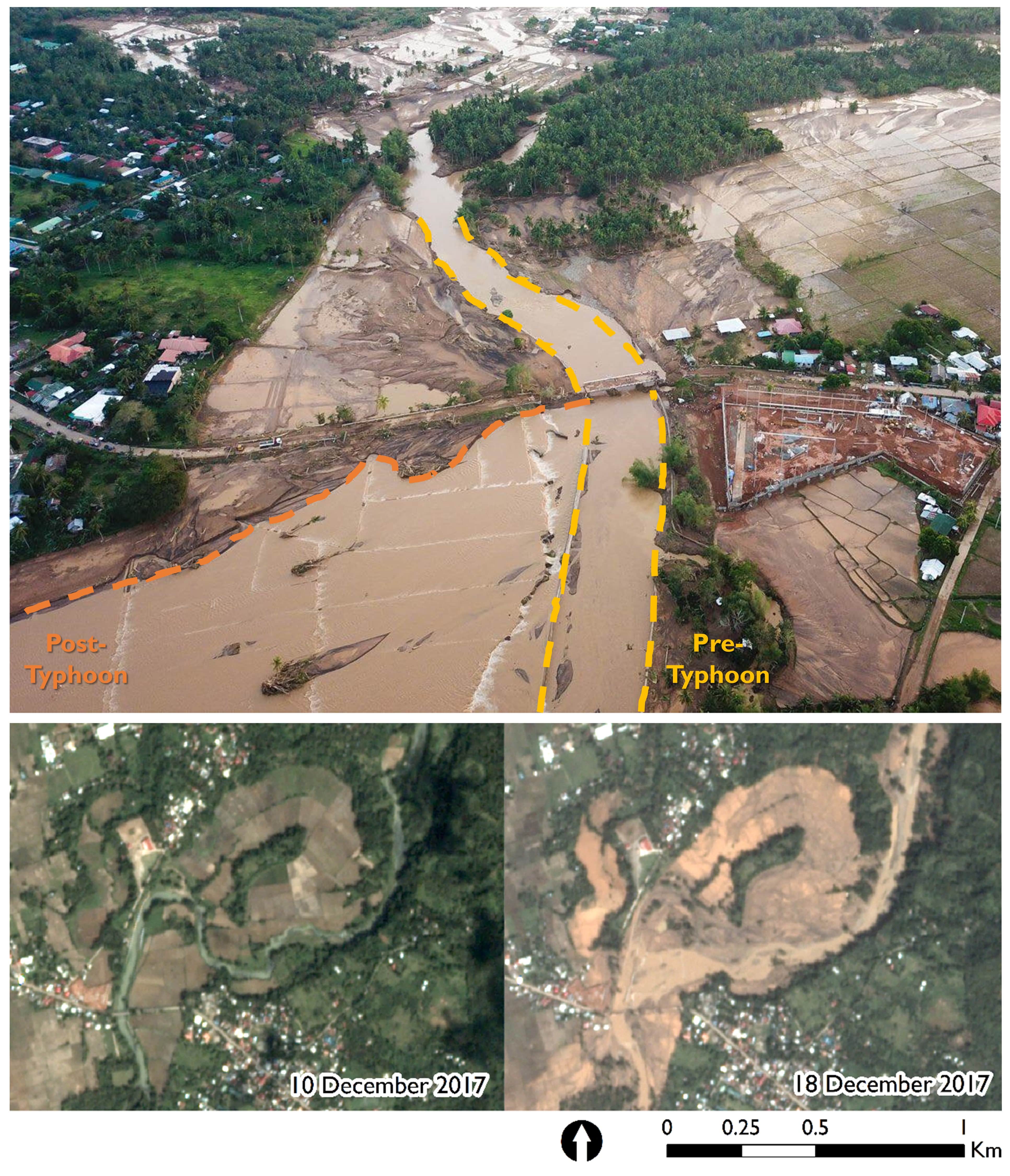 Image: River migration and damages to Caraycaray Bridge from Typhoon Urduja (2017). Image courtesy of Planet Labs, Inc.
Tracking rivers from space
Earth observation data supports a range of disaster risk reduction activities, but the large volumes of data available to risk practitioners can be challenging to handle and process. Google Earth Engine (GEE), a cloud‐based computing platform for planetary‐scale geospatial analyses, offers the opportunity to ease some of these logistical and computational challenges. GEE offers transformative potential for the assessment of river channel change through an extensive online data catalogue of satellite imagery that can be almost instantaneously accessed and analysed.
Identifying and detecting river channel change from satellite imagery
An international research team from the University of Glasgow, Brunel University London, University of the Philippines Diliman and the University of North Carolina analysed publicly available data from the DPWH road and bridge inventory and leveraged freely available satellite imagery in GEE to assess river migration in the vicinity of large bridges. Specifically, the team analysed thousands of freely available Landsat satellite images (Landsat 5, 7 and 8) acquired during the period 1988-2019 to identify and detect river channel change over decadal and engineering (30-year) timescales. This information was used to complete a national-scale assessment of river migration at large bridges.  
River migration threatens some large bridges in the Philippines
Considerable river migration was observed throughout the inventory. Some inventoried bridges were characterised as subject to substantial river migration, and if left unmanaged, channel dynamism could pose a hazard to infrastructure. However, for other inventoried bridges the river channel remained approximately stable and river migration was limited. Of the 74 large bridges analysed, approximately half showed a signal of river channel change. The key finding was the diversity in the range of river behaviours exhibited; different types of river adjust in different ways and the relative risk of river migration varies between sites.
Recommendations for resilient infrastructure
In understanding geomorphic hazards at critical bridge infrastructure, it is essential to recognise the diversity, appraise the dynamics and understand the trajectory of each river system individually, and results should always be contextualised within the local catchment.
The findings show that river migration is not only a local condition; it extends beyond the vicinity of bridge infrastructure. Therefore, river migration may not be adequately captured during local site inspections. Satellite imagery analyses could be formally incorporated into bridge monitoring investigations (e.g., as a component of bridge stability assessments) and used to inform the strategic design and placement of future bridge infrastructure. Satellite imagery analyses offer a low-cost approach for monitoring the relative risk of river migration for large rivers. This approach to risk analysis can be extended to include other critical infrastructure adjacent to rivers (e.g., road, rail and pipelines) and extended elsewhere to other settings subject to dynamic natural forces.
More information
Further details on river migration at critical bridge infrastructure in the Philippines and applications of Google Earth Engine for river channel change analysis are available here:
Boothroyd, RJ, Williams, RD, Hoey, TB, Tolentino, PLM and Yang, X. 2021. National-scale assessment of decadal river migration at critical bridge infrastructure in the Philippines. Science of The Total Environment. 768: 144460. https://doi.org/10.1016/j.scitotenv.2020.144460
Boothroyd, RJ, Williams, RD, Hoey, TB, Barrett, B and Prasojo, OA. Applications of Google Earth Engine in fluvial geomorphology for detecting river channel change. WIREs Water. 8(1):e21496. https://doi.org/10.1002/wat2.1496
Please contact the lead author (richard.boothroyd@glasgow.ac.uk) for copies of either paper.
Acknowledgements
The blog post was prepared by Richard Boothroyd, Richard Williams, Trevor Hoey and Pamela Tolentino.
The research was undertaken as part of a Natural Environment Research Council (NERC) – Department of Science and Technology-Philippine Council for Industry, Energy and Emerging Technology Research and Development (DOST‐PCIEERD) – Newton Fund grant (NE/S003312).
---
Dr. Richard Boothroyd is a fluvial geomorphologist in the School of Geographical and Earth Sciences at the University of Glasgow. His research interests include river science, remote sensing and flood risk management. He currently works on a hydrometeorological hazards project in the Philippines alongside researchers from the University of Glasgow, Brunel University London and the University of the Philippines Diliman. Follow him on Twitter (@RJBoothroyd).
Please note: Content is displayed as last posted by a PreventionWeb community member or editor. The views expressed therein are not necessarily those of UNDRR, PreventionWeb, or its sponsors. See our terms of use