18 August 2022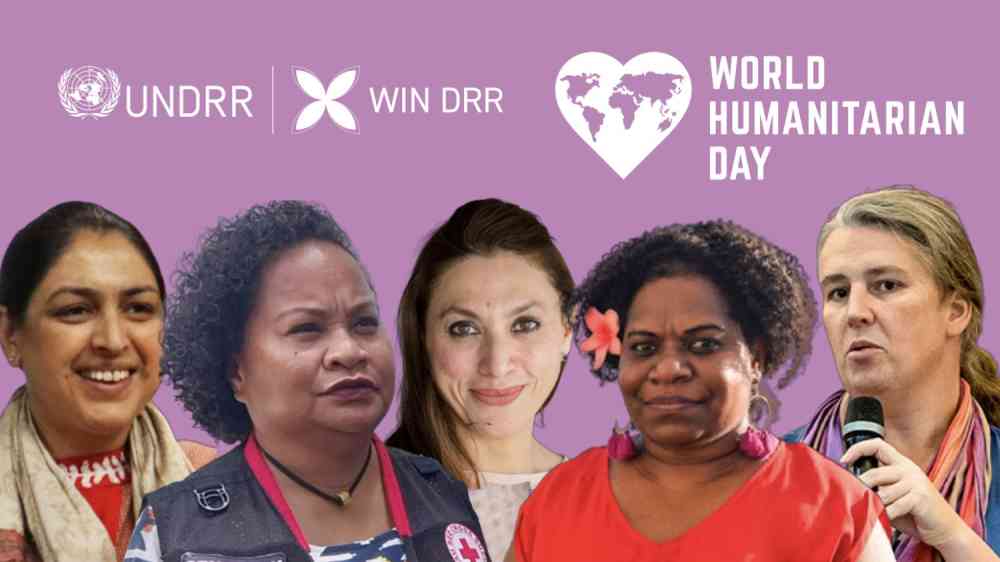 World Humanitarian Day is a global celebration of people helping people. This World Humanitarian Day UNDRR is celebrating women leaders in disaster risk reduction and humanitarian action, who are working to build resilience in their communities. These five inspiring women are all finalists in the 2022 Women's International Network for Disaster Risk Reduction (WIN DRR) Leadership Awards. With record-high humanitarian needs around the world, let's take time to recognise a few of the many many humanitarians around the world who are helping those in need. #ItTakesAVillage
Flora Vano -  Vanuatu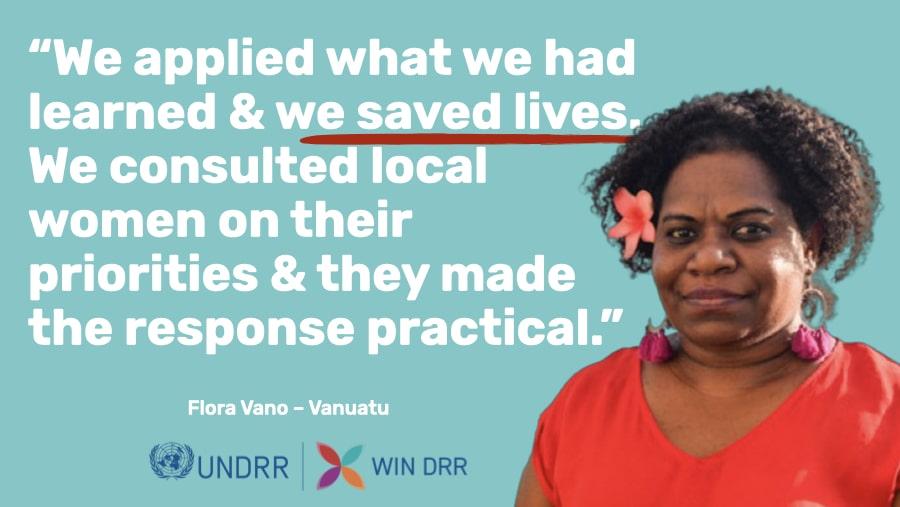 "We saw a shift in the response to tropical cyclone Harold," she says. "We applied what we had learned and we saved lives. We consulted local women on what their priorities were and they made the response practical."
Flora Vano is a Ni-Vanuatu woman leading ActionAid's women-led localized response to COVID-19 and other disasters in Vanuatu. Through the Women I TokTok Tugeta (WITTT) forums, ActionAid Vanuatu were able to organize women to learn more about reducing disaster risk and  preparing for disasters in order to reduce humanitarian impact, starting with doing Women Led Community Based Protection Assessments and setting their priorities and action plans. 
"We need  to facilitate women-led organizations from the bottom up to have community rooted efforts with resource persons who are known local women," says Flora.
She says food security is vital after a disaster. "We have seen women recover from disasters faster when they are economically empowered and food secure," Flora says.  "They need to be supported with startup grants for this to happen."
Learn more  about Flora's work connecting women-led local realities with the global discourse on climate adaptation and DRR.
Emily Dwyer - Australia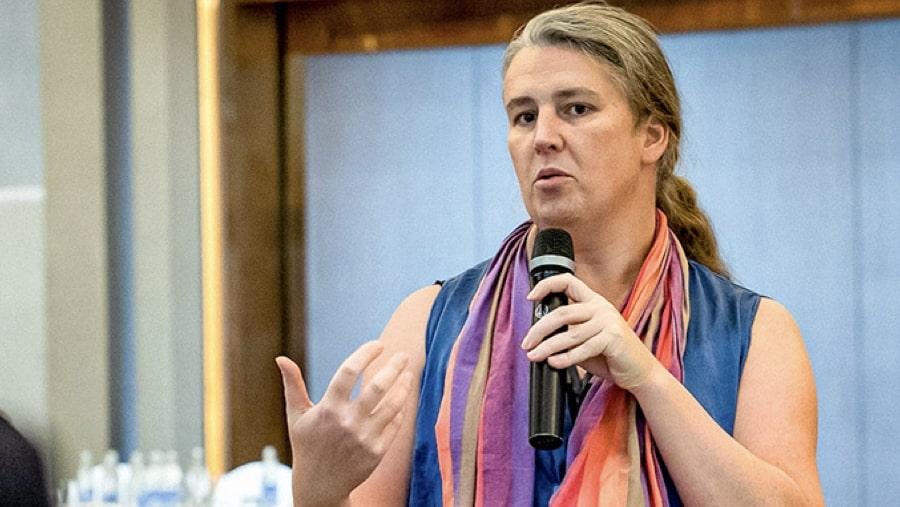 "We don't set out to 'empower' people," says Emily, "we start by recognising their inherent dignity and power, and work alongside them to explore strategies and tactics for creating change in systems that often work against them."
Emily Dwyer works with local communities and international development and humanitarian organisations toward the inclusion of people of diverse sexual orientation, gender identity and/or expression and sex characteristics (SOGIESC). She is a trans woman and advocate for diverse SOGIESC inclusion in regional and global forums.
"We work with institutions and organizations to help them examine why they make assumptions that exclude some people or perpetuate systems that hinder access," she says. "There's still a long way to go in including women who are also are lesbians, bisexual, trans, intersex or queer. When we are included amongst staff of humanitarian or DRR organizations or within discussions, the results of that work are often more inclusive."
Emily is co-Director of Edge Effect, an organisation that assists humanitarian and development organisations to work in genuine partnerships with sexual and gender minorities. "
Maireng Sengebau - Palau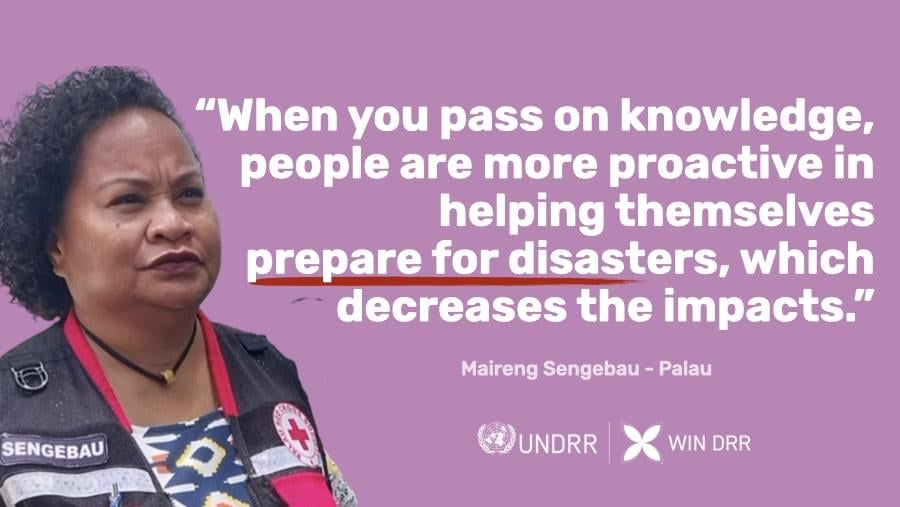 "When you pass on knowledge to people they are more proactive in helping themselves prepare for disasters, which decreases their impacts," says Maireng. 
Maireng Sengebau leads the Palau Red Cross and has helped the organization transform humanitarian response in the country, by strengthening capacity, working with all levels of society and increasing capacity of community stakeholders.  She established Palau Red Cross Disaster Action Teams (RDAT) in all 16 states, and strengthened local community actors, particularly women in DRR.     
Maireng is a champion of engaging with youth and under her leadership, Palau Red Cross has established a de-facto youth-corps with new volunteers as change agents in DRR, prevention and humanitarian work. "You want to be more proactive," she says. "You want to be empowered rather than going out of your wits scared and worried about what's going to happen."
Anuradha - India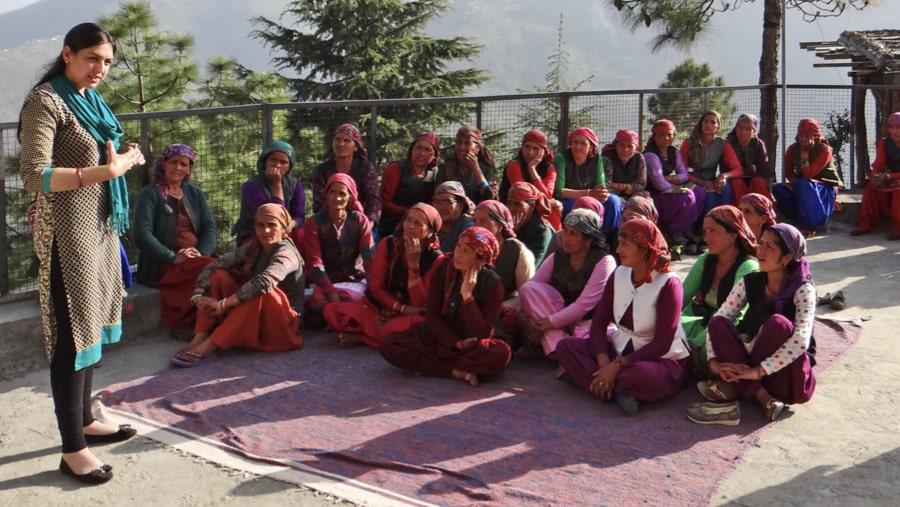 "Recent disasters have taught us that people who face discrimination, inequality, prejudice, and injustice are far more likely to get affected by disasters," says Anuradha.
Anuradha has been working to mainstream disaster risk management in the state of Himachal Pradesh - one of the most disaster-prone states of India. She set up Doers to focus on building the capacities of local communities and helping them prepare for disasters in a changing climate. 
"There is a need to apply an intersectional lens to make disaster response truly inclusive and women are better placed to make this happen," she says.
During the humanitarian crisis of COVID-19,  Anuradha led a successful campaign to integrate Mental Health and Psycho-Social Support (MHPSS) in disasters and public health emergencies like pandemics.
Tania Humayun - Pakistan
"As a humanitarian professional, I have witnessed increased engagement of women in DRR related initiatives over the course of a decade," says Tania. "This has enabled local women countrywide to be better prepared for emergencies"
Tania Humayun is the Advisor and Programme Manager for the Gender & Child Cell (GCC) at the National Disaster Management Authority (NDMA) in Pakistan. She has 18 years of experience in development and humanitarian programs. 
"Emergencies aggravate pre-existing gender inequalities and further sideline women, limiting their access to services, targeted relief, and decision-making," she says. "We need to ensure women's rights and access are protected during crises, and they are not just included in preparing for disasters, but also empowered to lead these efforts."
---
Background
The WIN DRR Leadership Awards recognise women's achievements in DRR across the Asia-Pacific region. The awards are part of UNDRR's flagship women's leadership initiative the Women's International Network for Disaster Risk Reduction (WIN DRR), supported by Australian Aid. There are two award categories, the Excellence Award, proudly sponsored by SM Prime, and the Rising Star Award.
These women have been shortlisted from 420 nominations received from across 24 countries in the Asia-Pacific. The winners will be announced at the Asia Pacific Ministerial Conference on Disaster Risk Reduction in Brisbane on 21 September 2022.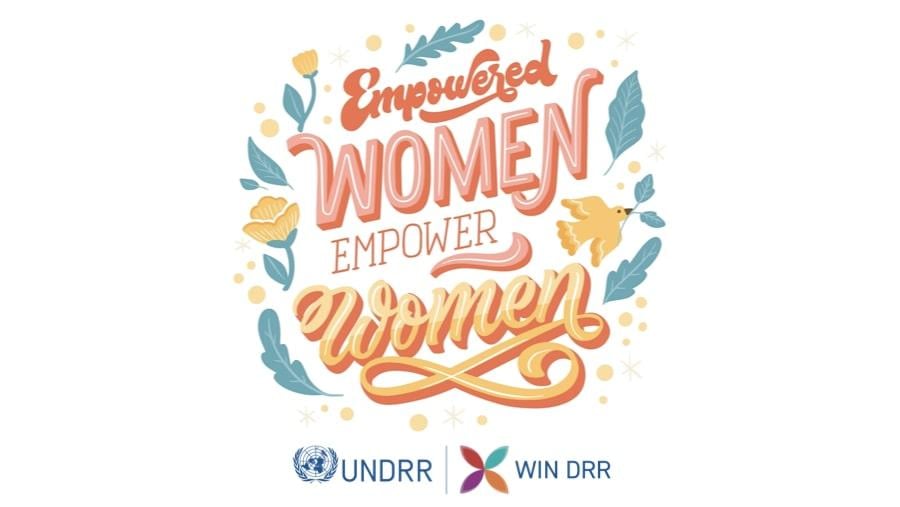 Twitter / LinkedInThe Women's International Network on Disaster Risk Reduction (WIN DRR) is a professional network to support women working in disaster risk reduction, in all their diversity. WIN DRR promotes and supports women's leadership in disaster risk reduction across the Asia Pacific region, and aims to reduce the barriers faced by women and empower them to attain leadership and enhance their decision-making in disaster risk reduction. WIN DRR is supported by UNDRR and the Government of Australia.
PLEASE NOTE: CONTENT IS DISPLAYED AS LAST POSTED BY A PREVENTIONWEB COMMUNITY MEMBER OR EDITOR. THE VIEWS EXPRESSED THEREIN ARE NOT NECESSARILY THOSE OF UNDRR, PREVENTIONWEB, OR ITS SPONSORS.
SEE OUR TERMS OF USE