blog
Launch of progress...
Launch of progress tracker on inclusive DRR policies: more progress is needed on inclusive and gender-responsive disaster risk reduction policies and strategies
2 December 2020
UN Women and DRR Dynamics have developed a policy progress tracker, which shows that in 2020 only 26 countries have explicit disaster risk reduction policies or practices to ensure the inclusion of all marginalized groups identified in the Sendai Framework.
Co-authored by Kevin Blanchard, Director of DRR Dynamics
Disasters are often labelled as great levellers, meaning events so intense, sudden and all-encompassing that everyone in a community or society is impacted and impacted equally. Unfortunately, this is very rarely the case. Disasters do discriminate. Decades of research and advocacy have shown how disasters impact different members of a community or society differently and that socio-economic factors and inequalities, including gender inequality, are critical elements causing disproportionate disaster impact on certain population groups.  
Those traditionally marginalized most often experience the greatest impact. Among them, women and girls feature prominently. Women migrants or refugees, girls with disabilities, female-headed households and women and girls who are economically disadvantaged are especially affected. They are the most marginalized in a group of people already excluded from many aspects of mainstream society. The causes are numerous… lack of economic or social opportunities, lack of political representation or consideration, cultural 'norms'…
Therefore, developing an inclusive disaster risk reduction system that ensures visibility, input and respect from all within society is a key foundation of the Sendai Framework for Disaster Risk Reduction 2015-2030. The framework, which was adopted in 2015, makes clear that the inclusion of marginalised or specifically vulnerable groups is paramount to reducing the disaster risks our society faces from disasters. Policy and practice at local, national and regional levels should aim to address these most marginalised communities through the engagement, development and implementation of inclusive DRR policy.
Unfortunately, research shows there is a long way to go to achieve this. UN Women and DRR Dynamics have developed a  new policy tracker that looks at all countries' progress on developing inclusive DRR strategies and policies. The tracker shows that only 26 countries out of a possible 193 UN Member States have policy or practice that specifically includes strategies for ensuring inclusivity on all Sendai-identified marginalised groups (defined in the Framework as women, children and youth, persons with disabilities, poor people, migrants, indigenous peoples and older persons).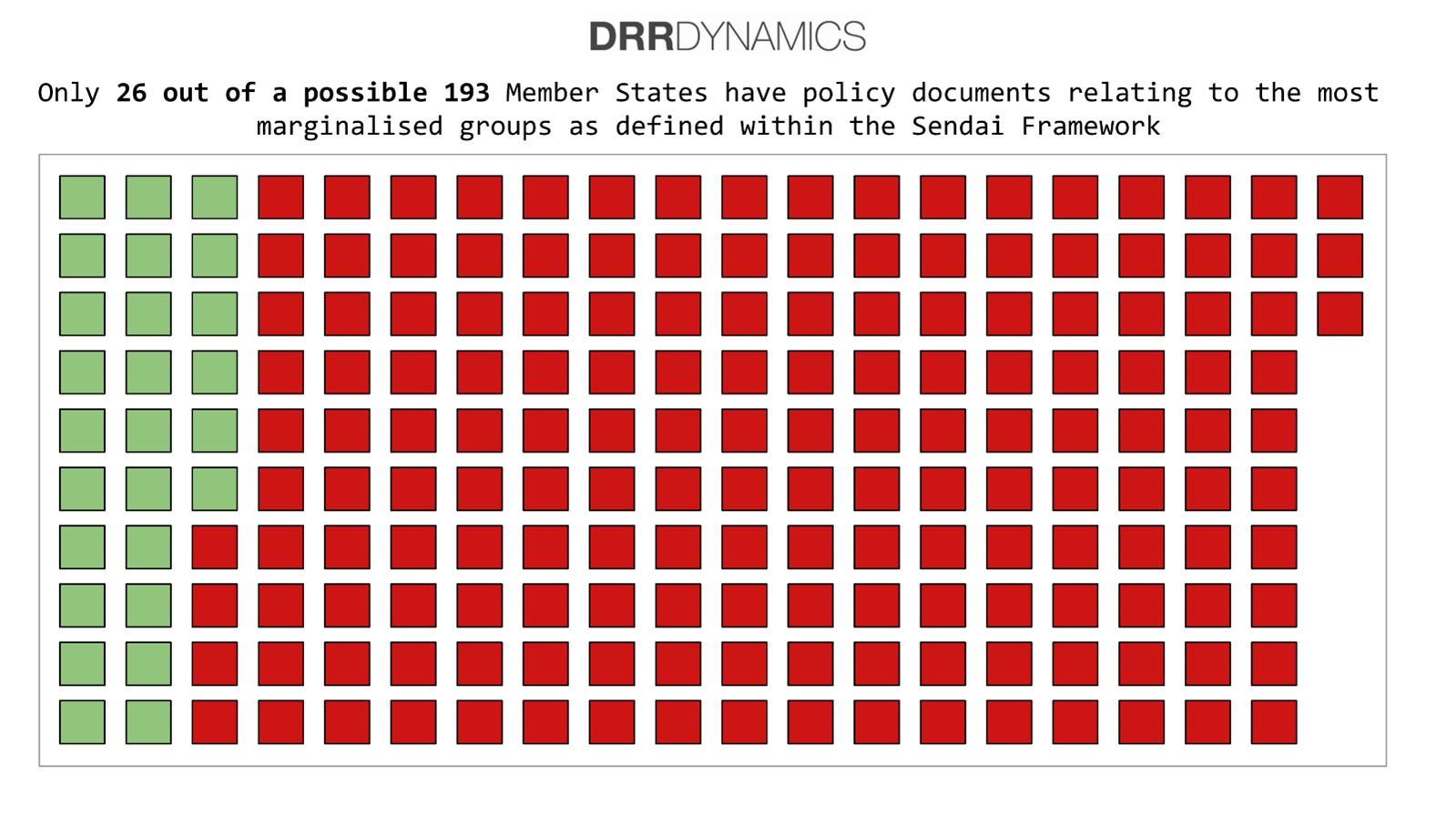 This progress tracker should be a wakeup call to governments, DRR practitioners and the international development coordination community. We know that reaching out and engaging with these communities provides a more effective and efficient response to disasters. Yet, the most vulnerable and marginalised groups are still being left out of policy development processes. We are now five years into the implementation period of Sendai. If we want to live up to our ambition to leave no one behind, we need governments and local, national and international DRR practitioners to work with these groups and develop policies that address these imbalances.
Women's Resilience to Disasters Knowledge Hub: the host of the Progress Tracker for Inclusive DRR Policies.
The Progress Tracker on Inclusive DRR Policies was launched on International Day of Persons with Disabilities 2020. It will be maintained on the Women's Resilience to Disasters Knowledge Hub. The WRD Knowledge Hub brings together a network of people who support women and girls affected by disasters and climate change. The Hub champions women's agency and leadership in addressing the risks posed by disasters and gathers and shares evidence, tools, and expertise to ensure efforts to help women and girls prepare and adapt to disasters and climate change are well-informed, coordinated and effective.
About DRR Dynamics
DRR Dynamics Ltd is a London-based research and advocacy organisation formed in June 2014. Its primary goal is ensuring marginalised groups are better included in disaster risk reduction (DRR), disaster risk management (DRM) and humanitarian policy and practice.
DRR Dynamics advocates that marginalised groups should be seen as agents of change who are not only able to contribute to DRR policy and practice but in turn, make it more efficient, inclusive and fair.
Using proven research and policy experience, we work alongside international aid agencies, national governments, International Non-Governmental Organisations, academic institutions and organisations within the private sector we lead on and assist with projects to provide a high level of knowledge and expertise on a range of topics related to building an inclusive disaster risk reduction/ management and humanitarian process.
About UN Women's Disaster Risk Reduction and Resilience Work
Grounded in the vision of equality enshrined in the Charter of the United Nations, UN Women works for the elimination of the discrimination against women and girls; the empowerment of women; and the achievement of equality between women and men as partners and beneficiaries of development, human rights, humanitarian action and peace and security.
Through its focus on disaster prevention and resilience, UN Women ensures that new and existing disaster risks are mitigated by putting women at the centre of disaster risk reduction, by giving them a voice, empowering them as disaster risk reduction leaders and actors, and by building their resilience. Evidence proves that the majority of victims and those affected by disasters are women. Due to the gendered dimensions of disaster risk, women and girls face greater vulnerability and exposure to disasters, yet women remain largely ignored and their capacities, unleveraged in conventional disaster risk reduction processes.
UN Women promotes gender-responsive disaster risk reduction and strengthening women's disaster and climate resilience through consolidating and disseminating the knowledge base of the gender dimensions of disasters and climate change, technical and policy support, provision of gender expertise to disaster risk reduction mechanisms and processes, and by implementing global programmes and projects for gender-responsive disaster risk reduction and resilience, including the Women's Resilience to Disasters program.
Visit our new progress tracker to learn more about progress in inclusive disaster risk reduction policies. Please join our Community of Practice on Women's Resilience and connect with us via Twitter and LinkedIn for the latest updates!
---
Dr. Rahel Steinbach is an international development practitioner with expertise in disaster risk reduction, resilience, climate change, humanitarian action, gender equality and women's empowerment. She is currently Programme Specialist on Disaster Risk Reduction and Humanitarian Action with UN Women.
For the past two decades, Rahel Steinbach has been working with multilateral and bilateral organizations, governments, civil society, academia and private sector entities in more than 120 countries with a holistic focus on socio-economic and sustainable development issues.
As an advocate for sustainable development and gender equality she has lectured at Oxford University, Vienna University, ISEG and the American Graduate School in Paris.
She holds a PhD in Sustainable Development from the University of Vienna, Austria, a Master's degree in Political Science from Sciences Po, Aix-en-Provence, France and a Master of Advanced International Relations from the Diplomatic Academy in Vienna, Austria.
PLEASE NOTE: CONTENT IS DISPLAYED AS LAST POSTED BY A PREVENTIONWEB COMMUNITY MEMBER OR EDITOR. THE VIEWS EXPRESSED THEREIN ARE NOT NECESSARILY THOSE OF UNDRR, PREVENTIONWEB, OR ITS SPONSORS.
SEE OUR TERMS OF USE