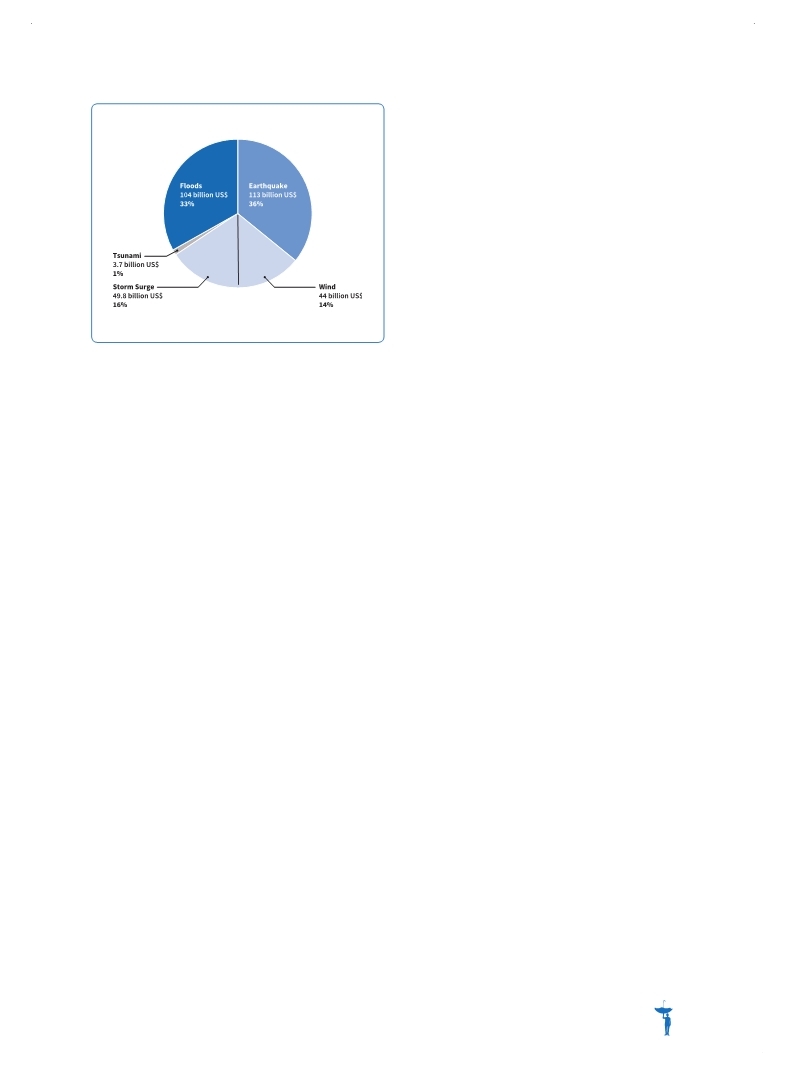 regular occurrences. In contrast, tsunamis usually affect only a relatively small area beyond the coastline. These differences in frequency and spatial extent determine how the different hazards contribute to global AAL. For example, even though it contributes only 0.29 per cent to global AAL, tsunami risk may have devastating local impacts when it does occur, as the events in the Indian Ocean in 2004 and Japan in 2011 highlighted.
Earthquakes occur infrequently but can correlate with high losses across large regions. In Japan and on the Pacific coasts of the United States of America and Chile, earthquake risks are explained by major concentrations of exposed assets in areas of high seismicity. However, the vulnerability of building stock is low thanks to good construction standards, a long history of earthquakes, and strong governance. In low and middle-income countries, such as Bangladesh, China, the Dominican Republic, El Salvador, Iran, Nepal and the Philippines, the vulnerability of the building stock makes a far greater contribution to risk.
Seismic hazard depends on the magnitudes and locations of likely earthquakes, on their
frequency and on the properties of the rocks and sediments that earthquake waves travel through. Tectonic earthquakes can occur anywhere where an active fault exists, and the magnitude depends on the area of the fault that ruptures. Although earthquakes cannot be predicted, scientific analysis can provide information on the potential frequency and magnitude of events. Earthquakes can also trigger secondary hazards associated with landslides, liquefaction and tsunamis.
Earthquake risk contributes US$113 billion to global AAL. To put this figure into perspective, it is equivalent to annual public education expenditure in all of the Middle East and North Africa, or 50 per cent of public health expenditure in Latin America and the Caribbean.
The countries with the highest absolute AAL values are the United States of America, Japan and Italy. However, relative to both capital stock and investment, the risk is significantly higher in low and middle-income countries (Figure 3.13).
In terms of geographical regions, the highest relative risks can be found in Latin America and the Caribbean and in the Middle East and North Africa. The earthquake AAL in these regions is equivalent to 1.6 per cent and 1 per cent of their capital investment, respectively, compared to 0.6 per cent in Europe and Central Asia and 0.4 per cent in North America.
16
These are regions where the exposed building stock is growing in contexts that may exhibit relatively weak regulatory quality and where prospective disaster risk management is critical to avoiding future disaster risk accumulation. Middle-income countries such as Honduras, Guatemala, Peru and Tajikistan all have a high ratio of AAL to capital investment.
Earthquake risk has also become a critical problem for countries that have experienced a severe economic downturn and where capital investment has dried up. For example, Greece's annual capital investment now amounts to only around
(Source: UNISDR with data from Global Risk Assessment.)
Figure 3.12
Contribution of each hazard to global AAL