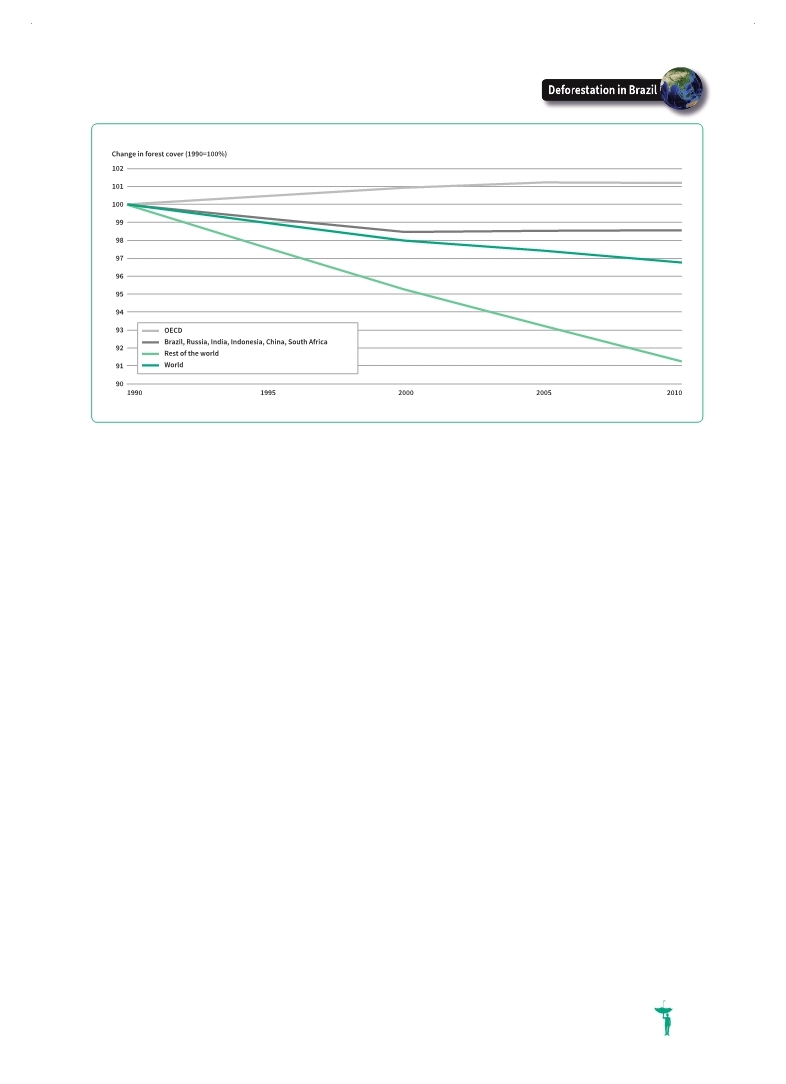 One underlying driver of disaster risk is the loss of biodiversity, including the loss of forests (both in terms of size and diversity), wetlands, coral reefs, mangroves, areas under sustainable management and protected areas, the loss of threatened species and marine stocks, and the degradation of regulatory and provisioning ecosystem services (IPCC, 2012UNISDR, 2009aWorld Bank, 2013IPCC, 2014

PEDRR, 2010

Chatenoux and Peduzzi, 2013
Forest cover reduces landslide and drought risk in particular (UNISDR, 2011a


UNISDR. 2011a,Global Assessment Report on Disaster Risk Reduction: Revealing Risk, Redefining Development, Geneva, Switzerland: UNISDR.. .

), but as in the case of wetlands, mangroves and coral reefs, global coverage was in decline until recently, except in OECD countries (Figure 12.3). For example, between the adoption of the HFA in 2005 and 2013—in a period of only eight years—the Amazon is estimated to have lost approximately 70,000 km
2
of its rainforest, an area the size of Ireland or Panama.
Global data on the loss of critical regulatory ecosystem services, including forests, mangroves, wetlands, coral reefs and aquifers, as well as data on climate change highlight that many ecosystems are now approaching tipping points beyond which recovery is difficult or impossible, with unpredictable but potentially dangerous implications for future disaster risk.
The impact of water scarcity has also been discussed extensively (UNISDR, 2013a


UNISDR. 2013a,Global Assessment Report on Disaster Risk Reduction: From Shared Risk to Shared Value: the Business Case for Disaster Risk Reduction, Geneva, Switzerland: UNISDR.. .

;

Erian et al., 2012

Erian, W., B. Katlan, B. Ouldbedy, H. Awad, E. Zaghtity and S. Ibrahim. 2012,

Agriculture Drought in Africa and Mediterranean

, Background paper prepared for the 2013 Global Assessment Report on Disaster Risk Reduction. Geneva, Switzerland: UNISDR..

Click here to view this GAR paper

.

; IPCC, 2012


IPCC (Intergovernmental Panel on Climate Change). 2012,Managing the Risks of Extreme Events and Disasters to Advance Climate Change Adaptation, Full Report. (Field, C.B., V. Barros, T.F. Stocker, D. Qin, D.J. Dokken, K.L. Ebi, M.D. Mastrandrea, K.J. Mach, G.-K. Plattner, S.K. Al-len, M. Tignor and P.M. Midgley, eds.). A Special Report of Working Groups I and II of the Inter-governmental Panel on. .

). In the regions most heavily affected, it will have a direct relationship with disaster risk, both in terms of increasing agricultural and hydrological drought hazard as well as increasing vulnerability. Agricultural production, and thus also rural incomes, will be increasingly challenged, which will undermine resilience to drought and other hazard impacts. The increasing cost and declining availability of drinking water in urban areas will particularly affect low-income communities, which already have very unequal access to this resource. Again, this is a challenge to resilience and to the capacity of households and communities to manage disaster risks.
Figure 12.3
Global trends in forest cover, 1990-2010
(Source: OECD, 2012


OECD (Organisation for Economic Co-operation and Development). 2012,OECD Environmental Outlook to 2050: The consequences of Inaction, Paris: OECD Publishing.. .

.)