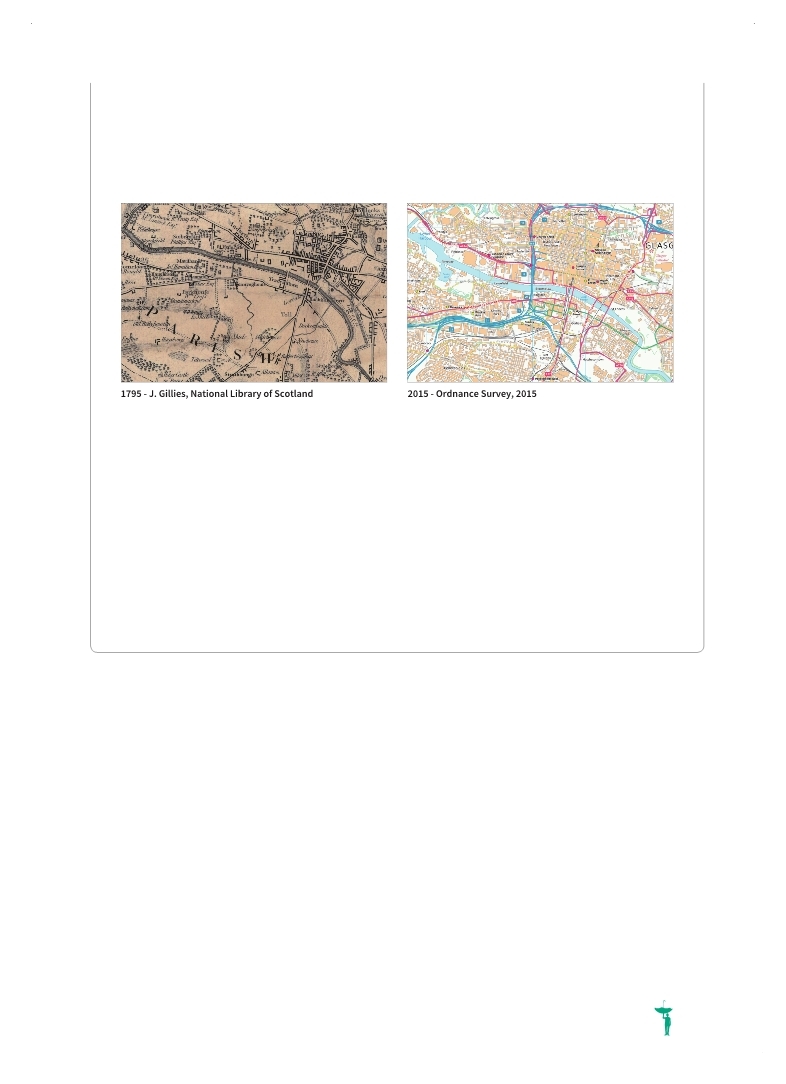 Figure 9.1
Glasgow city centre at the end of the 18
th
century and the beginning of the 21
st
century
(Source: National Library of Scotland; Ordnance Survey.
5
)
The high levels of deprivation in Calton also coincide with extensive disaster risk (Lindley et al., 2011


Lindley, Sarah, John O'Neill, Joseph Kandeh, Nigel Lawson, Richard Christian and Martin O'Neill. 2011,Climate change, justice and vulnerability, Joseph Rowntree Foundation. November 2011. .

). In addition to inequality and poverty, the inadequate design of the city's sewage systems and small urban watercourses mean that local flooding occurs on a regular basis (Cashman, 2007


Cashman, Adrian. 2007,Sustainable Flood Risk Management: A Glasgow Case Study – from paralysis to praxis? Flood Risk Management Research Consortium (FRMRC), June 2007.. .

). Diminishing floodplains along the Clyde River have further exacerbated flood hazard in the area (Figure 9.1).
of everyday risk; these are associated with poor health, crime, drug addiction, domestic violence and homelessness (Wilkinson and Marmot, 2003


Wilkinson, Richard and Michael Marmot. 2003,Social determinant of health: The solid facts, Second Edition. The World Health Organization. Copenhagen, Denmark.. .

), which in turn reinforce poverty.
The correlation between poverty and life expectancy is particularly pronounced in low-income countries. For example, Lilongwe, Conakry, N'Djamena, Banjul and Kigali all have life expectancies at birth of less than 50 years (Mitlin and Satterthwaite, 2013


Mitlin, Diana and David Satterthwaite. 2013,Urban Poverty in the Global South, Scale and Nature. USA and Canada: Routledge Publishing.. .

). In Chad, Sierra Leone, Burundi and Mali, under-five mortality rates among urban populations are staggeringly high at more than 150 per 1,000 live births, compared
to below 10 per 1,000 live births in middle and high-income nations (ibid.). But as the case of Calton shows, low life expectancy arises from these conditions of high everyday risk, even in the world's richest countries.
There is now a common understanding that lowincome households and communities suffer a disproportionate share of disaster losses and impacts (UNISDR, 2009a


UNISDR. 2009a,Global Assessment Report on Disaster Risk Reduction: Risk and Poverty in a Changing Climate, Geneva, Switzerland: UNISDR.. .

; Rentschler, 2013


Rentschler, Jun E. 2013,Why Resilience Matters: The Poverty Impacts of Disasters, Policy Research Working Paper 6699. November 2013. The World Bank GFDRR, Washington, D.C.. .

; Lewis, 2011


Lewis, James. 2011,Corruption: The hidden perpetrator of under-development and vulnerability to natural hazards and disasters, Jàmbá: Journal of Disaster Risk Studies, Vol. 3, No. 2, May 2011.. .

; Donner and Rodriguez, 2011;
6
Benson and Clay, 2004
DFID, 2004
UNDP, 2004
Wisner et al., 2003
Baker, 2012

UNDP, 2014a