Your experience on PreventionWeb
Please help us improve PreventionWeb by taking this brief survey. Your input will allow us to better serve the needs of the DRR community.
Report reveals extreme heat's toll on women's health and income
Source(s):
Adrienne Arsht-Rockefeller Foundation Resilience Center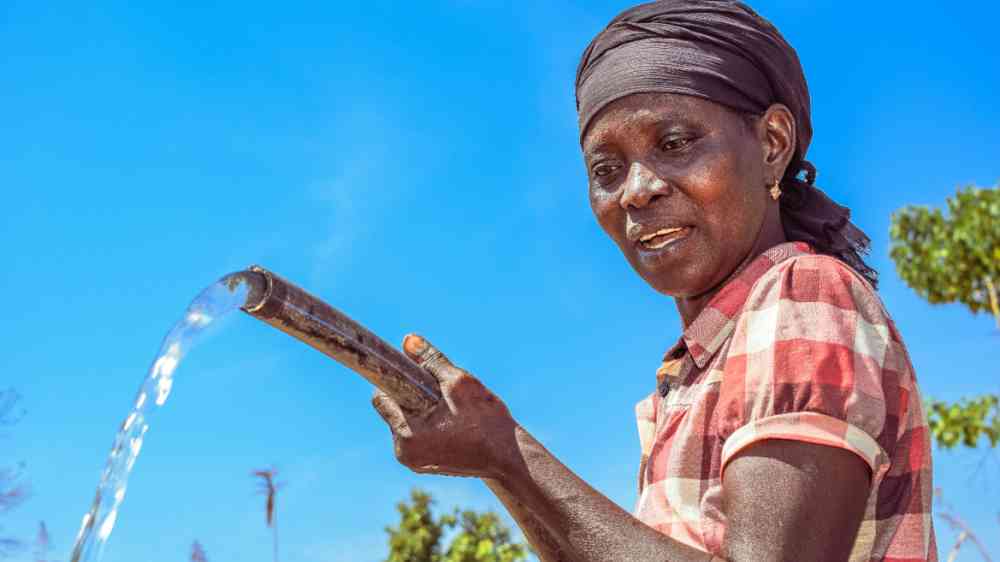 Oni Abimbola/Shutterstock
Assessing the burdens of heat on women in India, Nigeria, and the US enables and informs solutions
Extreme heat, largely driven by climate change, is a powerful and accelerating threat to livelihoods, human health, and our social fabric, and its impacts are disproportionately harmful and costly to women.
Today, the Adrienne Arsht–Rockefeller Foundation Resilience Center (Arsht-Rock) released its latest economic report, The scorching divide: How extreme heat inflames gender inequalities in health and income. This study quantifies the profound impact of extreme heat on women's labor productivity—both in paid work and unpaid work at home—and on their health, with analyses of the effects in India, Nigeria, and the United States, three geographically and socioeconomically diverse countries.
Understanding and measuring the effects of heat on women's lives, including their health and how it limits their income and economic opportunities, is critical—especially when nearly 60 percent of the world's women work in the informal sector and are disproportionately affected by climate change. This new analysis will inform policy makers, financial institutions, and the work of organizations like Arsht-Rock and the Clinton Global Initiative to address these inequities and develop urgent and life-saving actions around the impacts of extreme heat.

Secretary Hillary Rodham Clinton, Arsht-Rock's Global Ambassador for Heat, Health, and Gender.
The health effects of heat that contribute to productivity losses include reduced concentration and slowed thinking, impaired hand-eye coordination, headaches, fatigue. In addition, heat-exposed women working outdoors can suffer from rashes, miscarriages, urinary tract infections, dizziness, nausea, blisters, and more.
By providing a quantified view of heat's impacts, both under current and potential 2050 conditions, this report shines the light on the damaging effects of heat on women in domestic settings, employment, and public health, thereby helping to inform and accelerate gender-sensitive interventions, investment, policy making, and research without exacerbating structural gender inequalities. Evidence supports that these risks and impacts can be reduced.
Key Findings
1. Heat has a major impact on unpaid domestic labor—an 'invisible' dimension of worker productivity that is rarely studied, valued, or reflected in GDP statistics. Across the three countries studied losses in unpaid labor due to the effects of heat account for up to 75% of the productivity losses experienced by women. Across the three countries, extreme heat means women need to work for significantly longer to perform the same volume of (paid and unpaid) work. These losses mean more time and effort spent completing domestic tasks such as cooking, cleaning, and obtaining food and water for the family – plus diminished income from paid work 
2. The inclusion of unpaid work in our analysis increases the estimate of heat-related losses women experience by 260%, in contrast to 76% for men. These losses bear heavily on the well-being of women and their families and have knock-on impacts across societies on basic needs such as childcare and family nutrition. Furthermore, over the longer term, they will inhibit female education, labor market inclusion, and broader economic development.
3. Heat-related income losses to women in the paid labor market constitute a significant drain on economies and severely limit women's opportunities for income and economic advancement. Women earn on average 20% less than men which means that any income loss has a heavier toll. This analysis yields a conservative estimate of USD120 billion each year in heat-related losses to women's paid labor productivity across India, Nigeria, and the United States alone—financial and livelihood losses that are pushing the most financially vulnerable women below or further below the poverty line. 
4. Women are at a greater physiological risk from heat than men. Women, particularly pregnant people, face greater physiological vulnerability to heat due to differences in thermoregulation. By 2050, given a dearth of data, conservative estimates predict extreme heat could claim the lives of 204,000 women a year across India, Nigeria, and the United States. Furthermore, they are also most likely to shoulder the extra paid and unpaid care responsibilities associated with heat-related illnesses. Across the three countries, women bear up to 78% of the burden of unpaid care work.
"Extreme heat is quietly but profoundly brutalizing women worldwide. Whether they're at home or on the job, women's livelihoods are disproportionately blistered by heat. This landmark study finally arms employers, policymakers, and advocates with the data to measure the far-reaching costs of extreme heat to women. In doing so, we are blazing a trail for social, economic, and policy solutions that will save lives and bolster economies and communities."
 Kathy Baughman McLeod, Director of the Adrienne Arsht-Rockefeller Foundation Resilience Center
Please note: Content is displayed as last posted by a PreventionWeb community member or editor. The views expressed therein are not necessarily those of UNDRR, PreventionWeb, or its sponsors. See our terms of use