Your experience on PreventionWeb
Please help us improve PreventionWeb by taking this brief survey. Your input will allow us to better serve the needs of the DRR community.
ANNOUNCEMENT: Launch of a Quick Risk Estimation Tool to help small businesses understand their risk
Source(s):
United Nations Office for Disaster Risk Reduction - Regional Office for Asia and Pacific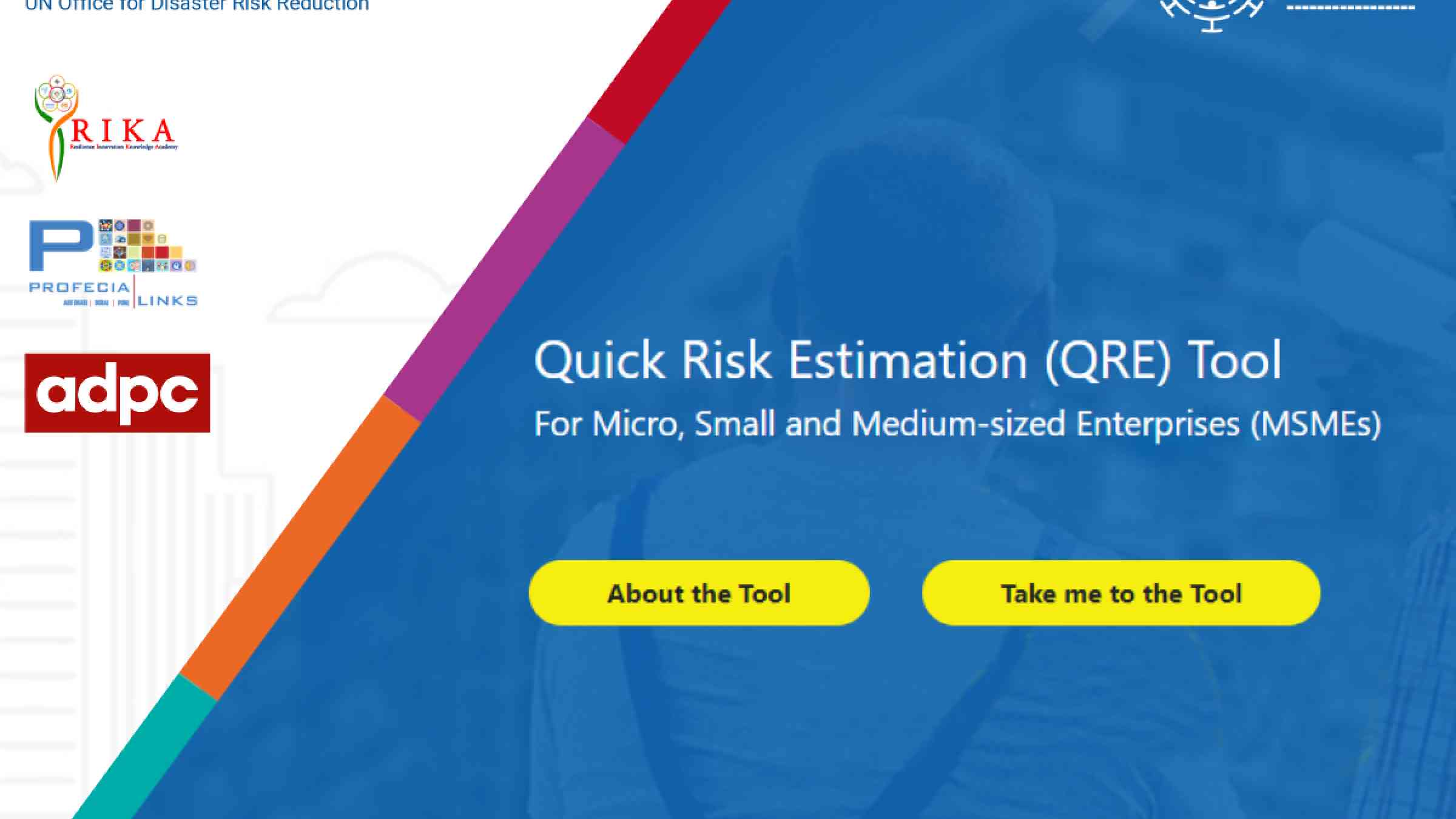 BANGKOK – The UN Office for Disaster Risk Reduction (UNDRR) launched an online Quick Risk Estimation (QRE) Tool to help small businesses and enterprises, including those in the informal sector, to better understand their exposure and vulnerability to disaster risks, especially in the context of the ongoing COVID-19 pandemic.
Business resilience and continuity planning is a cornerstone of sound management in light of the multiple risks that businesses face in today's environment of climate change and COVID-19. From supply disruptions to worker absenteeism and physical damage to facilities, disasters can, directly and indirectly, impact every aspect of business operations.
Moreover, the dynamic and prolonged nature of the current COVID-19 global pandemic has demonstrated the importance of enhancing business resilience and agility to adjust to a new environment.  
Many businesses remain without any type of business risk management plan or have plans that have proven inadequate in managing the current pandemic. One key challenge is a lack of information on the full spectrum of risks businesses face. This is especially true of micro and small enterprises that represent over 90% of private sector entities in the Asia-Pacific region. In addition, many small businesses operate in the informal sector and often do not have the means to understand the level of risk their business is exposed to and plan accordingly.
In line with the priorities of the Sendai Framework for Disaster Risk Reduction 2015-2030, which calls for understanding risk as a prerequisite to risk management, UNDRR's Regional Office for Asia and the Pacific developed the QRE Tool.  This tool is intended to help micro, small and medium-sized enterprises, including those in the informal sector, to develop a basic understanding of their level of risk.
The QRE Tool for businesses includes an interactive questionnaire that produces a real-time dashboard that points a business and enterprise owner to their estimated general risk level, particularly to COVID-19. The results take into consideration the business size, type, and geographic location, along with a number of other factors. The quick risk estimation also points to corrective actions and can be undertaken at regular intervals to self-assess the changing level and type of business risk.
This tool is part of a larger package developed by UNDRR Asia-Pacific to help small businesses build their resilience in response to the COVID-19 crisis.
Other products include:
UNDRR acknowledges and thanks the following organizations for their support in the development of this Tool: The Resilience Innovation and Knowledge Academy (RIKA), Profecia Links, and the Asia Disaster Preparedness Centre (ADPC).
Organizations interested in volunteering their services to translate the QRE Tool to be used for businesses and enterprises in their countries are encouraged to contact UNDRR Asia-Pacific at UNDRR-AP@un.org
Please note: Content is displayed as last posted by a PreventionWeb community member or editor. The views expressed therein are not necessarily those of UNDRR, PreventionWeb, or its sponsors. See our terms of use