Updates
Water storage is at the heart of climate change adaptation
Gerhard Pettersson/Shutterstock
Storing water will be vital to adapt to climate change, according to a new World Bank report.
The world faces a water storage gap as demand for fresh water grows and glaciers, snowpack, and wetlands decline.
A new approach that integrates built and natural water storage is needed to holistically manage water throughout entire water systems.
In the 1960s, farmers in northern India began using groundwater to irrigate their fields. The practice spurred a Green Revolution in agriculture and turned India into a food-secure country. Six decades later, however, high usage of groundwater across the country is steadily depleting a precious resource for millions of Indians.
Today, most countries are placing unprecedented pressure on water resources. The global population is growing fast, and estimates show that with current practices, the world will face a 40% shortfall between forecast demand and available supply of water by 2030. Chronic water scarcity and extreme weather events are perceived as some of the biggest threats to global prosperity and stability.
With climate change making rainfall patterns increasingly unpredictable, countries and communities around the world need to rethink how they use and manage fresh water, according to a new World Bank report, What the Future Has in Store, A New Paradigm for Water Storage. The report warns that water is the "most urgent challenge of our lifetime," with climate change-linked water crises already taking a toll on people, the environment, and economies. In 2022, two-thirds of municipalities in Mexico faced water shortages, France experienced its worst drought in history, and flooding from heavy rainfall submerged one-third of Pakistan, killing over 1,200 people, and displacing 33 million.
"Freshwater storage is at the heart of adapting to climate change, most obviously by saving water for drier times and reducing the impact of floods," says Saroj Kumar Jha, the Global Director of the World Bank Group's Water Global Practice.
 "The World Bank produced this report because we recognize that many of our clients around the world are in unprecedented situations, struggling to cope with water-related disasters and grappling with how to develop, operate, and maintain more—and more resilient—water services."
Freshwater storage is at the heart of adapting to climate change, most obviously by saving water for drier times and reducing the impact of floods.

Saroj Kumar Jha, Global Director of the World Bank Group's Water Global Practice
A Growing Water Storage Gap
Water is at the center of economic and social development; it influences whether communities are healthy places to live, good places to grow food, or have reliable clean energy. Water also underpins natural ecosystems such as forests or wetlands, drives industry, creates jobs, and touches every aspect of development, with a direct link to almost every Sustainable Development Goal (SDG).
Fresh water is stored in various ways, with large amounts stored naturally in ice, embedded in soil and vegetation, underground in aquifers, or on the surface in lakes and wetlands. Strategically significant water is also stored in or behind structures such as dams, tanks, retention ponds, farm fields, or paddies. Storage may also be a combination of natural and built (sometimes also called green and gray solutions). For example, built structures are used to accelerate the recharge of natural underground storage.
Water storage for climate change mitigation is expected to increase through hydropower, which, besides generating electricity, can provide energy storage and grid-balancing services key to scaling up other more variable renewable energy sources such as solar and wind.
As demand for fresh water rises, the world is experiencing a widening water storage gap, with more water storage needed than is available in many places. While the global population doubled over the last 50 years, water stored in nature dropped by some 27,000 billion cubic meters as glaciers melted, snowpack diminished, and wetlands and floodplains were destroyed.
Traditionally, water storage has focused on dams and reservoirs, but this approach will not meet the challenges of the 21st century in many areas. The report offers a framework to integrate and maximize the benefits of all forms of water storage: natural, hard infrastructure, and a combination of both, throughout an entire watershed. The report highlights practical tools to help identify storage options that respond to a range of unique needs, make collaboration easier, and ultimately support resilient, integrated storage solutions designed to sustain generations.
Some cities, regions and countries are already moving in this direction, driven by concerns over water security.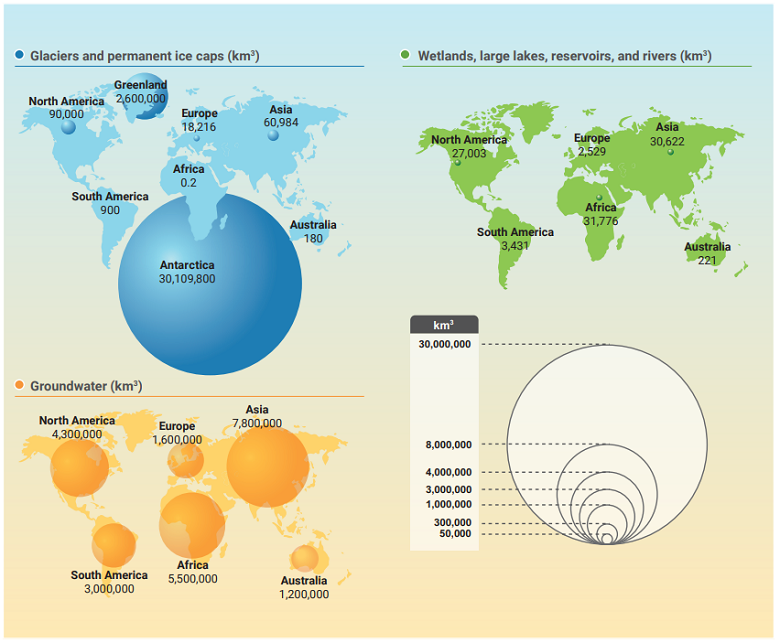 Quantity and Distribution of Global Freshwater Resources, by Region. Source: GRID-Arendal 2009 (Cartographer: Philippe Rekacewicz). Licensed under CC-BY-NC-SA 3.0.
Saving Groundwater in India
With 18% of the world's population but only 4% of its water resources, India is seeking to stem overexploitation of its groundwater through the world's largest community-led groundwater management program: Atal Bhujal Yojana. With support from the World Bank, the program helps 8,220 Gram Panchayats (village councils), covering over 20,000 villages across seven Indian states, to account for all the water that flows in and out of their communities. A core aspect of the program is community-led water security plans prepared at the village level to support ongoing efforts to encourage farmers to use water more efficiently. More than 5,200 village councils have prepared and begun to implement water security plans as well as "water budgets" showing how much groundwater is available, how much should be recharged, and how much can be set aside for agriculture. This effort has prompted many farmers to use innovative water-saving irrigation techniques and to move away from high water-intensive crops to less water-consuming crops, and to grow high-value crops such as pomegranates and cumin.
A New Water Strategy in South Africa
Cape Town, South Africa, one of several case studies in the report, developed a new water strategy in the wake of a water crisis in 2018. That year, the city's taps were on the verge of running dry as a historic drought gripped the region. Cape Town imposed severe water restrictions to keep the system running until heavy rains later that year brought relief.
But the city faced a new reality that demanded it rethink its approach to water: improving water storage is central, but must go hand in hand with other water management strategies. Cape Town plans to update how water is allocated in the region, improve water efficiency, and diversify water sources through water reuse (the purification of treated wastewater), sea water desalination, removal of invasive species that overconsume water, and by developing groundwater sources and storage. The region also will base its scenario-planning on data and analysis that accounts for the possibility of sudden climatic changes, and recently defined the priority of investments for water augmentation, using a hydro-economic study that considered different water users (agriculture, industry, domestic, and ecological).
Understanding the current status of the world's water and making better decisions about managing it will create a stronger foundation for sustainable development, climate action and resilience, and pay dividends for populations, economies, and the planet for generations to come.
Please note: Content is displayed as last posted by a PreventionWeb community member or editor. The views expressed therein are not necessarily those of UNDRR, PreventionWeb, or its sponsors. See our terms of use