publication
Strategic and managed...
Strategic and managed retreat as adaptation: Addressing climate vulnerability in the Sundarbans
Author(s)
Danda, Anamitra Anurag; Ghosh, Nilanjan; Bandyopadhyay, Jayanta et al.
Source
Observer Research Foundation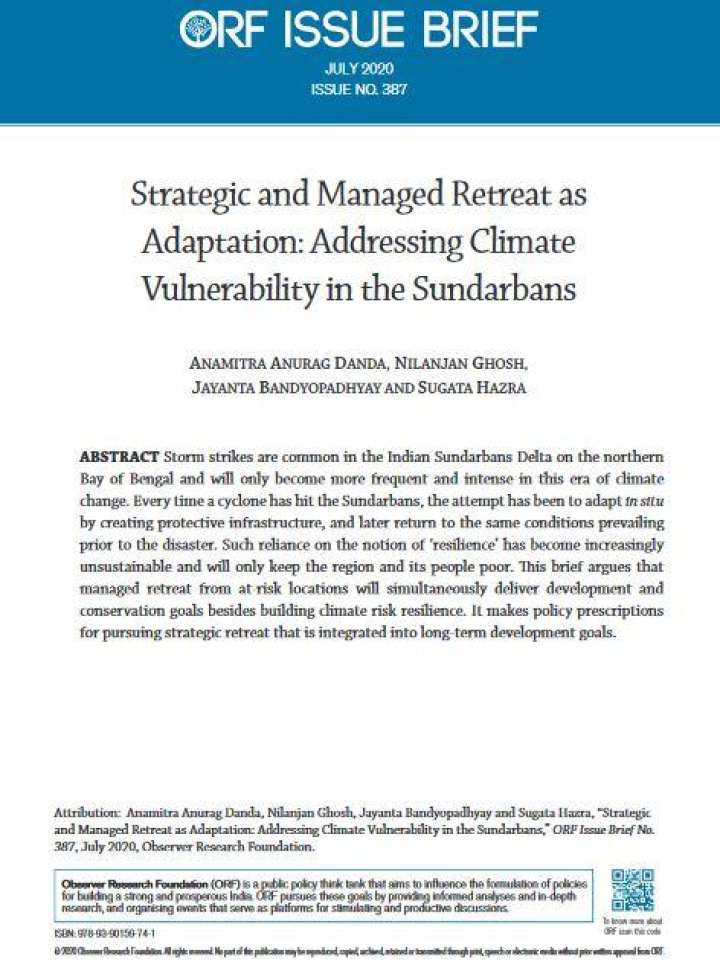 ISBN/ISSN/DOI
978-93-90159-74-1 (ISBN)
Every time a cyclone has hit the Sundarbans, the attempt has been to adapt in situ by creating protective infrastructure, and later return to the same conditions prevailing prior to the disaster. Such reliance on the notion of 'resilience' has become increasingly unsustainable and will only keep the region and its people poor. This brief argues that managed retreat from at-risk locations will simultaneously deliver development and conservation goals besides building climate risk resilience. It makes policy prescriptions for pursuing a strategic retreat that is integrated into long-term development goals.
The policy prescriptions offered in this brief, are (pp. 9):
Using Socio-Economic and Caste Census 2011 data (or the latest available), identify the population most at-risk to storm damage and storm surge damage;
Provide assistance to identified households to access Pradhan Mantri Awas Yojna-Gramin (PMAY-G) benefits [housing programme];
Provide salt-tolerant paddy seeds and farming knowledge to agricultural families from among the identified households;
Identify at-risk households with migrant workers and provide them with income-generating opportunities, improved access to public social services, and finances at their locations;
Identify urban/peri-/semi-urban areas and invest in their capacity to accommodate migrants, as well as address social, cultural, psychological, and economic needs of both the migrants and the host populations;
Identify at-risk locations prone to erosion and submergence and specify threshold level of mean sea level (or some other appropriate measure) when retreat legislation is invoked at these locations;
Enact retreat legislation that prevents the sale, transfer, reconstruction and bequeathing of existing properties in at-risk locations;
Offer buy-back of properties in at-risk locations when present owners are deceased or properties are destroyed by a storm event;
Repurpose vacated land for mangrove regeneration with the possibility of deriving private benefits if buy-back option is unexercised;
Promote research to understand the barriers to retreat approach that integrates long-term development goals.
PLEASE NOTE: CONTENT IS DISPLAYED AS LAST POSTED BY A PREVENTIONWEB COMMUNITY MEMBER OR EDITOR. THE VIEWS EXPRESSED THEREIN ARE NOT NECESSARILY THOSE OF UNDRR, PREVENTIONWEB, OR ITS SPONSORS.
SEE OUR TERMS OF USE