Documents and publications
Indonesia Preliminary Damage and Loss Assessment: the December 26, 2004 Natural Disaster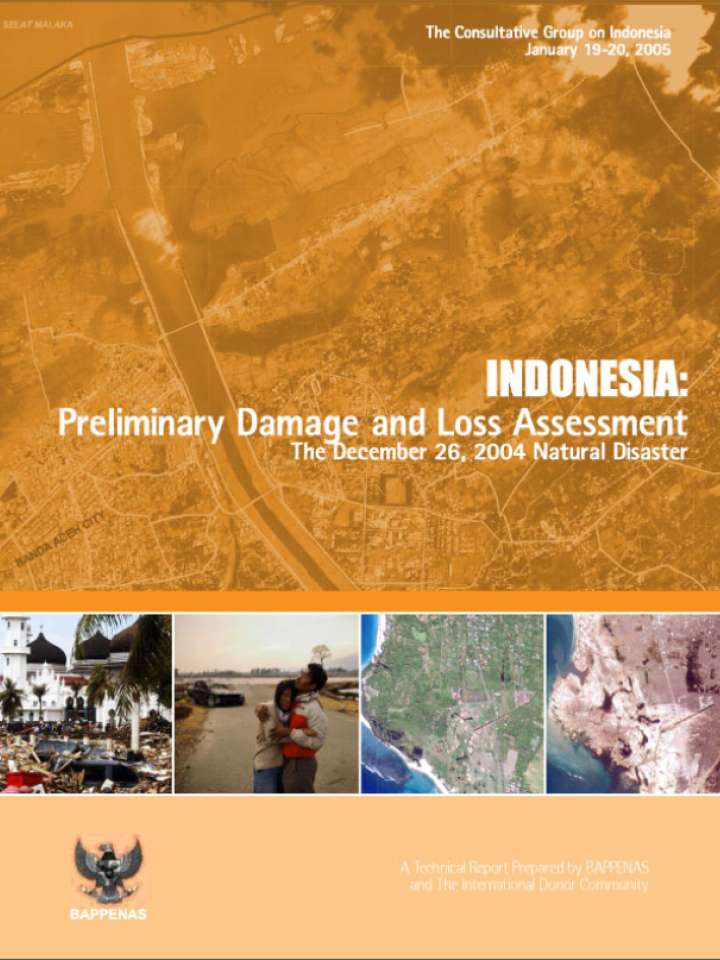 On the morning of December 26, 2004, a massive earthquake, registering 9.0 on the Richter scale hit Indonesia with its epicenter in the Indian Ocean, within 150 kilometers of Aceh Province, on the northern tip of Sumatra. The earthquake was followed by a massive tsunami that devastated the human population living on the coastline of Aceh Province, and parts of North Sumatra Province. The same tsunamis caused death and destruction throughout southern Asia and as far away as Africa. The human toll in Indonesia due the earthquake and the tsunamis has been massive, and larger than in any other country in the region. As of January 14, 2005, 110,229 were accounted for as dead, 12,132 as missing and 703,518 as displaced.
This document represents a preliminary assessment of damages and losses due to the natural disaster. It has been quickly produced to convey the scale of the damage to the international Consultative Group of Indonesia meeting on January 19-20, and also to provide a basis for the national and local Governments, as well as the people of Aceh and North Sumatra, to quickly start making decisions on setting priorities and considering how
to develop a strategy for reconstruction.
This Preliminary Damage and Loss Assessment does not attempt to ascertain the reconstruction costs that would be implied by an eventual reconstruction strategy. Rather, it uses internationally accepted methodology to make an economic evaluation of (i) damages – e.g. destruction of public and private assets such as infrastructure, houses and boats; and (ii) losses – e.g. the loss of income streams such as personal incomes and
private sector revenues during the reconstruction phase. It must be emphasized that this report estimates replacement costs rather than reconstruction costs. In other words, it estimates actual damages and losses – how much it would cost to replace all the original assets that were damaged and income lost at their original location and specifications. Reconstruction costs would eventually be calculated on the basis of a reconstruction plan that may envision rebuilding in different locations or to different specifications; and building up more assets in order to improve services in the affected areas; or less, given the number of casualties.
Please note: Content is displayed as last posted by a PreventionWeb community member or editor. The views expressed therein are not necessarily those of UNDRR, PreventionWeb, or its sponsors. See our terms of use