Documents and publications
Author(s)
Rao, K.P.C.Dakshina Murthy, K; Dhulipala, R; Bhagyashree S.D; Das Gupta, Mithun; Sreepada, Soudamini; Whitbread, A.M.
Delivering climate risk information to farmers at scale: the intelligent agricultural systems advisory tool (ISAT)
Source
Consultative Group on International Agricultural Research
CGIAR Research Program on Climate Change, Agriculture and Food Security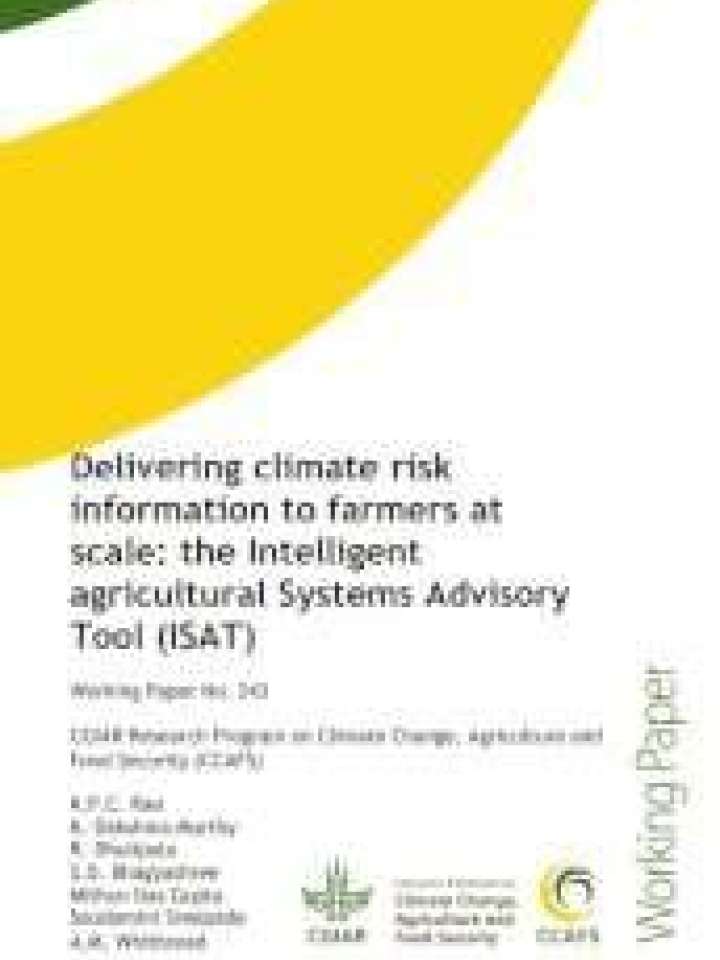 One of the strategies for helping smallholder farmers cope with climate variability and change is the provision of climate services that better decision making around the planning and management of agricultural systems. However, providing such services with location specific timely and actionable information to millions of farmers operating across diverse conditions requires innovative solutions. ICRISAT and its partners have developed and piloted one such system called "Intelligent agricultural Systems Advisory Tool – ISAT" capable of generating and disseminating data driven location specific advisories that assist farmers in anticipating and responding to the emerging conditions through the season. Using a decision tree approach, a structured and systematic approach to decision making was devised that considers the insights obtained from the analysis of historical climatic conditions, climate and weather forecasts and prevailing environmental conditions.
Microsoft India developed a platform to access real time data from various 'public' sources, perform the data analytics, implement the decision tree and generate and disseminate messages to farmers and associated actors. The ISAT generated advisories are designed to support both pre-season planning and in-season management. During the 2017 monsoon, ISAT was piloted with 417 farmers across four different locations. The messaging system worked extremely well in picking appropriate location specific message from the database and delivering the same to the mobiles of the registered farmers. Mid and end season surveys revealed that more than 80% of the farmers from all villages were satisfied with the frequency, relevance and understandability of the messages delivered. About 58% of the farmers rated the messages are reliable by being correct more than 75% of the times and helped them in managing their farms better by conducting farm operations timely with reduced risk. Compared to farmers in the control villages, groundnut yields of farmers in 5 treatment villages are higher by ~ 16% but this results varied between -7.7 to 56.2%.
This study has demonstrated the opportunities available to harness the untapped power of digital technologies to provide timely, actionable, advisories to smallholder farmers using appropriate data analytics and information dissemination systems. 
Please note: Content is displayed as last posted by a PreventionWeb community member or editor. The views expressed therein are not necessarily those of UNDRR, PreventionWeb, or its sponsors. See our terms of use