Pacific Disaster Center Executive Director Ray Shirkhodai and Executive Director of AHA Centre Adelina Kamal shake hands after signing Memorandum of Intent in June 2017.
Working hand-in-hand with our partners in more than twenty countries, Pacific Disaster Center (PDC) is helping to reduce disaster risk, loss, and suffering for millions of people throughout the world in 2017. We continue to work closely with our partners to develop capacities by providing early warning, multi-hazard monitoring, risk assessment, disaster preparedness exercises, and a myriad of other services to support disaster risk reduction and create a safer world.
Working together to create a safer world: 2017 projects at a glance
NDPBA - National Disaster Preparedness Baseline Assessment. Includes risk and vulnerability analysis and comprehensive disaster management assessment
Early Warning - Deployment and institutionalization of DisasterAWARE™ early warning / multi-hazard monitoring system
RVA - Risk and Vulnerability Assessment
MOI - Memorandum of Intent

Early warning and multi-hazard monitoring: Making better decisions, faster
We develop state-of-the-art solutions to help people on the paths of storms, in the shadows of volcanoes, low lying flood zones, and other hazard prone areas better prepare for the impact of extreme hazards. While we can never know the number of lives we help save, PDC's early warning and multi-hazard monitoring technology, DisasterAWARE™, is being used to protect millions of lives.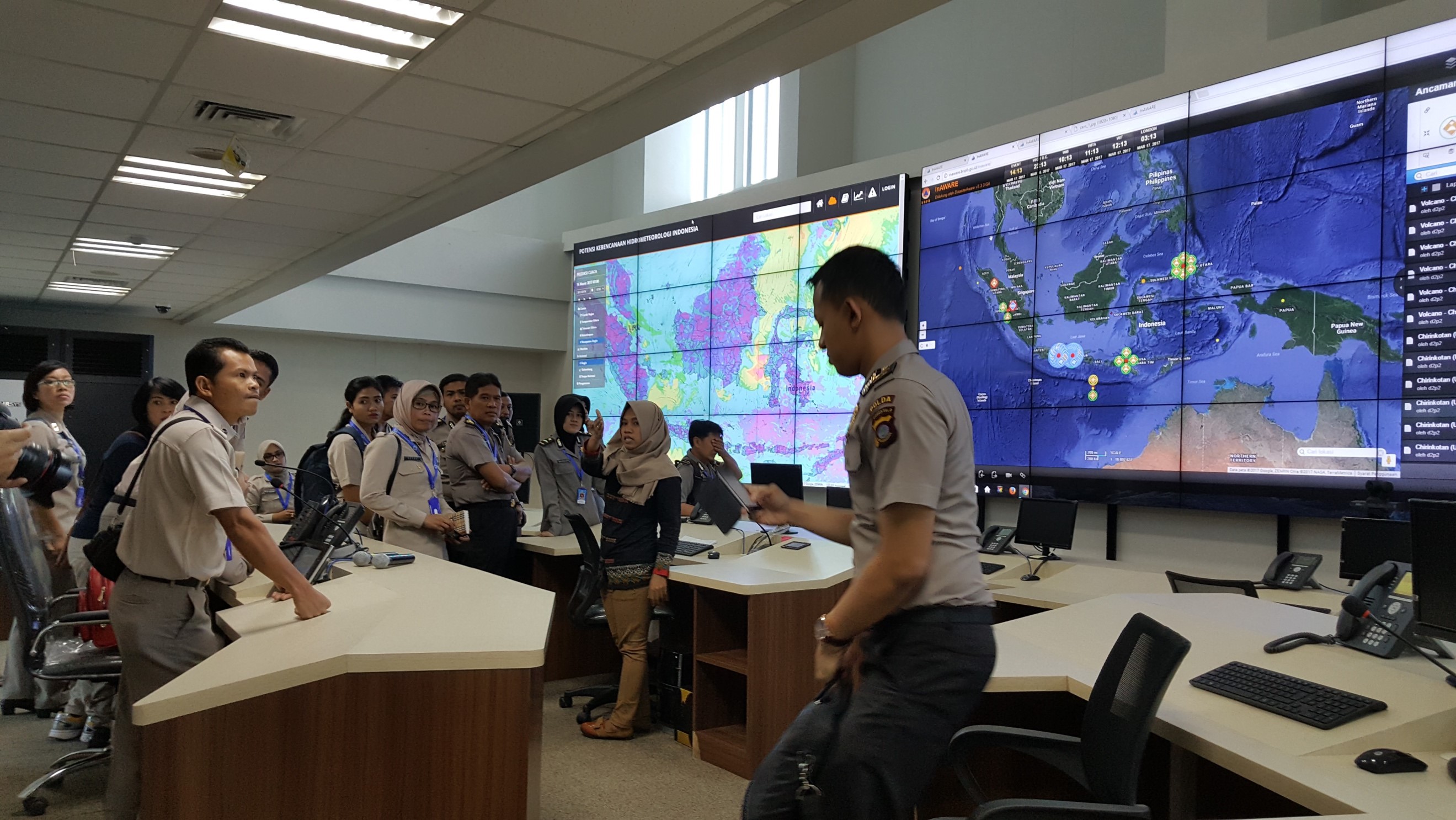 New InAWARE software currently in use by BNPB, Indonesia's national disaster management organization responsible for protecting millions living throughout its archipelago of islands
2017 projects
In 2017, the Center continued to help institutionalize use of its DisasterAWARE technology in Indonesia (InAWARE), and began doing so in Myanmar (leveraging DMRS at AHA Centre). Additionally, PDC just signed a Memorandum of Intent with the ASEAN AHA Centre to continue advancement of its disaster management and response system—powered by DisasterAWARE—and to continue close collaboration for strengthening regional risk assessment capabilities through PDC's recent completion of the ASEAN Risk and Vulnerability Assessment.
Focusing on gender inclusivity
Indonesia's InAWARE project, currently in Phase II, supports the target national goal for inclusivity, requiring 30% of project participants to be represented by women.
How we work
Our early warning and disaster management projects typically require three-years to fully implement. During this time, we work together with nations to help develop:
Decision points for taking disaster warning and response actions
Data flows and information management standards
Early warning alert dissemination processes and policies
Partner funding identification
Implementation of hardware and software
Training and skills necessary to support and operate systems
National disaster preparedness baseline assessment (NDPBA): Creating a safer world by reducing disaster risk 
We work with nations around the globe to assess national disaster preparedness, and help decision makers understand disaster risk reduction and integrate risk reduction policies and plans into their national legal framework.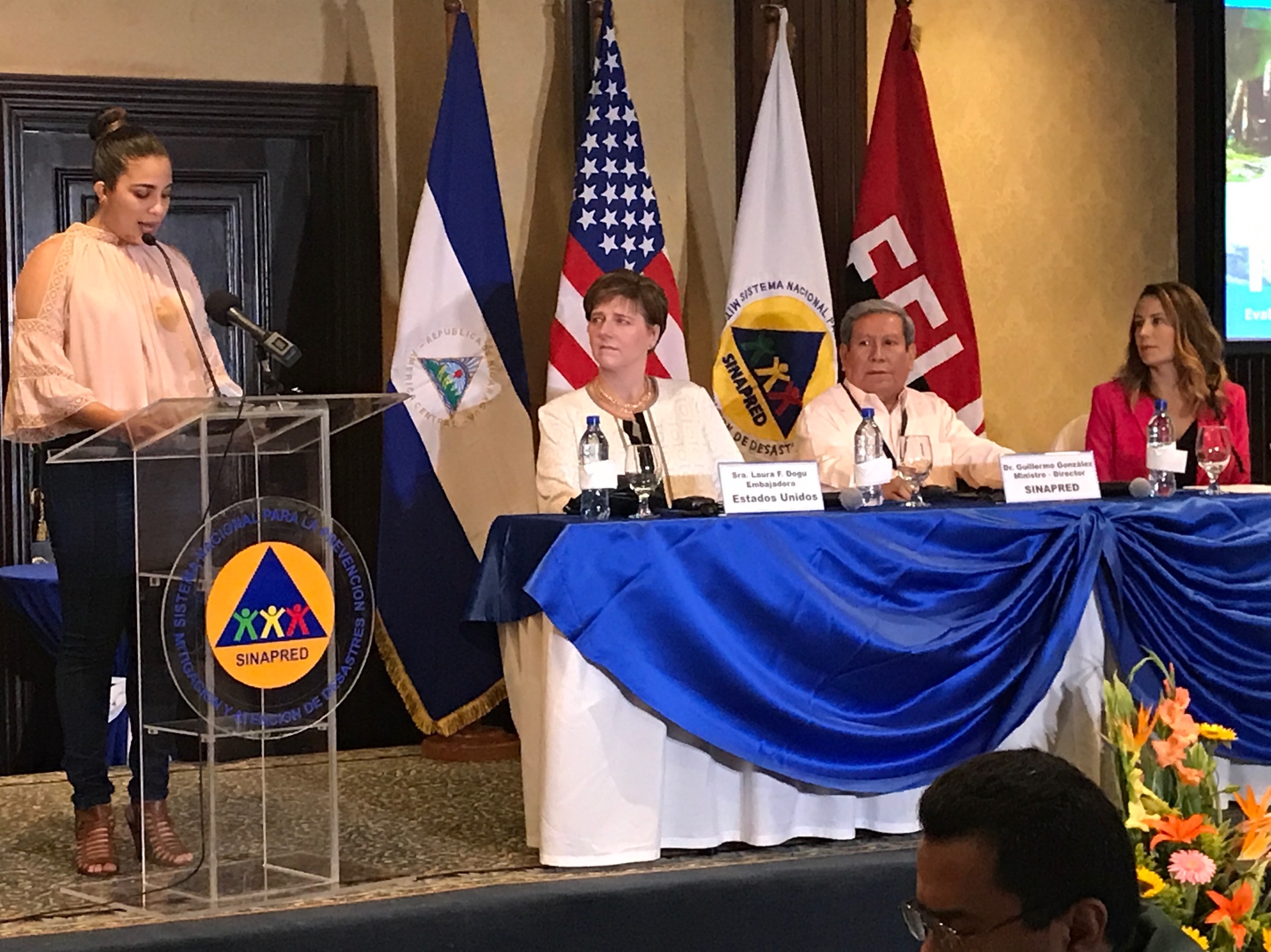 Nicaragua final workshop for NDPBA, attended by the nation's NDMO, disaster management and humanitarian assistance professionals, and U.S. Ambassador to Nicaragua Laura Dogu
Shining a light on vulnerability through disaster risk and preparedness assessments
Our scientific assessment provides critical information about the underlying factors that exacerbate disaster risk—such as socioeconomic vulnerability, gender inequality, lack of access to basic services like clean water, healthcare, education, and telecommunications to name just a few. This information helps decision makers prioritize investments as well as design more effective national plans to mitigate disaster losses, prepare for, respond, and recover from hazards.
2017 projects
In 2017, PDC completed four year-long NDPBA projects and helped establish capacity development roadmaps for Guatemala, Honduras, Nicaragua, and Dominican Republic. We are also working with regional organizations including CDEMA and CEPREDENAC on similar efforts and have formulated agreements in 2017 to begin projects with Vietnam, Togo, Benin, Argentina, Paraguay, Trinidad and Tobago in 2018.
How we work
We bring together national leaders and professionals from academic, first response, disaster management, and humanitarian assistance organizations to:
Collaborate and share critical data between organizations
Provide shared, centralized access to the same scientific assessment information through DisasterAWARE, with map-based visualizations that are easy to access and understand
Co-develop a five-year capacity development roadmap in partnership with national stakeholders to meet the unique priorities and challenges of each country
PLEASE NOTE: CONTENT IS DISPLAYED AS LAST POSTED BY A PREVENTIONWEB COMMUNITY MEMBER OR EDITOR. THE VIEWS EXPRESSED THEREIN ARE NOT NECESSARILY THOSE OF UNDRR, PREVENTIONWEB, OR ITS SPONSORS.
SEE OUR TERMS OF USE