Your experience on PreventionWeb
Please help us improve PreventionWeb by taking this brief survey. Your input will allow us to better serve the needs of the DRR community.
Durban: using technology with relationship building for resilience
Source(s):
United Nations Framework Convention on Climate Change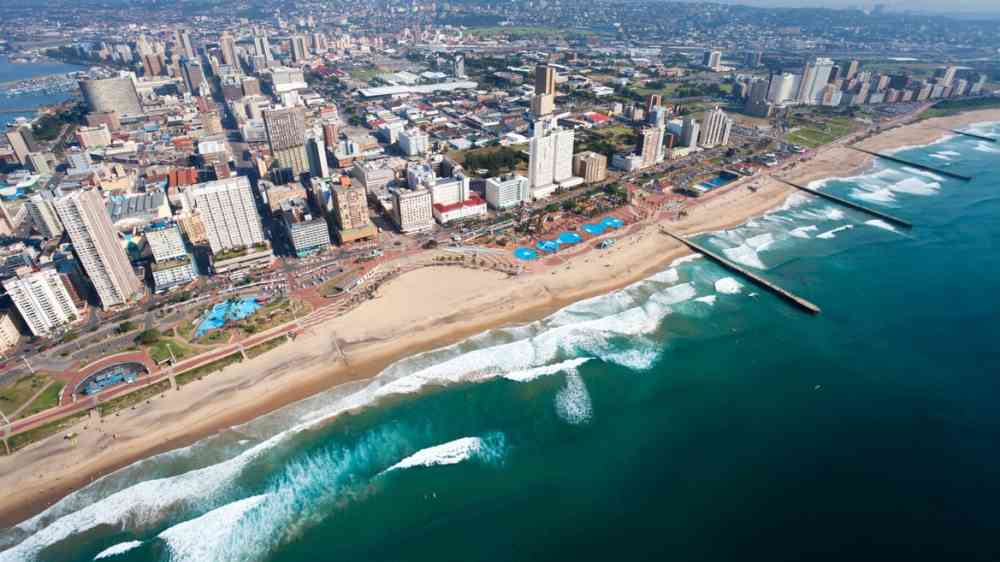 South Africa is, like all countries in Africa, at the frontlines of the climate crisis. Prolonged drought has resulted in water shortages, crop failures and death. Water supply is hampered by pollution, poor infrastructure and the country's demand for water will outstrip supply by 2025, highlighting the need for immediate, effective climate change adaptation work.
And while South Africa's farmers and rural communities will face the brunt of the climate crisis, the country's urban residents will face their own specific set of challenges. In Durban ­- a city of nearly four million on the country's east coast - these challenges include everything from flooding and drought to sea level rises and pollution.
Sean O'Donoghue is Durban's Climate Change Department Senior Manager, which sees him run the city's adaptation response. He highlights the fact that the city's climate-related problems, are like in many cities, interlinked to myriad other issues from overpopulation and unemployment to poor infrastructure. "It's important to look at the full bag of challenges we have around development, around socio-economic factors like inequality and poverty," he says. "Climate change is going to have an impact on that. In South Africa, after COVID and a number of other disasters, we have a situation where there are a lot of people out of work, particularly among the youth where there is more than 50 per cent unemployment rate," O' Donoghue says.  
In April there was massive flooding in Durban. "Within that context, we are worried about flooding, sea level rise, coastal storm surges as there is a lot of infrastructure close to the coastline; violent storms, unseasonable rainfall and its impact on crops."
Durban was somewhat ahead of the curve when it comes to climate action, largely due to some forward thinking members of the city's climate adaptation team.
"My previous boss, Debra Roberts understood the importance of climate change to Durban, and she looked at it from a biodiversity point of view," O'Donoghue says. "The major step forward we took through her was understanding how important biodiversity was to climate change and the development of a city planning layer for the Durban Metropolitan Open Space System."
A key moment for Durban was when it hosted UNFCCC's COP17 in 2011. "That event saw a major push and massive political support for climate change adaptation and its importance and that stimulated us to draw up the Durban Climate Change Strategy for both mitigation and adaptation in 2015," O' Donoghue says.
The Climate Action Plan came out of the C40 Deadline 2020 program. "We were the first city on the African continent to develop a climate action plan and it really speaks to the guidance provided by the 1.5 Degree IPCC report," O' Donoghue adds. The climate action plan raises Durban's internal ambitions so it's consistent with a global 1.5 Degree rise.
The Plan focuses on four main themes: Enabling; Risk Reduction; Economic Development; and Adaptation and Mitigation. "Enabling focuses on policy and development and creating institutional posts required around climate finance, and adjusting finance mechanism and around research and communications," O' Donoghue says.
"There are two cross-cutting themes, one is around risk reduction and risk management, so looking at informal settlements and vulnerable communities as well as infrastructure."
The second cross-cutting theme is around economic development. "It makes sure we look at where the opportunities are, and stimulating the green and circular economies, as well as looking at the funding models that we have around the selling of electricity, water and services."
The fourth theme is focused on adaptation and mitigation. "Adaptation focuses on everything from biodiversity and sea level rise to sanitation and public health. Mitigation focuses on the likes of energy generation targets, transport and waste," he adds.
Nature-based Solutions will play a key role in this, and it has been an integral part of the city's plans for more than a decade. "Around the time we were hosting COP17, Debra and some other colleagues planned the planting of a community forest on a landfill site in Buffelsdraai," O' Donoghue says.
"Now we have a beautiful 600-hectare forest of indigenous trees and its in a part of the north of Durban which will see a lot of development, but this will be a functioning green lung which will provide a lot of ecosystem services."
Another type of project that the city has undertaken in recent years is community-based stream cleaning programs. "There is about 500km of streams being managed by cooperatives in the city," O'Donoghue says. "They do a number of things from fixing minor erosions to removing invasive plants and clearing access to sewer lines. Given the climate change projections and the damage we are likely to experience and given the avoided costs and ecosystem services, for every Rand we spend, we get between R1.80 and R3.40 back in benefits. So, we are now looking at massively scaling up from just the 500km of streams to all 7,400km of streams. This would would create 10,000 jobs and it is the project we are really excited about."
And while it is impossible for O'Donoghue's department to control all the factors related to climate change vulnerabilities, they can, as he says, "control the controllables."
"In the massive flooding we had in April, there were two main categories of damage. One was in subsidence of slopes, and the other was with rivers getting blocked by trees and vegetation and sand and ultimately the rivers were changing course. By managing our catchments well, we can avoid rivers changing course and taking out infrastructure. We see people engaging and starting their own small and medium-sized enterprises and work their way out of poverty," he adds.
While the team supports existing grass roots projects where they can, the majority of their work is going into local communities and setting up programs. "One example is the Palmiet Catchment Rehabilitation Project where we have been working with the leaders in an informal settlement since 2014," O' Donoghue says. "Back then it was difficult to get near the community as it was highly contested land. Through our research partnership with the University of KwaZulu-Natal and working with the local community, we can go in and remove trees that have fallen over during flooding."
The strength of this relationship building was illustrated during the heavy flooding in April, when O'Donoghue's team connected the locals with an early-warning flood network through a WhatsApp group. "If the stream levels go past a certain point, people get their belongings out of their shacks, and sometimes their shacks get washed away," O'Donoghue says.
"More than 400 dwellings got washed away in April but my scientist Smiso Bhengu and academic Professor Cathy Sutherland were in that settlement that Monday afternoon making sure people were aware of the risk and getting people out of their shacks. If they had not been a part of the project for a few years already, their warnings would have been ignored. In the end one person died due to an illegal electricity connection. This can be compared to how many there would have been in the 400 shacks that got washed away."
It encapsulates Durban's climate change adaptation strategy: use technology alongside relationship building to ensure that the city's most vulnerable communities avoid the worst effects of the climate crisis. "It is about connecting informal networks with formal networks," O'Donoghue says. "In this case, the formal Forecast Early Warning System is accessible to the community through our WhatsApp group."
"It has taken years to develop relationships with that community, so they understand what the risks are," O' Donoghue says. "That is a model of how we can match a formal system like the early-warning system with informal networks."
Please note: Content is displayed as last posted by a PreventionWeb community member or editor. The views expressed therein are not necessarily those of UNDRR, PreventionWeb, or its sponsors. See our terms of use