publication
Documents and publications
The state of food security and nutrition in the world: Building climate resilience for food security and nutrition
Source
World Food Programme
World Health Organization
Food and Agriculture Organization of the United Nations - Headquarters
United Nations Children's Fund (Global Headquarters, New York)
International Fund for Agricultural Development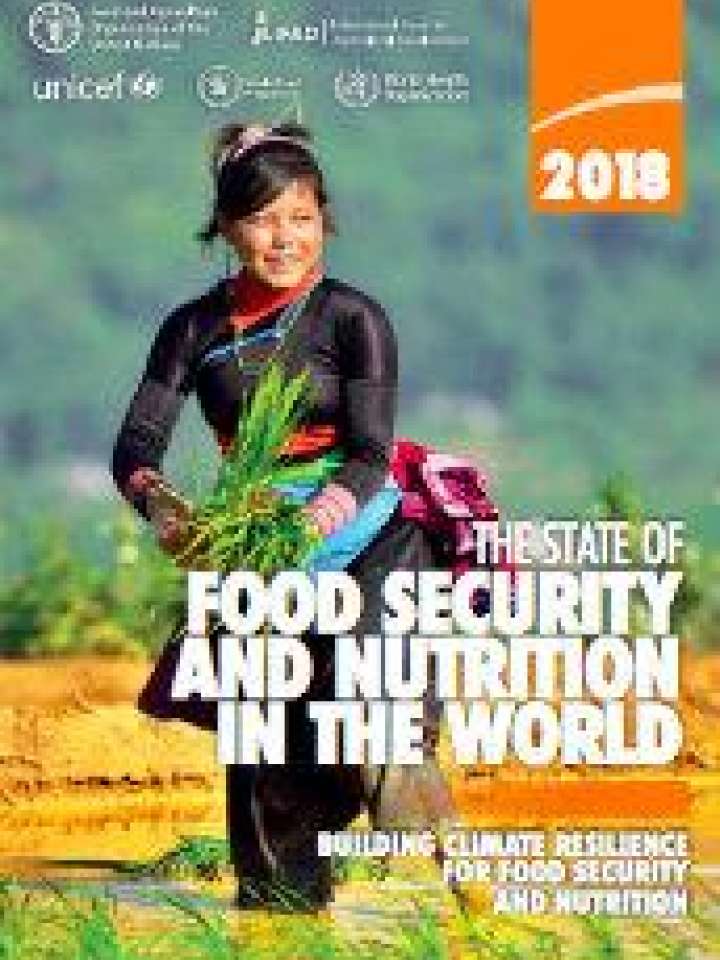 ISBN/ISSN/DOI
978-92-5-130571-3 (ISBN)
The State of Food Security and Nutrition in the World was launched in September 2017, marking the beginning of a new era in monitoring progress towards achieving a world without hunger and malnutrition, within the framework of the Sustainable Development Goals (SDGs). This report monitors progress towards the targets of ending both hunger (SDG Target 2.1) and all forms of malnutrition (SDG Target 2.2), and provides an analysis of the underlying causes and drivers of observed trends. While the prevalence of undernourishment is at the forefront of monitoring hunger, the prevalence of severe food insecurity – based on the Food Insecurity Experience Scale (FIES) – was introduced last year to provide an estimate of the proportion of the population facing serious constraints on their ability to obtain safe, nutritious and sufficient food.
In addition to conflict and violence in many parts of the world, the gains made in ending hunger and malnutrition are being eroded by climate variability and exposure to more complex, frequent and intense climate extremes, as shown in Part 2 of this report. Hunger is significantly worse in countries with agricultural systems that are highly sensitive to rainfall and temperature variability and severe drought, and where the livelihood of a high proportion of the population depends on agriculture. If we are to achieve a world without hunger and malnutrition in all its forms by 2030, it is imperative that we accelerate and scale up actions to strengthen the resilience and adaptive capacity of food systems and people's livelihoods in response to climate variability and extremes. 
Building climate resilience will require climate change adaptation and disaster risk reduction and management to be integrated into short-, medium- and long-term policies, programmes and practices. National and local governments can find guidance in the outcomes and recommendations of existing global policy platforms: climate change (governed by the UNFCCC and the 2015 Paris Agreement); disaster risk reduction (the Sendai Framework on Disaster Risk Reduction); humanitarian emergency response (the 2016 World Humanitarian Summit and the Grand Bargain); improved nutrition and healthy diets (the Second International Conference on Nutrition [ICN2] and the UN Decade of Action on Nutrition 2016–2025); and development as part of the overarching 2030 Agenda for Sustainable Development. Currently many of these global policy platforms are still too compartmentalized and not well aligned. Therefore, we must do more to work towards a better integration of these platforms to ensure that actions across and within sectors such as environment, food, agriculture and health, pursue coherent objectives to address the negative impacts and threats that changing climate variability and increased climate extremes pose to people's food security, access to healthy diets, safe nutrition and health.