Your experience on PreventionWeb
Please help us improve PreventionWeb by taking this brief survey. Your input will allow us to better serve the needs of the DRR community.
Documents and publications
Author(s)
Ross, Lindsay; Gannon, Colin; Steinberg, Nik C.
Climate change and wildfires: Projecting future wildfire potential
6 August 2020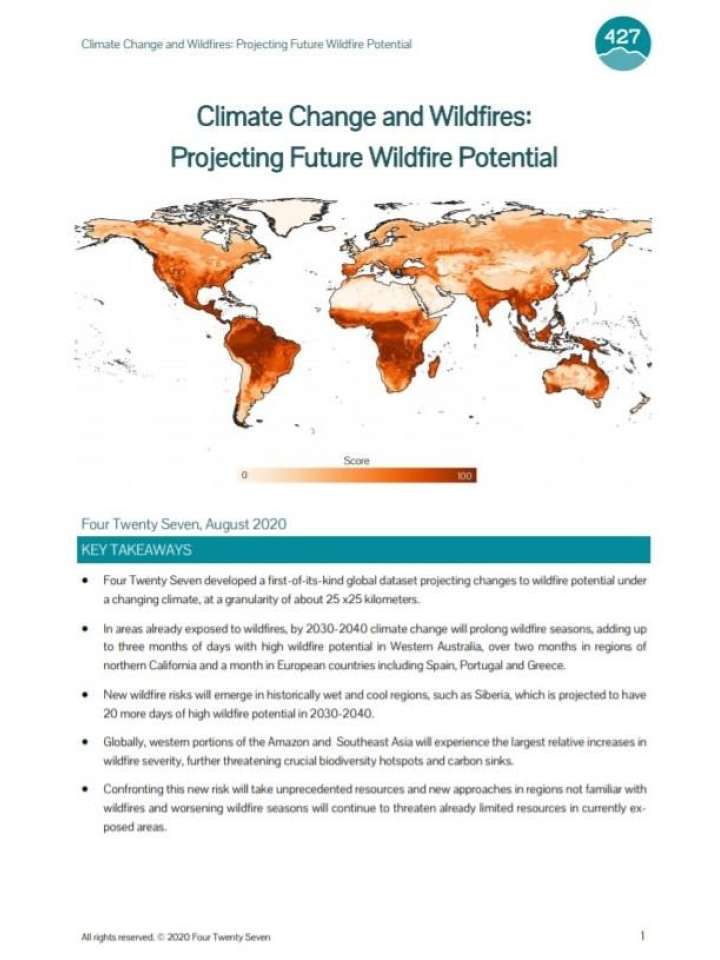 In areas already exposed to wildfires, by 2030-2040 climate change will prolong wildfire seasons, adding up to three months of days with high wildfire potential in Western Australia, over two months in regions of northern California and a month in European countries including Spain, Portugal and Greece. New wildfire risks will emerge in historically wet and cool regions, such as Siberia, which is projected to have 20 more days of high wildfire potential in 2030-2040. Globally, western portions of the Amazon and Southeast Asia will experience the largest relative increases in wildfire severity, further threatening crucial biodiversity hotspots and carbon sinks. Confronting this new risk will take unprecedented resources and new approaches in regions not familiar with wildfires and worsening wildfire seasons will continue to threaten already limited resources in currently exposed areas.