Your experience on PreventionWeb
Please help us improve PreventionWeb by taking this brief survey. Your input will allow us to better serve the needs of the DRR community.
Indonesia: Bali at high risk of disasters
Source(s):
IDEP Foundation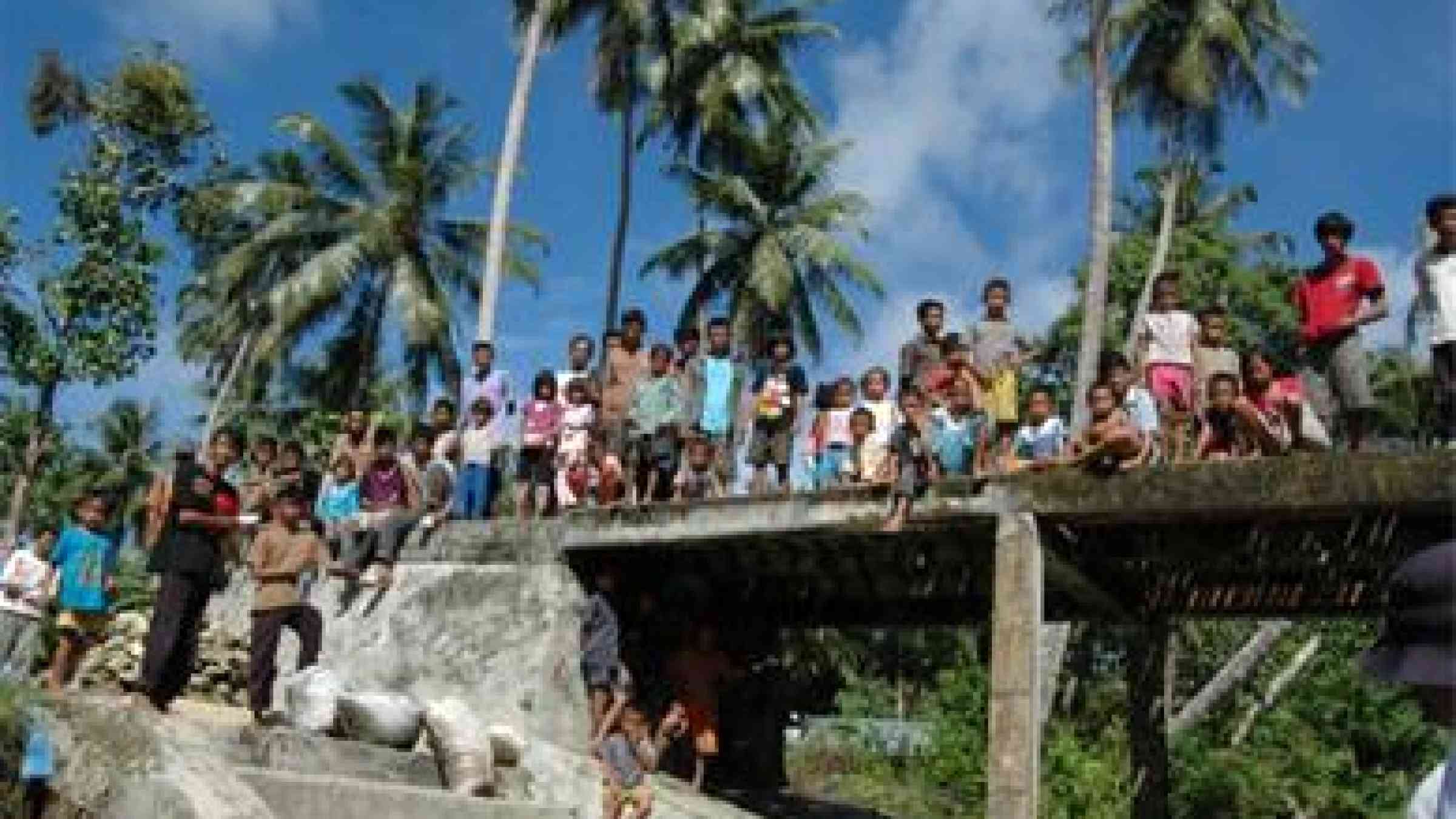 World tourist destination of Bali needs action to prepare Island of Gods in rising tropical disasters risk

Bali, Indonesia - World famous tourist island Bali has fallen behind in the global race to cope with rising threats of tropical natural catastrophes, a regional disaster risk specialist has found in response to urgent measures put forward at the recent United Nations World Conference for Disaster Risk Reduction (UNWCDRR) held in Japan.

Global disaster trends show island nations in zones across the tropics are most at risk from an increase in natural disasters, and island populations need to do more in preparedness for human impacts of tropical storms, flooding, earthquakes, drought, tsunami and other cataclysmic events.

Indonesia's national strategy directs responsibility to local authorities but challenges lie in lack of awareness of the importance of disaster preparedness plans at both government and community levels, with a focus on vulnerable people in hazard-prone areas, and budget for their implementation, states the country report by National Agency for Disaster Management (BNPB), for inclusion in the 2015-2030 Sendai Framework for Disaster Risk Reduction, that highlights 'urgent and critical need to implement national and local disaster risk reduction strategies and plans'.

"Despite Indonesia's strong efforts, Bali disaster risk management so far is limited to popular beach tourism areas in the island's central south, while local communities across Bali province are at risk of missing out on urgent disaster preparedness education", according to IDEP Foundation Director Ade Andreawan, on Bali's risk reduction efforts following disaster planning discussions with international nongovernment organizations (INGO) and supporters at UNWCDRR.

A lack of disaster prevention plans in Bali puts large local populations at risk - including other tourism regions such as Klungkung, in southeast Bali, that includes the Nusa Penida group of holiday islands - with no disaster management infrastructure, emergency response training, disaster risk mapping, installation of warning signs and community disaster awareness drills. A May 2013 tropical storm disaster hit the island of Nusa Ceningan, off Bali, with critically slow response action for local assistance, according to the IDEP Director.

IDEP Foundation is helping to fill gaps by implementing donor-supported projects with a focus on identifying villages most at risk of climate change-related extreme weather impacts and other natural disasters. Coordination of disaster risk maps, disaster risk reduction training for village leaders and citizens groups - with plans for expansion depending on funding - IDEP programs provide emergency resilience education, including food and water security in poor communities across Indonesia.

Working in cooperation with Klungkung District Health on Bali, the IDEP specialist team implements United Nations guidelines to train 10 villages in community disaster response preparedness for the regional population of 187 000 local residents, many of who still live below the poverty line.

"Klungkung area, in Bali, is prone to a complex natural disaster and additional hazards left by former illegal river mining, with the district hit by various disasters - floods, cyclones, landslides, epidemics, earthquakes, and destructive storm tides", said Ade Andreawan.

Most beaches in Klungkung have suffered severe marine abrasion due to impacts of climate change and changing ocean currents in southern Bali. Rising seawater levels have coastal residents concerned about future storm tidal surges, with sea tides already encroaching up to 100 metres inland at high tide, local villages report.

"Supporting Bali's expansion of community disaster reduction training, starting with formation of Klungkung District Disaster Management Board (BPBD), is a present priority for the IDEP disaster risk education team" said the NGO spokesman.

Meanwhile, Indonesia's Vice President Jusuf Kalla urged cooperation from international communities at the UN disaster conference, to bring climate change and disaster risk management together after an increase of category five cyclones over the past 10 years, highlighting Cyclone Pam - one of the largest tropical storms in regional history that hit the South Pacific on March 13, coinciding with the UN meeting - with massive damage to small island nations of Vanuatu, Solomon Islands, Tuvalu, Marshall Islands, and Kiribati.
Tropical island tourist economies are heavily impacted by natural disasters, as witnessed in ASEAN countries after the 2004 Indian Ocean Tsunami. Asia-Pacific's latest humanitarian crisis, tested Vanuatu's national disaster strategy revisions and risk reduction planning that resulted in rapid response to the Cyclone Pam emergency, reaching homeless and hungry populations across 22 islands, reported the Pacific Institute of Public Policy, in a logistical challenge "greater than anything this nation has faced since World War II". - ENDS -

Photo Caption (Credit: IDEP Media)
Tsunami thanks: Betumonga villagers of North Pagi, thank IDEP Foundation on a monitoring visit to the remote island, for disaster preparedness training that saved their lives in a 2010 Mentawai tsunami earthquake.

Note to Editors
IDEP Foundation – 'Idep selaras alam', in Balinese meaning "the eye of our heart is interconnected with nature" - is an Indonesian non-government organization (NGO) working since 1999 to "help people, help themselves" with donor-funded projects in community development and disaster preparedness programs on Bali and across impoverished provinces of Indonesia.

IDEP has worked in crisis management operations since the 1998 Asian economic crash, focused on community resilience to increase self-sufficiency, and implemented disaster response training after the Indian Ocean tsunami devastated Aceh in 2004, and more recently, the Mentawai tsunami in 2011. IDEP trainers prepare local communities and tourism stakeholders for disaster preparedness and response across Indonesia.
See: www.idepfoundation.org

Contact:
Ade Andreawan – IDEP Foundation Executive Director
Tel no: +6281 338 085549 (Indonesia); email: ade@idepfoundation.org

Avi Rembulan – IDEP Resource Development Coordinator
Tel no: +62 812 36350827; email: avi@idepfoundation.org

Marcellina Putri – IDEP Communications Officer
email: cella@idepfoundation.org
Please note: Content is displayed as last posted by a PreventionWeb community member or editor. The views expressed therein are not necessarily those of UNDRR, PreventionWeb, or its sponsors. See our terms of use