news
Updates
Haiti: 'Earthquake tragedy can be turned into opportunity to invest in better future'
Source(s)
United Nations News Centre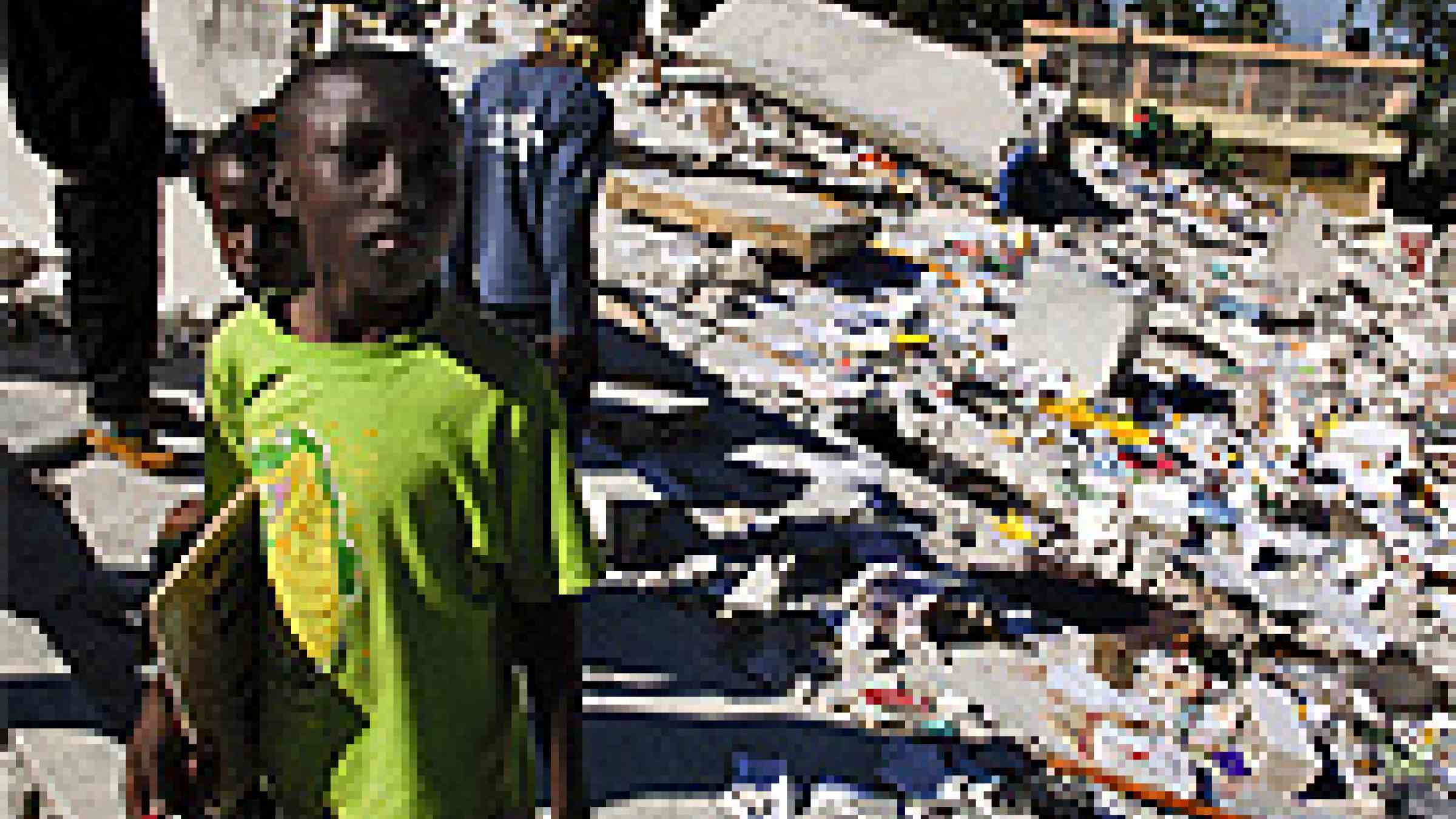 Press Release - Earthquake tragedy can be turned into opportunity to invest in better future, Secretary-General Ban Ki-moon says at launch of revised flash appeal for Haiti.

Thank you for your patience, and I regret the delay. I know it has caused much inconvenience to all of you. I hope you will understand.

Let me begin, as we gather this afternoon, by expressing my deep appreciation to all of you. President (Bill) Clinton (United Nations Special Envoy for Haiti): without exaggeration, your presence here today means a great deal to us. It is an eloquent testimony to your dedication to Haiti and its people. I am glad to see you in good health, full of your customary energy and can-do spirit.

Excellencies: we count on your continued leadership at this critical hour. To the international community: I thank those of you who responded so swiftly and generously in this crisis. To those who contributed troops and police: we owe a special gratitude, particularly to Haiti's Caribbean and Latin American neighbours. Thanks again to your efforts, through MINUSTAH (United Nations Stabilization Mission in Haiti), the overall security situation in Haiti remains calm.

Let us also recognize the remarkable efforts of President (René) Préval and the Haitian Government in coping with this catastrophe. Despite terrible losses, despite extraordinary difficulties, the Government is back on its feet. We look forward to working closely with Prime Minister (Jean-Max) Bellerive in guiding Haiti's recovery.

And finally, the people of Haiti: so many lost their lives, their homes, their livelihoods. Their resilience, their patience, their solidarity amid almost inconceivable hardship; to them we say, once again, we are with you. We will help you to recover and to rebuild. That is why we are here today.

Day by day, the humanitarian situation is improving. Clearly, however, major needs have yet to be met. As you all know, the rainy season will soon be upon us. That puts a premium on shelter, sanitation and health. Over the next six weeks, we will deliver a further 30,000 tents and enough waterproof sheeting for 1 million people. We are also laying plans to build more substantial community shelters that can better withstand tropical storms.

The particular complexity of an earthquake on this scale is that we need to embark on early recovery, even as we provide emergency relief. Before last month's disaster, we had a plan for Haiti's long-term development and reconstruction. Our challenge today is to reformulate that plan to help Haitians "build back better".

Done right, we can turn tragedy into opportunity; an opportunity to "re-invent Haiti", as President Clinton has put it; an opportunity to turn international aid into an investment in a better future for Haiti and its people. In this vital mission, your continued support is essential.

I am pleased to report that the $570 million flash appeal launched on 15 January was 100 per cent funded, with more than $41 million pledged beyond that. To carry our work forward, however, we must again reach deeply into our hearts and resources, with solidarity and compassion.

Today, we are appealing to the international community for $1.4 billion in humanitarian and early-recovery assistance over the coming full year. Since this figure includes more than $600 million already raised under the current flash appeal, covering six months, the unmet need that we are requesting today amounts to $768 million. It is designed to finance the continuing costs of emergency relief. But more than that, it is designed to help lay the foundation for Haiti's recovery and reconstruction.

There must be funds for cash-for-work -- our UN programme for helping Haitians to rebuild Haiti. We are currently putting more than 75,000 people to work every day, and hope to substantially increase that number. By paying Haitians to work, we are putting money in the people's hands -- money to feed families, jump-start the economy and offer security and a social safety net.

There must also be money for health programmes, hospitals, schools and agriculture. As I say, we have plans in place for Haiti's longer-term development. With leadership and foresight, we can help Haiti "build back better".

President Clinton has taken an expanded role in coordinating the international relief and reconstruction effort, working hand in hand with the Haitian Government and the UN Mission in Port-au-Prince.

We owe a unique debt to our UN staff, who have given so much despite their own heavy losses. Now it is up to all of us to help the Haitian Government and offer its people a new beginning.

Again, thank you President Clinton, for your leadership. I wish you continued success and good health. Thank you very much for your participation today.
PLEASE NOTE: CONTENT IS DISPLAYED AS LAST POSTED BY A PREVENTIONWEB COMMUNITY MEMBER OR EDITOR. THE VIEWS EXPRESSED THEREIN ARE NOT NECESSARILY THOSE OF UNDRR, PREVENTIONWEB, OR ITS SPONSORS.
SEE OUR TERMS OF USE