By Natalie Ambrosio
April 22, 2020 – Four Twenty Seven Analysis.  The devastating human health and economic impacts of the COVID-19 pandemic are exacerbated by climate hazards, which threaten communities around the world. This analysis explores exposure to floods, heat stress, hurricanes and wildfires in U.S. municipalities alongside the impacts of COVID-19 on the same regions. It discusses the compounding challenges for economies, infrastructure and human health and the importance of preparing for these overlapping disasters.
Introduction: Climate Preparedness Takes on New Meaning
Last week in the Southern U.S., residents and policy-makers weighed the risks of high winds and flooding alongside the risks of spreading COVID-19, as many evacuated to storm shelters, and 750,000 people lost power across ten states from Texas to West Virginia. Meanwhile that same week 50,000 people in Connecticut lose power because of a storm, with restoration efforts complicated by COVID-19 precautions. The threat of climate-driven extreme weather events takes on new meaning when standard responses such as evacuating to shelters conflict with guidelines for preventing the spread of the disease. The pandemic's impacts have been compared to Hurricane Katrina hitting all 50 states. FEMA, which is leading the nation's response, typically only battles disasters in a few states at once.
To ensure the safety of residents, many are typically urged to evacuate ahead of hurricanes and wildfires. However, crowded evacuation centers are prime conditions for diseases to spread. Authorities in several states are actively exploring the best responses to this challenge, considering options for increasing the capacity of evacuation centers, taking temperatures before admitting evacuees and booking blocks of hotel rooms as a last resort.
Hazards such as heat waves and wildfires pose human health risks that will contribute to already overwhelmed healthcare systems. Further, many communities rely on cooling centers and visit public spaces such as shopping malls to seek relief during summer months. Measures to reduce the spread of COVID-19 include the closure of facilities such as libraries and malls that typically serve as cooling centers. During a time when residents are encouraged to stay in or near their own homes, a heat wave would pose new danger. However, measures to improve preparedness, such as ensuring that hospitals have back-up power generators, improving availability of virtual healthcare and seeking alternative sources of personal protective equipment, will help communities prepare for the impacts of climate hazards as well as the pandemic.
The economic consequences of the pandemic also exacerbate the challenges presented by climate hazards for cities and residents. For those individuals who have lost their jobs due to COVID-19-related closures, decreased income may make it difficult to acquire needed emergency supplies or pay to relocate to a safe haven. Local governments already reaching deep into their coffers and straining existing resources, may have trouble allocating emergency personnel and resources to evacuate residents and to rebuild after a disaster.
This analysis explores the regions of the U.S. that are particularly exposed to the climate hazards of floods, heat stress, hurricanes and wildfires and how this exposure may exacerbate existing challenges due to COVID-19.
Extreme Rainfall and Flooding
Devastating flooding last year disrupted lives, threatened livelihoods and contributed to 19 million acres of cropland going unplanted. Seventy percent of those acres were in the Midwest, which was sodden for months. Communities are bracing for new floods this year which are expected to be severe, though not as devastating as last year's floods. Counties in the Midwest are among the most exposed to increasing extreme precipitation due to climate change in the next several decades (Figure 1), where these floods are likely to become a regular occurrence.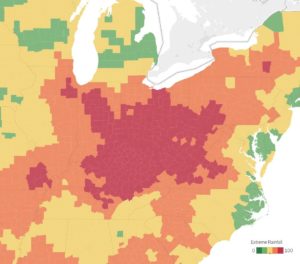 Figure 1. Exposure to extreme rainfall by county, with red representing the most exposed counties and dark green representing the least exposed. Source: Four Twenty Seven.
This year, inundation would exacerbate the existing challenges of containing COVID-19, while COVID-19 containment precautions would, in turn, make flood response more challenging. Midwestern states such as Michigan, Illinois and Indiana are among states with the highest number of COVID-19 cases relative to their populations. While less densely populated communities have fewer cases to date, many Midwestern counties such as Cook County in Illinois and Franklin and Hamilton Counties, in Ohio already have a significant number of COVID-19 cases. Likewise, smaller towns typically have fewer financial resources and fewer staff dedicated to emergency relief.
The economies of many Midwestern communities depend upon agricultural and manufacturing industries, which require manual labor and the physical presence of the employees. Some manufacturing facilities reopened to produce personal protective equipment, and farms and grocery stores are both considered essential. However, these industries are at heightened risk of disruption from employees falling ill, as seen at several meatpacking facilities across the country. Floods can exacerbate these challenges, inundating roadways, manufacturing facilities, farms, and even grocery stores, preventing healthy staff from getting to and from their place of employment and disrupting the movement of goods. These impacts can also threaten food security if they disrupt food supply chains.
Heat Waves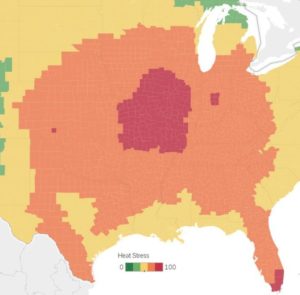 Figure 2. Exposure to heat stress by county, with red representing the most exposed counties and dark green representing the least exposed. Source: Four Twenty Seven.
NOAA predicts above-average temperatures for much of the country through July, with no regions expecting below-average temperatures. Exposure to extreme heat is concentrated in Missouri and western Illinois, fanning out across the Midwest and South and including several areas that have had high numbers of COVID-19 cases to date (Figure 2). For example, the metropolitan areas surrounding Chicago and Detroit have both been hard hit by COVID-19 and face moderate exposure to heat stress. The Southeast corner of Florida faces high numbers of COVID-19 impacts as well as high heat stress and a looming hurricane season.
It is currently unclear how warmer temperatures will affect the spread of the virus. However, heat waves hinder worker productivity and can lead to safety concerns for outdoor workers, such as farmers. In addition to their human health impacts, heat waves also lead to higher peak energy demand as use of air conditioning surges. If governments and businesses alike continue to require or encourage their employees to work from home, reliance on air conditioning and power will likely be higher this year than in typical summer months. Resulting power outages can disrupt business continuity, particularly with operations dispersed across employees' homes.
Hurricanes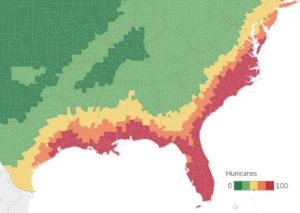 Figure 3. Exposure to hurricanes by county, with red representing the most exposed counties and dark green representing the least exposed. Source: Four Twenty Seven.
Climate change is contributing to more frequent intense hurricanes and more severe storms are expected this season compared to the average season. States along the Gulf Coast and Atlantic Ocean are highly exposed to hurricanes (Figure 3), and several of these states, such as Louisiana and Florida, also have among the highest numbers of COVID-19 cases to date.
Local governments that depend upon sales tax are likely to feel the most immediate fiscal impacts from COVID-19, while those that rely more on property tax may feel longer term impacts influenced by foreclosures. In Florida, sales tax was responsible for 77% of the state's general revenue in the 2018-2019 fiscal year, which suggests that it will face the fiscal impacts of COVID-19 over the next several months, corresponding with the hurricane season, when funds may be most needed. Other states, such as Louisiana, have extended their tax filing date indefinitely, which will delay tax income. Regions that depend on tourism, such as the Florida Keys, will be going into hurricane season with fewer fiscal resources than usual this year. A lack of fiscal resources will challenge preparedness efforts and emergency response to hurricanes.
Wildfires
As climate change contributes to more severe droughts and extreme heat events, wildfire season in the western U.S. has worsened over the past several years. California, Washington and Colorado are among those states most exposed to wildfires, and they are also among those states with the highest numbers of COVID-19 cases to date.
While the spring is usually spent preparing for wildfire season, these preparations have been hindered this year. Annual efforts to remove brush have been postponed, while hiring has been delayed and annual trainings have been canceled. Fire agencies are going into this year's season understaffed, with many firefighters already sick or quarantined. They are also wary of the dangerous conditions of base camps, where firefighters sleep in close quarters on the front lines.
The economic impacts of COVID-19 on employment and incomes will exacerbate the losses caused by wildfires and will likely lead to higher numbers of residents facing tough questions around whether or not to leave an area if they lose their homes. The resulting emigration or delayed rebuilding will in turn reduce local government revenues.
Residents in fire-prone areas increasingly wear N95 masks to protect themselves from wildfire smoke. However, these masks are in short supply and authorities have directed that masks should be saved for medical personnel. If shortages persist into this year's wildfire season, communities could face greater long-term respiratory health impacts due to wildfire smoke.
Conclusion
As COVID-19 continues to spread and its timeline remains unknown, each region of the country faces exposure to climate hazards which will complicate containment efforts. However, in a time when local jurisdictions and individuals are paying increased attention to disaster preparedness there is an opportunity to strategically prepare for climate hazards and invest in resilience that supports responses to any disaster. Hurricanes, wildfires, floods and heat waves are inevitable in our changing world, and the more proactive resilience-building that occurs, the better positioned communities will be to minimize the loss of lives and livelihoods.
PLEASE NOTE: CONTENT IS DISPLAYED AS LAST POSTED BY A PREVENTIONWEB COMMUNITY MEMBER OR EDITOR. THE VIEWS EXPRESSED THEREIN ARE NOT NECESSARILY THOSE OF UNDRR, PREVENTIONWEB, OR ITS SPONSORS.
SEE OUR TERMS OF USE