blog
Harmonizing disaster...
Harmonizing disaster risk reduction and climate adaptation for local resilience in Nepal
21 December 2020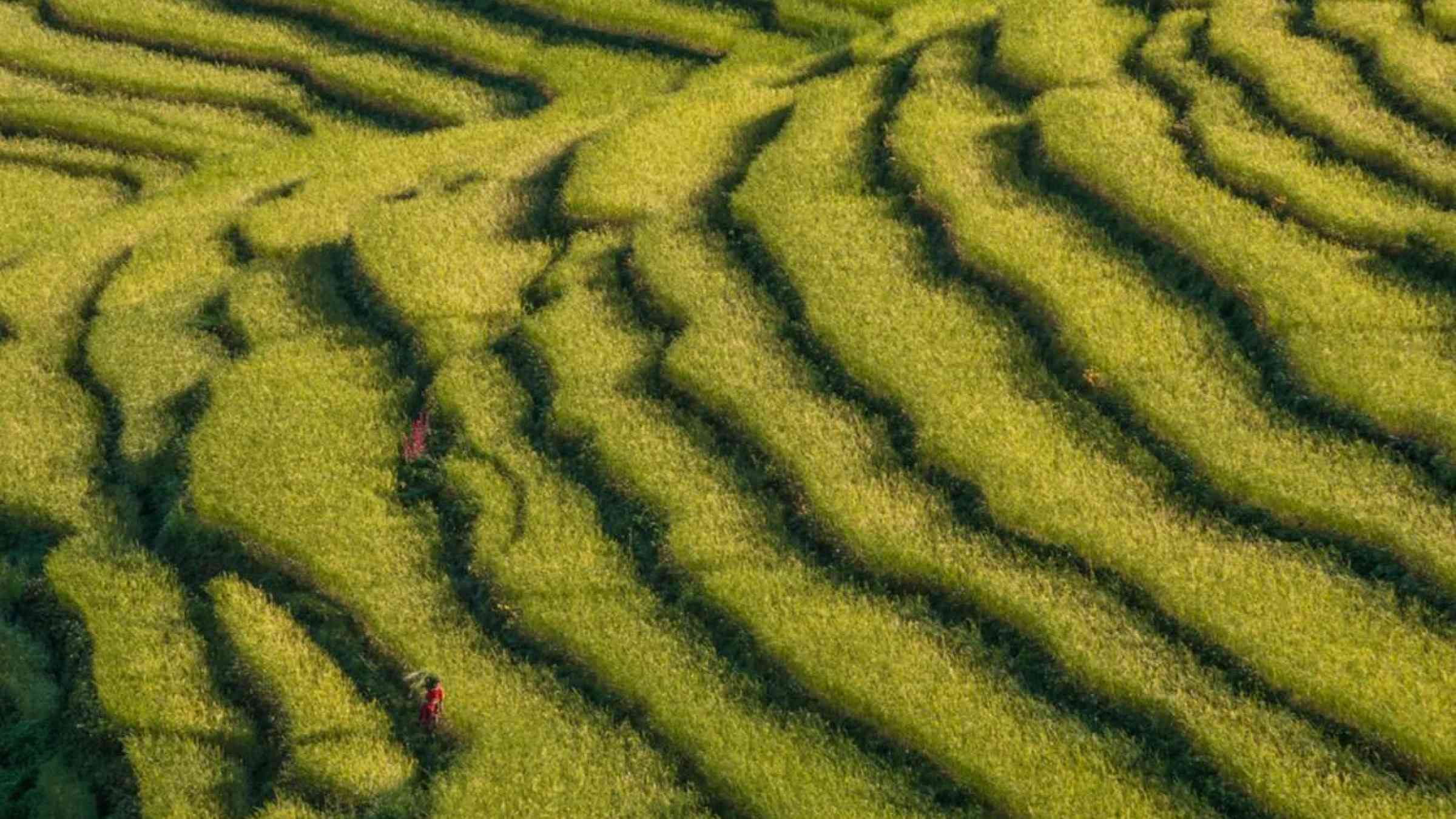 In Nepal, Local Disaster and Climate Resilience plans are paving the way for integrated action disaster risk reduction and climate adaptation.
This past year has demonstrated yet again how climate change drives disaster risk. Over the world, millions of people have been affected by extreme weather, tropical cyclones, floods and droughts. To safeguard our development efforts, climate change adaptation (CCA) and disaster risk reduction (DRR) must be integrated from the national to the local level.
Indeed, climate adaptation and disaster risk reduction share a common goal: building the resilience of communities. They both deal with exposure, vulnerability, and capacity to address risk. At the local level, there is a growing need for a common framework of understanding. In Nepal, several initiatives seek to harmonize DRR and CCA at the community level.
Based on the Sendai Framework for Action on Disaster Risk Reduction (2015-2030), Nepal has revised some policies and regulations. The Local Disaster Risk Management Planning Guideline 2011 will be replaced by the Local Disaster and Climate Resilience Planning Guideline (draft 2017) to guide local governments in developing their LDCRP and mainstreaming DRR and CCA in their local development planning processes. The LDCRP has clearly outlined roles and responsibilities, budget for DRR and CCA, including emergency response and recovery and rehabilitation. It is a bottom-up, inclusive, and decentralized DRR and CCA planning process. Based on the local context and climate profile, it acknowledges the needs of local people and builds on current and future vulnerabilities. The planning process promotes effective investment for resilience through risk analysis, adaptation capacity, and the development of local institutional mechanisms.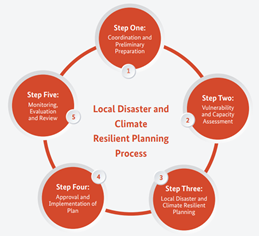 Figure: The flow chart of LDCRP Process
There are now ongoing discussions to replace Local Disaster Risk Management Plan (LDRMP) and Local Adaptation Plan of Action (LAPA) with Local Disaster and Climate Resilient Plans (LDCRPs). You can find more information here, here and here.Some local governments are already developing their LDCRPs, with support from local NGOs/INGOs.
Some caveats on the ground: lessons from the past
Although local governments are leading the process, all stakeholders have roles to play in the planning, decision-making, and implementation to reduce risks and build resilience. The LDCRP guideline calls for proportional participation of all, including women, in the formulation of the plans. The participation of women and other affected populations must be reflected in the institutional set up and based on the degree of exposure and vulnerability. Yet, this is not always apparent in the planning process of municipal governments.  On the ground, the participation of local actors to develop plans of actions faces multiple challenges. People don't fully understand the process and struggle with procedural guidelines. Participants often have low literacy rates and different groups may have different perceptions of hazards.
The LDCRP guideline also emphasizes the importance of documenting indigenous knowledge, how locals deal with extreme events and disasters and what are their coping mechanisms. Unfortunately, these practices are not systematically recorded, and some indigenous knowledge is at risk of disappearing. Moreover, as the climate is changing, indigenous practices are changing too. The relevance and reliability of indigenous knowledge must be considered in the context of a changing environment.     
Framing resilience at the local level
The Disaster Risk Reduction and Management Act, 2074 (DRRM Act, 2017) established funding, policies, institutional, reporting and coordination mechanisms, that are well established at the local level. There is no similar set up at the local level for climate adaptation. Some interventions, such as community managed forests, are planned under "environmental protection" but they are not deliberately planned to co-benefit climate mitigation and/or adaptation. This disbalance between CCA and DRR at the local level may hinder the harmonization and implementation of LDCRPs. A discussion to merge LDRMP and LAPA into LDCRP may raise a few questions in terms of harmonization, especially when it comes to allocating funds for CCA. In the absence of a national act on CCA at the local level, local authorities do not prioritize this work. While the finalization of the LDCRP guideline is underway, there may still be avenues to address incoherence and to promote strategic, operational, and technical coherence between DRR and CCA to cultivate resilience at the local level. 
The integration must also be reflected in budget plans. Most municipal budgets prioritize disaster response and emergency relief. Identifying commonalities and areas of convergence between DRR and CCA can provide a strong rationale for funding risk reduction measures and preparedness.
This applies to development investments too. Most of municipal infrastructure projects have co-benefits to mitigate disaster risk and adaptation to climate change, yet they are not fully realized by local governments.. The public favors infrastructure developments that directly benefit them and promote livelihoods, such as access to roads, irrigation embankment and culverts. DRR and CCA investments are less prioritized mainly because of their payback is taking longer and not directly visible unless there is an extreme event. To ensure that these projects are risk-informed and climate resilient, DRR and CCA must be fully integrated in the local development planning process.
As we celebrate the fifth anniversary of the Paris Agreement, let us not forget the communities that are on the frontlines of climate risks. To ensure a resilient future for all, integrated action on disaster risk reduction and climate adaptation must become a reality at the local level.
---
Janak recently joined UNDRR as a consultant. He holds a master's degree in Water and Environmental Management from Brighton University and a Master of Art in Environmental Anthropology from the University of Kent, UK. His professional experiences include supporting the works of the scientific community on adaptation science for policy, disaster risk reduction, early warning, flood forecasting, modeling and risk assessment, and managing projects and programs. His research experience focuses on assessing governance mechanism and tracking of investment in disaster risk reduction and climate change adaptation. Janak is applying circular agriculture in the farm located nearby the mountain in Pokhara, introducing innovative ideas to showcase and encourage others to do so to address the current environmental issues.
PLEASE NOTE: CONTENT IS DISPLAYED AS LAST POSTED BY A PREVENTIONWEB COMMUNITY MEMBER OR EDITOR. THE VIEWS EXPRESSED THEREIN ARE NOT NECESSARILY THOSE OF UNDRR, PREVENTIONWEB, OR ITS SPONSORS.
SEE OUR TERMS OF USE