Documents and publications
General recommendation no. 37 on gender-related dimensions of disaster risk reduction in the context of climate change
Source
Office of the United Nations High Commissioner for Human Rights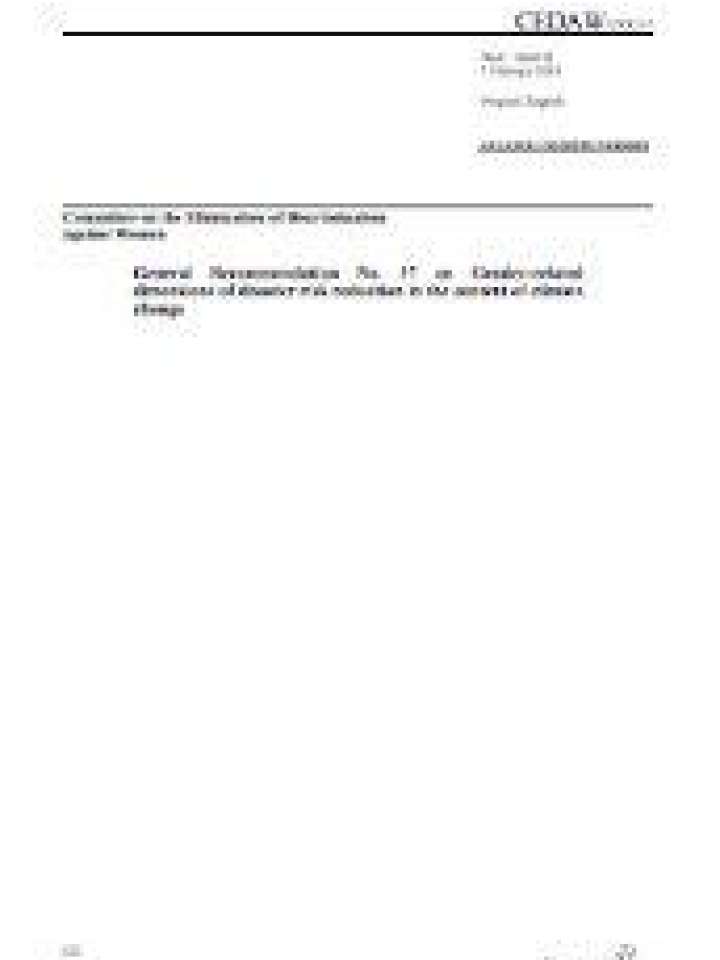 This guidance was produced by the UN Committee on the Elimination of Discrimination against Women (the Committee). Pursuant to article 21 (1) of the Convention on the Elimination of All Forms of Discrimination against Women (the Convention), the present general recommendation provides guidance to States parties on the implementation of their obligations under the Convention in relation to disaster risk reduction and climate change. In their reports submitted to the Committee under article 18, States parties should address general obligations to ensure substantive equality between women and men in all areas of life, as well as specific guarantees in relation to those Convention rights that may be particularly affected by climate change and disasters. This includes extreme weather events such as floods and hurricanes, as well as slow-onset phenomena, for example, the melting of polar ice caps and glaciers, droughts and sea level rise. 
The objective of this general recommendation is to underscore the urgency of mitigating climate change and to highlight the steps that need to be taken to achieve gender equality as a factor that will reinforce the resilience of individuals and communities globally in the context of climate change and disasters. The general recommendation also seeks to contribute to coherence, accountability and the mutual reinforcement of different international agendas on disaster risk reduction and climate change adaptation by focusing on the impact of climate change and disasters on women's human rights.
The general recommendation focuses on the obligations of States parties and nonState actors to take effective measures to prevent, mitigate and respond to disasters and climate change and, in this context, to ensure that the human rights of women and girls are respected, protected and fulfilled in accordance with international law. The General Recommendation identifies three different but mutually reinforcing areas for action by stakeholders centered on: (i) the general principles of the Convention applicable to disaster risk and climate change; (ii) specific measures to address disaster risk reduction and climate change; and (iii) specific areas of concern.
Please note: Content is displayed as last posted by a PreventionWeb community member or editor. The views expressed therein are not necessarily those of UNDRR, PreventionWeb, or its sponsors. See our terms of use