Mission
Ministry of Home Affairs (MOHA), which is also National Focal Point of Disaster Management in Nepal, has been taking initiation to address the issues of disasters and mitigate the adverse effect from it. MoHA values very much interaction within the country and sharing of experience with international organization working in this field.
Disaster Reduction Goal
As disaster national focal point, Ministry of Home Affairs is committed to develop appropriate policy related to the management of disasters.
MOHA is doing various activities such as, the raising of awareness among the peoples, transfer of technology through training, networking with relevant national and international organizations and enhancing the capability of Government of Nepal to mitigate the impact of disaster.
Search and Rescue deals with the situation when the disaster occurs and the MOHA always takes lead for responding disaster the situation by coordinating other line ministries and security agencies. It is in fact enhancing the capacity of SAR teams, coordinating for preparing cluster contingency plans and District Disaster Preparedness and Response Plans and raising awareness of the communities for community resiliency. Other major responsibilities are listed as under:
Coordinate and command to carry out search and rescue operation in such a way that nobody is left unattended with priority being given to disabled, elderly persons, women and children.
Establish and enhance the capacity of EOCs and linking Early Warning Systems
Gives direction to the concerned authorities to the availing of portable drinking water and maintaining good sanitation condition and monitoring incidence of epidemics.
Distribution of relief materials to the people as required.
Coordinate rescue relief and operation being assisted by external institutions.
Directs security institutions in maintaining law and order situation in the area.
Policies and Programmes in DRR
Natural Calamities (Relief) Act, 1982
National Strategy on Disaster Risk Management, 2009
Standard Operating Procedure of National Emergency Operation Center,
Relief Standards,
District Level Preparedness and Response Planning Guidelines,
National Strategy on SAR, 2014
Dead body Management Guideline
National Disaster Response Framework, 2013
Membership in Key Networks
Asian Disaster Reduction Center
SAARC Disaster Management Center
Making disaster risk reduction a policy priority, institutional strengthening (HFA 1)
Disaster Risk Management has remained a national priority from the initiation of 10th Five Year Plan (2002-2007) period, as the plan has incorporated the DRM Issues in Plan and Policies first time in Nepal, that underscored DRM as a main objective to ensure sustainable development, sustain development gains, public safety, effective management of natural resources and human induced disasters. The subsequent 3-year development plans (2008-2010, 2011-2013) have emphasized that DRM is a national priority and an integral component of sustainable development. In addition to these development plans, the Government of Nepal adopted the National Strategy for Disaster Risk Management (NSDRM) in October 2009, which outlines the priority objectives for DRM in Nepal based on HFA Priorities.
To successfully implement the NSDRM, the Government of Nepal and development partners jointly initiated the Nepal Risk Reduction Consortium (NRRC), which officially launched in 2011. The NRRC developed a comprehensive Flagship program, which identified 5 priority areas in DRM for immediate intervention.
As the focal ministry for DRM in Nepal, the Ministry of Home Affairs (MOHA) has recently completed the National Level Multi Hazard Risk Assessment covering five major hazards. This has enabled Nepal to identify and understand the major hazards facing the country and probable risks. MOHA has also approved National Disaster Response Framework (2013) putting the clear role and mandate of all government and non-government stakeholders to respond disaster.
At the district level, all 75 districts have developed District Disaster Preparedness and Response Plans (DPRP) and regurlarly updating these plans. In order to implement these plans, the District Natural Disaster Relief Committees (DNDRCs) have been further strengthened to carry out DRM activities in the district and enhanced emergency response capacity.
Similarly, to make DRM a part of development process at local level, the Ministry of Federal Affairs and Local Development developed the Local Disaster Risk Management Planning Guidelines (LDRMP). On the basis of the LDRMP, about 700 VDCs of variousl districts have prepared Local Disaster Risk Management Plans including prioritization of three main hazards with a mandatory earthquake risk assessment.
Disaster Risk Reduction is streamlined in National Development Plan and separate chapter with vision, mission, goals and strategies is included in it. At local level, the 3-year development plan focuses on enhancing the engagement of local bodies and communities in disaster prevention, mitigation, preparedness and response activities. Moreover, a Community Based Disaster Risk Reduction initiative is also implementing with the support of development partners.
Building codes are implementing in most of the municipalities. Similarly, municipalities are implementing Safe Building Construction Practices using the seismic code provisions in the local context. To promote safer construction and infrastructure development, concerted efforts by government and non-government sectors are gearing up to support the implementation of seismic safety standard effectively throughout the country. Substantial number of engineers and sub engineers and masons have been trained on earthquake safe construction practices over the years.
Government of Nepal has approved the 83 Open Space in Kathmandu Valley to have managed campsites in time of Mega Disaster and basic infrastructure construction is in process in some open spaces.
Ministry of Home Affairs has already established National Emergency Operation Center with 24 hour operation. MOHA has established 5 Regional Emergency Operation Centers, 49 District Emergency Operation Centers and 1 Municipal Emergency Center. Most of these EOCs are operating 24 hours. Early Warning System is linked in EOCs. Department of Hydrology and Meteorology has established about five dozen Flood Early Warning Systems including two in glaciers and various hydro-meteorological and weather stations are established.
MOHA is planning to further expansion of EOCS in all 75 districts and major municipalities. Almost all municipalities have procured and operated fire brigades. Light SAR teams in the security forces have been instituted and SAR equipment and logistics capacity is upgrading.
Risk assessment and early warning systems (HFA 2)
Department of Mines and Geology is carrying out the LIDAR survey to assess the earthquake risk, mobilizing geological teams to assess the vulnerability of the various parts of the country. Similarly, National Reconstruction Authority has completed the number of assessments of earthquake affected districts and mobilizing geological teams for the risk assessment.
The Government of Nepal is developing National Early Warning Strategy. There are successful initiatives carried out by governmental and non-governmental organizations to set-up community based flood early warning system which are being implemented in 7 river systems and is expanding to other vulnerable communities.
Institutional commitment for the hazard and vulnerability assessment was well reflected in the Tenth National Development Plan (2002-2007). The plan had envisaged "to establish seismological measurement and natural disaster management centres in the country and will be strengthened." However, achievement of the tenth plan can be underscored from the fact that little has been done to improve the situation of seismological measurement and natural disaster management.
Nepal Hazard Risk Assessment has been done by the Government of Nepal with support from ADPC, AGI (Norwegian Geotechnical Institute), CECI (Centre for International Studies and Cooperation) and World Bank. Multi-hazards map has been produced.
Micro level risk assessment has been initiated by few government and non-government agencies in a scattered manner. Such initiatives are also covering only limited hazards and small geographical areas. Similarly, sector specific risk assessment and analysis are missing which are critical to develop sector specific plans; climate change, food insecurity, etc. The absence of a common and standard approach and method for risk assessment and analysis has been the constraining factor.
Participatory vulnerability risk assessment (PVA) is being carried out by some agencies with involvement of communities at risk. PVA has produced localized hazard map and this information is used for disaster risk reduction planning.
JICA completed a comprehensive earthquake assessment of Kathmandu valley in 2002 and 2012 and are some incomplete information on earthquake vulnerability for few cities such as Lalitpur, and Ilam from independent studies. To minimize the risk of GLOFs, Government of Nepal has established Early Warning System in Chho-Rolpa Glacier and Imja Glaier.
Education, information and public awareness (HFA 3)
National disaster management information system (named as drrportal) is managed by Ministry of Home Affairs. The drrportal web page is regurlarly recording and updating the disaster incidents. MOHA is planning to improve this portal with more spatial data and information for better preparation and effective response.
There is a system to collect disaster incidents, death, number of affected people and property loss through government channels mobilized by Ministry of Home Affairs, Nepal Red Cross Society, while other I/NGOs collect and disseminate disaster information. However, a system to establish and update information on disasters in the country has yet to be established. As of now, through the support of UNDP, historical information on disaster occurrences known as "Desinventar" has been established with disaster related information for last 44 years (1971- 2016) and updated regularly. Similarly, the Department of Water Induced Disaster Prevention (DWIDP), Nepal Red Cross Society and other I/NGOs have been collating and disseminating national level information on disasters annually or occasionally.
Most of the information available at the country level is accessible; however, information is not readily available and accessible by grassroots local level. Additionally, there is no national data hub for information collection and sharing at all levels.
Few I/NGOs and government agencies produce disaster related materials for different target groups and disseminate Action Aid has prepared eight different types of IEC materials (posters on flood/earthquake and HFA, calendars, flip charts, disaster knowledge series, .etc). These materials have been distributed to DMC/REFLECT centers and schools. Four different films on flood preparedness, earthquake safety, fire preparedness and rights of the disaster affected people were prepared and broadcasted in national television. Other examples include production of participatory video on DRR and Climate change adaption and orientation training for journalists.
Reducing underlying risk factors (HFA 4)
Nepal experiences frequent hydro-meteorological disasters and Climate change/variability will further increase their frequency and severity. Climate change will also adversely impact lives and livelihoods of hundreds of thousands of people which will render them vulnerable to natural disasters. Moreover, as a large share of the population is dependent on rain-fed agriculture, the impact of climate change will be manifested in food shortages, which will further aggravate the vulnerability of the population. Although there is general acknowledgement of the issue, a lack of sufficient contextual scientific and technical information is impeding program formulation to cope with these issues.
The political commitment for mitigating and adapting to Climate Change is reflected in the fact that the Government has formed a high level council for Climate change in 2009. In the 2008 budget, there was very clear reference to the establishment of a Climate Change Research Center but this has not been realized yet. The commitment has again been repeated in the 3 year plan (2010-12).
Initiatives such as the construction of electric fences, embankment improvements, machans, culverts, drainage, bridges, shelters, irrigation facilities and toilets in the communities in the districts covering over 47,000 people in 5 districts have created a better living environment along with reduced underlying risks of flood, drought, wildlife intrusion and health related hazards including the impacts of climate change. A similar integrated approach of environmental management, CCA and DRM for improving livelihoods of people will be instrumental in making a significant difference.
Preparedness for effective response (HFA 5)
School and Hospital safety was one of the five flagship areas identified by the Nepal Risk Reduction Consortium. The flagship area on School and Hospital safety focused on seismic safety of schools and hospitals in Kathmandu valley.
School safety and hospital safety have yet to gain momentum in national programs and budgetary support. Few activities carried through departments and line agencies under the NRRC Flagship 1 (School and Hospital safety) are not yet significant enough to impart a significant change. The School Earthquake Safety Program (SESP) from 1999 has already retrofitted some school buildings in order to make them earthquake resilient.
Hospital emergency preparedness is carried out with lead support from Teaching Hospital Tribhuvan University (TU). Bheri zonal hospital is already retrofitted & some others to ensure service/functions within hospitals during and after an emergency. Agencies are also working to form Disaster management committees and different task forces such as early warning, health, search & rescue, food & water, shelter & NFI. School based DMCs are formed and school based DRR/DP activities have been done in some districts.
Other activities
It is estimated that there are about 60-80,000 school buildings in about 34,000 public schools in Nepal. There are also thousands of private schools which have almost equal number of building structures. These buildings seldom meet building safety requirements and need immediate attention either to replace them or retrofit them.
Additionally, Nepal is required to add 10,000 classrooms each year in order meet the MDG of Education for All by 2015. Due to a large number of constructions involved and also because of the urgency with which these schools are being built, the new constructions do not meet the building safety regulations. Following building safety standards for new constructions can be instrumental in minimizing the creation of new risk.
The real challenge is to upscale these practices through massive capacity building and creation of a working and conducive legal and policy environment at all levels. The lack of an implementation mechanism is a challenge from the VDC level to the central level in every sector.
Disaster Risk Reduction Focal Point(s)
Krishna Bahadur Raut
Joint Secretary
Disaster Management Division
Ministry of Home Affairs,
Government of Nepal
Phone : ++977 9841706566
Email : krishnaraut78@gmail.com
raut_krishna@yahoo.com
Websites
www.moha.gov.np
www.drrportal.gov.np
Singhdurbar Kathmandu Nepal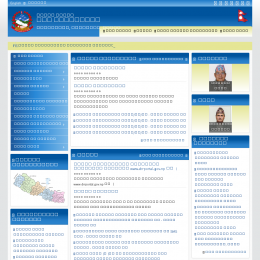 Badges
Conferences:

- Health and DRR Conference
- 2017 Global Platform
- 2018 AMCDRR
- 2019 Global Platform