Mission
The United Nations Economic Commission for Europe (UNECE) is one of five regional commissions of the United Nations. Its major aim is to promote pan-European economic integration. To do so, it brings together 56 member States located in the European Union, non-EU Western and Eastern Europe, South-East Europe and Commonwealth of Independent States (CIS) and North America. As a multilateral platform, UNECE facilitates greater economic integration and cooperation among its member countries and promotes sustainable development and economic prosperity. It does this through:
• Policy dialogue;
• Negotiation of international legal instruments;
• Development of regulations and norms;
• Exchange and application of best practices, as well as economic and technical expertise;
• Technical cooperation for countries with economies in transition.
UNECE contributes to enhancing the effectiveness of the United Nations through the regional implementation of outcomes of global United Nations conferences and summits. It also draws up norms, standards and conventions to facilitate international cooperation within and outside the region.
Disaster Reduction Goal
UNECE's main goals related to disaster risk reduction and resilience are to:
• Help member States reduce their vulnerability to natural and human induced disasters, particularly in the context of the environment, land use planning, housing and climate change adaptation.
• Promote mainstreaming of disaster risk reduction into regional, national and local policies, plans and initiatives in the UNECE region.
• Develop guidance and best practice to regulatory authorities for the establishment of regulatory frameworks for managing the risks that confront consumers, citizens and communities.
Policies and Programmes in DRR
UNECE develops policy documents and operational guidance on disaster risk reduction and resilience in most of its areas of activities, including the following:
1. Risk management in regulatory systems
The UNECE Group of Experts on Risk Management in Regulatory Systems is a high-level and international partnership, which works under the UNECE Working Party on Regulatory Cooperation and Standardization Policies. It has produced two non-binding Recommendations on "Crisis Management within a Regulatory Framework" and "Managing Risk in Regulatory Frameworks". Both were approved by the Working Party on Regulatory Cooperation and Standardization Policies in 2011.
The recommendations call for a more consistent and systemic application of risk management tools in regulatory work. The first lays out in detail the roles of all the key actors in the regulatory process and shows how risk management functions can be incorporated into overall regulatory functions.
2. Industrial accidents
The UNECE Convention on the Transboundary Effects of Industrial Accidents helps its Parties to prevent industrial accidents that can have transboundary effects and to prepare for, and respond to, accidents if they occur.
Such accidents are sometimes triggered by natural events and disasters, and are often themselves considered to be disasters.
Besides providing support to countries for implementing the Convention, ECE participates in related activities such as on Natechs (natural-hazard triggered technological accidents). In this area, UNECE could cooperate routinely with ISDR, particularly in Europe, for example through the European Forum for Disaster Risk Reduction.
The second calls for regulators to design a crisis management function as an integral part of all regulations; for instance, by encouraging authorities to create "crisis management units", endowed with the necessary resources such as emergency funding, people with required skills, communication systems, etc. that can be quickly released in a crisis.
Based on the results of the work of the Group of Experts, the UNECE secretariat published the book "Risk Management in Regulatory Frameworks", which provides guidance for regulatory authorities to establish regulatory frameworks that effectively manage the risks that confront consumers, citizens and communities.
3. Housing and land management
The priority direction is the integration and mainstreaming of disaster risk reduction in the UNECE programmes and activities on housing and land management. Especially in countries of Southern Europe and Central Asia, housing frequently suffers from disasters such as earthquakes, floods and landslides.
The UNECE Committee on Housing and Land Management is developing its long-term Strategy for sustainable housing and land management for the period 2014-2020. This document includes elements of disaster risk reduction and resilience.
At its seventy-third session, in October 2013, the Committee is expected to approve an updated methodology for the development of the Country Profile studies, which will preview as an integrated part the topic of disaster reduction and resilience.
UNECE aims at working on the development of thematic spatial planning guidelines, including on disaster risk reduction, as an output of the Interdivisional Working Group on Sustainable Urban Development.
4. Water
The UNECE Convention on the Protection and Use of Transboundary Watercourses and International Lakes (Water Convention) provides a sound framework for water management and transboundary cooperation, including in the context of adaptation to climate change and disaster risk reduction. With the entry into force of the amendments opening the Convention for accession by non-UNECE countries in February 2013, the Convention turned into a global legal framework.
The Convention is supporting countries in developing transboundary adaptation strategies through guidance, capacity-building, projects on the ground and exchange of experience. In 2013-2015, a global network of basins and platform for exchanging experience on climate change adaptation in transboundary basins is being established and a collection of lessons learnt and good practices will be prepared.
5. Public Private Partnerships in disaster risk reduction and reconstruction
As a part of its Public-Private Partnerships (PPP) Initiative, the UNECE International PPP Centre of Excellence undertook two missions to Tsunami-hit areas of Japan, namely to Sendai and Tohoku regions in July and November of 2011. They met with local governments and explored the possibilities of using PPPs to recover and prevent future severe damages, as well as help them to get 'back in business'.
Locally these missions were supported by the PPP department of the Toyo University. A report has been prepared "On the Visit of the UN-led delegation to the Tsunami affected region of Japan on the role of PPP in disaster recovery and risk mitigation".
Highlights of impact since 2011:
Guidelines/Studies
• Risk Management in Regulatory Systems
• Risk Management in Regulatory Frameworks
• Housing and Land Management
• Strategy and Targets on Sustainable Housing and Land Management 2014-2020  
• Guidelines on the Methodology of the County Profiles on Housing and Land.Management  
• Climate Neutral Cities: How to make cities less energy and carbon intensive and more resilient to climatic challenges
• Country Profile on the housing sector: Tajikistan
• Guidelines on the Methodology of the County Profiles on Housing and Land Management- to be approved in October 2013
Key publications/guidance since 2011 related to DRR (or adaptation to climate change-related risks)
1. General, regulatory framework
• The United Nations Regional Commissions and the climate change challenges
• Risk Management in Regulatory Frameworks
• Recommendations on "Crisis Management within Regulatory Frameworks" and "Managing Risk in Regulatory Frameworks"
2. Housing and Land Management
• Strategy and Targets on Sustainable Housing and Land Management 2014-202
• Climate Neutral Cities: How to make cities less energy and carbon intensive and more resilient to climatic challenges
• Country Profile on the housing sector: Tajikistan
• Country profile on the housing sector: Azerbaijan
• Country profile on the housing sector: Kyrgyzstan
3. Energy
• Energy security risks and risk mitigation: an overview
4. Water
• How to adapt water management to climate change in transboundary basins
• Guidance on water supply and sanitation in extreme weather events
• River basin commissions and other institutions for transboundary water cooperation
• Guidance on water and adaptation to climate change
• Adapting to climate change in transboundary water management
• Transboundary flood risk management: experiences from the UNECE region
• The United Nations Regional Commissions and the climate change challenges
• Second Assessment of Transboundary Rivers, Lakes and Groundwaters  
• Recommendations on payments for ecosystem services in integrated water resources management
Membership in Key Networks
• European Forum for Disaster Risk Reduction
• Technical committee 262 on "Risk Management": UNECE is part of a group tasked to develop recommendation on the use of risk management standards for authorities
Disaster Reduction Focal Point(s)
Ms. Gulnara Roll, Head, Housing and Land Management Unit, Trade and Sustainable Land Management Division, UNECE (gulnara.roll@unece.org,
Tel: +41 22 917 2257)
Palais des Nations CH-1211 Geneva 10 Switzerland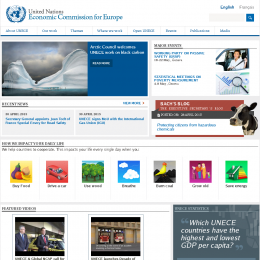 Badges
Conferences:

- UNISDR Science and Technology Conference
- 2018 CASC
- 2019 Global Platform