Your experience on PreventionWeb
Please help us improve PreventionWeb by taking this brief survey. Your input will allow us to better serve the needs of the DRR community.
Urban Resilience Training in the Philippines Highlights City-to-city Cooperation
Source(s):
United Nations Office for Disaster Risk Reduction - Regional Office for Asia and Pacific
United Nations Office for Disaster Risk Reduction - Office in Incheon for Northeast Asia and Global Education and Training Institute for Disaster Risk Reduction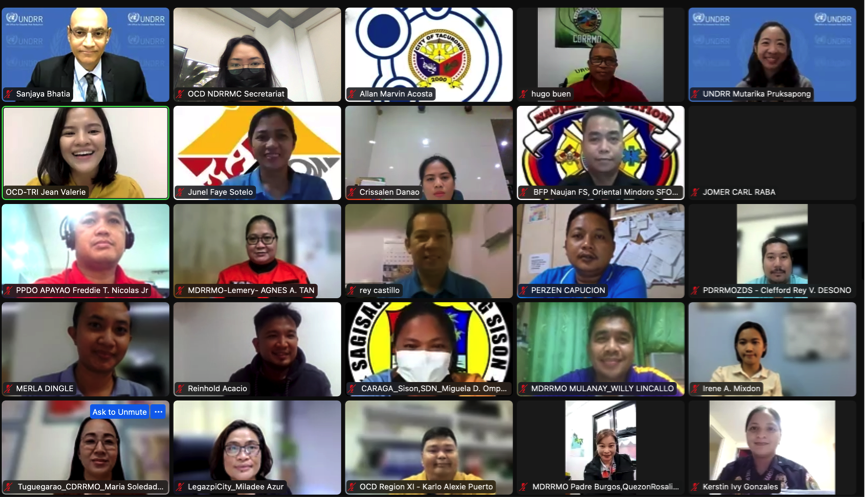 Together with the Office of Civil Defense in the Philippines, UNDRR conducted a two-day training on "Urban Resilience and Making Cities Resilient 2030" on 19-20 October 2022.
The virtual training was organized as part of the commemoration of the International Day for Disaster Risk Reduction (IDDRR) in the Philippines. 191 participants from local government units and affiliated organizations in the country attended the webinar, which aimed to foster city-to-city cooperation and to share good practices and lessons learned from other cities and partners in the region and worldwide.
It was also the first training after the sign-up of MCR2030 in October last year. Notably, Makati has recently become the first city of a Resilience Hub in the Philippines and the second city in the Asia and Pacific region.
On the first day, the training focused on the overview of urban resilience concepts and trends, the impact of disaster risks on cities, as well as the national urban resilience programme in the Philippines. Participants also learned about how MCR2030 supports the local government units to utilize its dashboard with specific knowledge, tools and expertise to facilitate collaboration among cities and partners.
"As we are working to recover from the adversity of the pandemic as well as from damages of many other disasters we faced, city-to-city linkages and the improvement of our collective and adaptive capabilities have proven to be valuable elements that bring about successful outcomes in the effort to protect our populations from the ravages of disaster," said Undersecretary Raymundo Ferrer, Administrator of the Office of Civil Defense, the Philippines.
Dr. Selva Ramachandran, UN Resident Coordinator a.i. and UNDP Philippines Resident Representative gave opening remarks and stated, "As mutual support and knowledge sharing are central to MCR2030, we encourage you to learn from each other, other cities and partners to understand the challenges and identify potential solutions."
The highlight of the second day was sharing experiences of Makati City on its continuous journey towards strengthening disaster resilience with commitments to exchange know-how and experience with other cities.
Liza Velle B. Ramos, Division Head of Research and Planning at the Makati Disaster Risk Reduction and Management Office delivered a presentation on creating sectoral cooperation, integrated disaster resilience and urban development policy. She stressed the use of the Resilience Scorecard and how it assisted the city with a comprehensive approach to building resilience across all sectors.
Moreover, Ramon P. Abracosa, Programme Manager of the Cities Development Initiative for Asia (CDIA) presented the implementation of bankable and sustainable infrastructure projects as CDIA works closely with Secondary Asian Cities to enhance city capacity and develop project preparation studies to ensure project bankability and city access to finance.
"The critical element in attracting funding for urban infrastructure projects is to have cities be seen as viable investment partners. Bankable projects undergo rigorous technical preparation to take them up to investment-ready levels," said Mr. Abracosa.
The training also emphasized capacity building for the local government units on urban resilience building and the development of bankable projects. "MCR2030 can be a venue for cities to broker with a lot of partners and gain access to knowledge tools that build capacity to take on the long journey with us," said Mutarika Pruksapong, Programme Management Officer at UNDRR Northeast Asia and Global Education and Training Institute (GETI).
Please note: Content is displayed as last posted by a PreventionWeb community member or editor. The views expressed therein are not necessarily those of UNDRR, PreventionWeb, or its sponsors. See our terms of use