Your experience on PreventionWeb
Please help us improve PreventionWeb by taking this brief survey. Your input will allow us to better serve the needs of the DRR community.
Press Releases
43,000 Thai schools and hospitals pledge to uphold safety at national launch of United Nations "One Million Safe Schools and Hospitals" initiative
Source(s):
United Nations Office for Disaster Risk Reduction - Regional Office for Asia and Pacific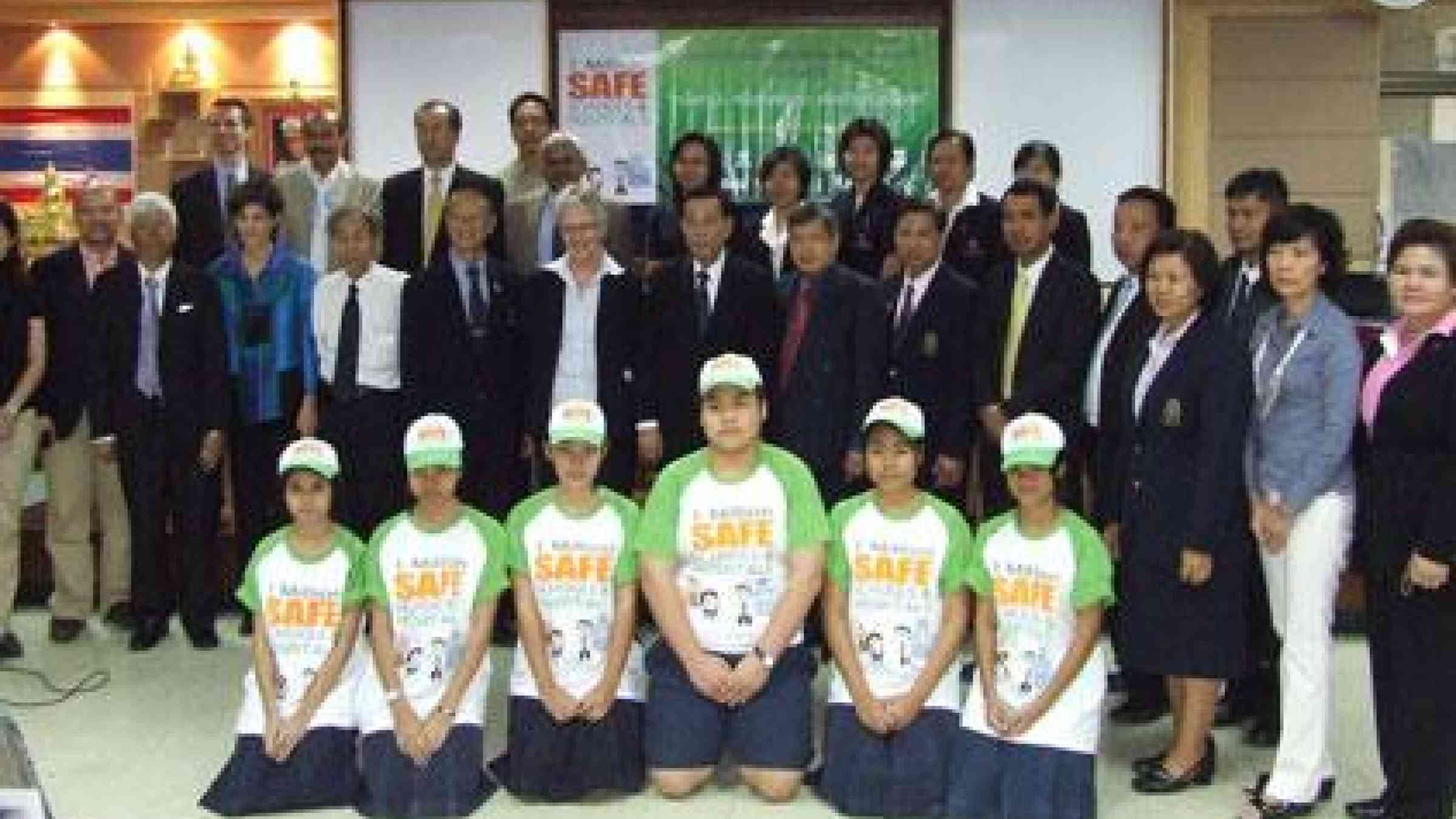 Bangkok – The Thai Government today launched the "One Million Safe Schools and Hospitals" initiative in Bangkok, with top government officials from the Prime Minister's Office and the Ministries of Education, Public Health and Interior and partner agencies promising to make safety a priority at 43,004 schools and hospitals.
In recent years, Thailand has been experiencing intense disasters with increasing frequency. A series of flash floods in October and November 2010 – declared "one of the worst natural calamities" to hit the country – killed more than a hundred people, displaced thousands and affected six million in 38 provinces. Thousands of students were forced to evacuate their schools, with more than a thousand schools reportedly damaged.
At a special event held at Rajwinit Mathayom School, Dusit District, Thailand's Basic Education Commission pledged to uphold the safety of 32,000 schools, with Minister of Education Chinnaworn Boonyakiat stating that the Government will support local governments in their efforts to conduct school safety inspections. The Ministry of Public Health pledged to make at least 832 hospitals and 10,000 district and sub-district health facilities safer from disasters. Buntee Parnichprapai, Secretary to the Minister of Public Health explained that his Ministry will support provincial health authorities, hospitals and partners with safety inspections at hospitals and health facilities.
The pledges were made on the One Million Safe Schools and Hospitals online portal, established by the United Nations International Strategy for Disaster Reduction to service the initiative (http://www.safe-schools-hospitals.net/en/Home.aspx).
"Our Government and partner agencies have pledged to spread awareness among 43,000 schools and hospitals to maintain or upgrade their safety standards. This is an impressive figure. But many more schools and hospitals need to be made aware, whether in Thailand or elsewhere, if we are to reach the global goal of one million safe schools and hospitals. Now, the challenge is to ensure that we fulfill these pledges," said Mr. Srisombat Phornprasidthi, Deputy Director-General of Department of Disaster Prevention and Mitigation, Ministry of Interior.
Margareta Wahlström, Special Representative of the United Nations Secretary General for Disaster Risk Reduction, who attended the launch during her two-day visit to Thailand, said: "Young people and their education are critical to a country's future. The Thai Government promises to make sure its schools can function, even in a disaster, which is a powerful statement about its commitment to human development and resilience."
She added: "Making sure health facilities are able to function in dire circumstances is another way for the Government to show that their policies are people-centred. From a disaster risk reduction perspective, this is important. Healthy people are more resilient."
Also speaking at the launch was Isara Sunthornwat, Vice Minister for Office of the Prime Minister, who delivered a message on behalf of the Prime Minister.
Mr. Sunthornwat underscored the increasing importance of risk assessments and proper planning, especially in hazard-prone areas as Thailand becomes more urbanized. "Preventing disasters from happening and finding ways to lessen the loss from disaster should, by right, be part of the national development planning of all countries. It involves finding ways to protect people and assets from being exposed to hazards," he said.
International agencies and national non-governmental organizations who are supporting the One Million Safe Schools and Hospitals initiative include the World Health Organization (WHO), the United Nations Education, Cultural and Science Organization (UNESCO), United Nations Volunteer (UNV) , the Emergency Medical Institute of Thailand, the Child Safety Promotion and Injury Prevention Research Centre, the Centre for the Protection of Children's Rights, Thai Red Cross, Thai Health Promotion Foundation, DTAC and Krungthep Turakij Newspaper.
Others who attended the launch included mayors from Nakorn Chiang Rai Municipality, Thung Yuang Municipality and Had Yai Municipality, who appeared on behalf of nine Thai municipalities taking part in UNISDR's "Making Cities Resilient" campaign.
Please note: Content is displayed as last posted by a PreventionWeb community member or editor. The views expressed therein are not necessarily those of UNDRR, PreventionWeb, or its sponsors. See our terms of use