Your experience on PreventionWeb
Please help us improve PreventionWeb by taking this brief survey. Your input will allow us to better serve the needs of the DRR community.
31 March 2021
How implementing Sendai could have saved Beirut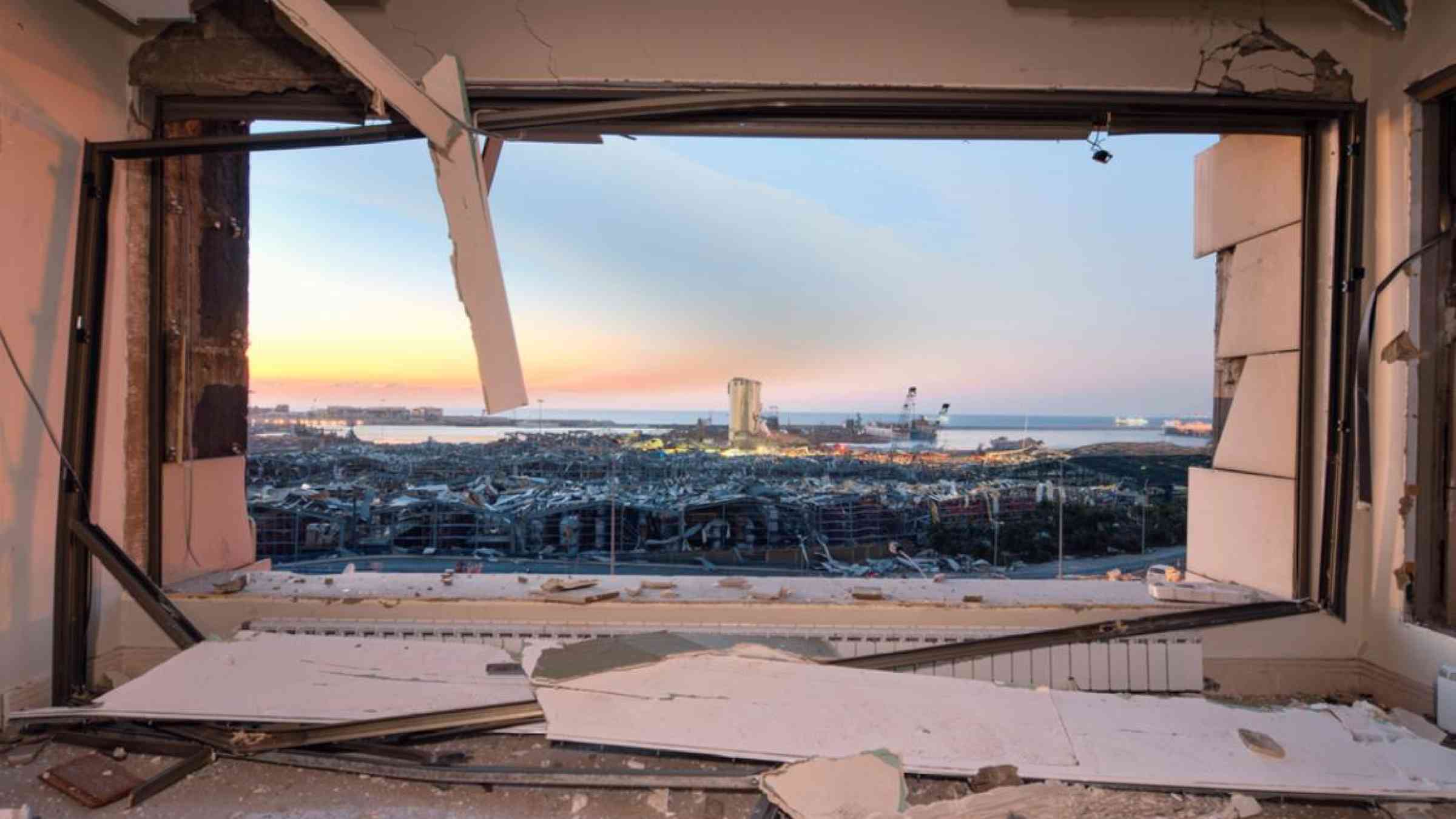 The 2020 Beirut port explosion is a reminder that designing disaster risk reduction strategies is not enough. The policies must also be implemented.
For over seven years, Beirut's port stored 2700 tons of explosive Ammonium Nitrate in poor conditions. In August 2020, the chemicals exploded, leaving 204 people dead, 300,000 homeless, and USD 15B in destruction.
The disaster could have been prevented had Lebanon's authorities implemented the provisions of the Sendai Framework for Disaster Risk Reduction 2015-2030 and its predecessors, the 1994 Yokohama Strategy and Plan of Action for a Safer World and the Hyogo Framework for Action 2005-2015. Beirut's tragedy is a reminder that designing disaster risk reduction ('DRR') strategies is not enough. The policies must also be implemented.
Effective decision making
Since the end of the civil war in 1990, Beirut's port has been managed autonomously by a Temporary Committee. The committee does not report to any ministry, so no executive agency has the power over the port premises. Even the president of Lebanon denied responsibility for the blast claiming that he "had no authority" over the port.
Clause 27-g of the Sendai Framework calls upon Member States to "establish and strengthen government coordination forums composed of relevant stakeholders … and a designated national focal point for implementing the [framework]". This is echoed in predecessor agreements, including the 1994 Yokohama Strategy, clause 11-e for establishing "clearly identified bodies charged with the promotion and coordination of disaster reduction actions".
Yet, a law to create a DRR authority in Lebanon has been stuck in parliament for almost 20 years. Creating new public institutions is particularly difficult for Lebanon because political power is delicately balanced between 18 religious sects. In lieu of a standalone DRR authority, Lebanon's ex-prime minister set up an ad-hoc unit in 2009 as part of his office. However, this unit had no decision-making capability and its functions were limited to basic activities.
Without a DRR authority, determining what to do with the Ammonium Nitrate had to be achieved via existing government protocols. While multiple stakeholders across several government organs had an interest in the issue, none had the capacity to make a unilateral decision on how to dispose of the hazardous explosives. No agency wanted to be responsible if things went wrong.
In situations where the decision-making boundaries are blurred between multiple jurisdictions, multi sectoral national platforms, that have "a strong foundation in national institutional frameworks with clearly assigned responsibilities", in line with provision 11-e of the Sendai Framework, are needed. Yet, without legally backed protocols to allow various agencies to jointly make decisions, Lebanon's port authority was stuck in a series of back-and-forth communications between individual ministries, resulting in inaction.
Strengthening critical infrastructure
Despite being a major transport hub for the country and wider region, Beirut's port did not have a specialised warehouse for handling hazardous material. Consequently, the ammonium nitrate ignited because it was stored in very poor conditions.
"To promote the resilience of new and existing critical infrastructure, including water, transportation and telecommunications infrastructure" is a fundamental provision of DRR and is stressed in clauses 18-d, 30-c, and 33-c of the Sendai Framework, as well as in predecessor agreements dating as far back as 1994. Had the Lebanese authorities put words into action, they would have identified that the country's main port was not equipped with adequate facilities for handling dangerous goods, in line with national law and international standards. Yet, although the Beirut port underwent several rounds of expansion, including a USD 150 million investment to build a container terminal in 2000, no facility for handling hazardous cargo was ever built.
Financing recovery
Less than one third of the USD 15 billion damage caused by the 2020 Beirut Port Blast was insured. Further, most of the insured value covers the port facilities. Elsewhere, only businesses or higher-income households could afford private insurance.
To date, more than six months after the explosion, policy holders have yet to receive compensation. Most private insurers are withholding reimbursements until the conclusions of the probe are released, which may take years.
Most of the physical damage, however, has been borne by households that could not afford private insurance. Without coverage, families only hope for support is handouts from the country's High Relief Commission, if it secures funding from the national budget or international donors.
In a 2011 report, Lebanon's government identified that the "inherent absence of allocated funds in the national budget for recovery and reconstruction" (p.19) is a main challenge for effective DRR.  Officials then prioritised the development of "partnerships for reconstruction between the public and private sectors, through insurance programs" (p.20).Yet in nine years, little progress has been achieved, despite clause 30-c of the Sendai Framework calling for "promot[ing] mechanisms for disaster risk transfer and insurance, risk-sharing and retention and financial protection".
Lessons learnt
Establishing a disaster management authority, upgrading key infrastructure, and facilitating access to recovery finance are fundamental pillars of DRR. Although not legally binding, international DRR accords are commitments that Member States make to the global community. The progress from Yokohama to Sendai should be reflected by increasingly robust DRR measures. If nations, like Lebanon, are struggling to achieve DRR targets, then the international delegates and DRR experts should prioritise the development of systems that encourage implementation.
Already, the Open-ended Intergovernmental Working Group on Indicators and Terminology Relating to Disaster Risk Reduction ('OIEWG') has developed indicators, which have been endorsed by the UN General Assembly in 2017. Originally designed to measure global progress in the implementation of the Sendai Framework, the indicators can be used to help countries benchmark their progress against their own past performance, as well as against other countries. Indeed, the Organisation for Economic Co-operation and Development ('OECD') previously found that benchmarking and intergovernmental comparison "can be an important driver of performance".
Furthermore, a robust system of DRR indicators can be applied as the basis for developing a variety of incentive programmes to promote implementation. For instance, sovereign catastrophe risk pools, are increasingly being considered as an effective instrument for improving disaster relief and reconstruction. Countries from around the world regularly contribute funds to a common pot which would be accessed in case of a disaster. Countries that excel in implementing DRR provisions and progress towards Sendai targets could be rewarded with reduced contribution requirements and other rebates. 
An alternative is applying results-based finance towards funding DRR operations. Such an approach, which has been piloted by the World Bank to support DRR in Morocco, sees funding dispersed against achieving milestones, such as those indicated in the Sendai Monitor. Such an instrument would place clear financial incentives for governments to implement Sendai's provisions and accelerate their progress towards building effective resilience. 
---
Basil is an award-winning interdisciplinary researcher and entrepreneur. He is the cofounder of SynSapien, an Imperial College London based collective intelligence platform where scientists from around the world collaborate to solve the world's most pressing challenges. His research explores the latest in climate policy and disaster risk governance.
Basil has written for the Independent and Executive Magazine on topics related to climate innovation, earthquake risks, and governance reform. He has given lectures and talks at Imperial College London, the University of Cambridge, and Georgetown University and has been regularly invited to discuss current affairs for various television channels across the Middle East.
Please note: Content is displayed as last posted by a PreventionWeb community member or editor. The views expressed therein are not necessarily those of UNDRR, PreventionWeb, or its sponsors. See our terms of use